The 18 Best Liquid Blushes of 2023
Buildable pigment for days.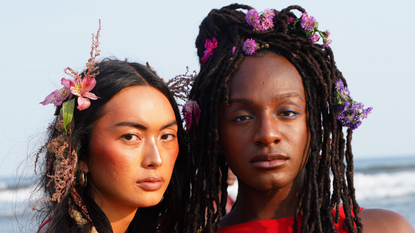 (Image credit: Getty Images-Sean Zanni Stringer)
We love a good powder and cream blush as much as the next beauty lover, but the best liquid blushes have a special place in our hearts—and our makeup bags. Why? They're easy to apply (just swipe and blend with your fingers), are super buildable, and give the world's most stunning, subtle flush. That's just the tip of the iceberg. Makeup artist and Omnia Executive Artist Dominique Lerma explains, "I love liquid blushes because they are super high in pigment—a few drops can go a long way. They tend to be skin-forward with ingredients that nourish your skin, too."
While technically designed to give a flush to your cheeks, most liquid blushes also double as lipsticks and eyeshadow bases. "They're so versatile," Lerma adds. "Use it as a stain and you'll get an I-woke-up-like-this flush on your lips." And with endless color options, finishes ranging from glowy to matte, and applicators for every preference, there's truly a liquid blush out there for everyone. Here, we've rounded up the all-time best blushes in liquid form, from the cult-favorite Rare Beauty Soft Pinch Liquid Blush to the Saie Dew Blush.
What to Look For
The majority of the blushes on this list come in at least five shades, so you shouldn't have a problem finding one that's compatible with your skin tone. If you have a warmer (think: yellow or orange) undertone, reach for blushes with a red or orange base. If your skin leans cooler (think: pink or red), you'll want to seek out a bright berry, mauve, or pink. That in mind, blush is really here to have fun with, so at the end of the day pick whichever shade your heart desires.
The finish of your blush really boils down to personal preference. Naturally, most cream blushes are going to give a dewier, glowier finish, but there are a handful that dry down matte.
I cannot emphasize this enough: Patch test! Liquid blushes tend to be uber-pigmented, so you're going to want to dab a bit on your hand and see how far the pigment spreads before plopping a massive blob on the apple of your cheek. One itty-bitty dot may be all you need.
The Best Liquid Blushes
The Best Overall Liquid Blush
Charlotte Tilbury Beauty Light Wand in Pillow Talk
Hear me out: This product is your blush and your highlighter. I'm deeply, deeply obsessed with this product and shout its praises from the rooftops. The liquid formula is finger friendly, works across skin tones (there's three intensities to choose from), and quite literally reflects the light at every turn. Because of the opalescent finish and non-tacky texture, this blush ends up looking like an extension of your skin—you won't see any harsh lines or blotchy patches.
Pros: Multi-purpose; Foolproof application; Editor favorite
Cons: Packaging can be messy
Customer Review: "I've repurchased this item multiple times and it's a staple in my makeup routine! I love the easy applicator and looks so great on! The only downside is that due to the packaging, it's not filled with a ton of product and runs out faster than some other highlighters I've tried."
The Best Sheer Liquid Blush
Iconic London Sheer Blush
Watercolor is the best way to describe this baby. It has a tinted, super sheer finish that leaves a little pinch of color wherever you want. In my experience, the magic recipe is three, itty-bitty dots placed along the cheekbone, in an upwards motion towards the temple. It gives a lifted, slightly tinted look without being too intense. A quick swipe on the lips and you're good to go. That in mind, you can easily build intensity with more product.
Pros: Lightweight; Multi-purpose; Buildable
Cons: Can lift up certain foundations
Customer Review: "I have been looking for the perfect sheer, dewy cream blush, and this is it. It is effortless to apply as it has a light and slick consistency that gives it good movability. Also, because it is sheer, it is buildable and forgiving if misplaced. A lot goes a long way, however. It gives my cheeks a natural and beautiful glow I haven't been able to achieve with other products. Love it!" — Sephora
The Most Pigmented Liquid Blush
It's relatively impossible to talk about the best blushes of all time without giving a shout out to NARS' Orgasm Blush. While that powder gets a lot of hype, the liquid counterpart is just as good. It gives the same unmistakable pink hue, but with a dewier, more shimmery finish. Make sure to shake it up before you pump and start out slow—it's super pigmented and a little goes a long way.
Pros: Color works on all skin tones; Very pigmented
Cons: Pump gets clogged easily
Customer Review: "Love it! Some people don't seem to realize you have to PULL the cap off to reveal the pump, not twist it off and pull out the entire tube! It's a lovely color that blends beautifully and dries down to a nice semi matte finish. A little goes a long way! I use this when I want a little glow." — Sephora
The Best Liquid Blush for Dry Skin
If you have dry skin, a hydrating product is non-negotiable. This Chantecaille liquid cream-gel fits the bill. It's packed with moisturizing ingredients like glycerin to keep your cheeks looking dewy as opposed to rough and patchy. The formula is reminiscent of a stain, so the pigment is going to last all day. While that is a *huge* plus, I urge you to work fast. This guy dries down and locks in color on the quicker side, so pat-pat-pat as soon as it touches your skin.
Pros: Skincare ingredients; Hydrating
Cons: Need to work fast
Customer Review: "I love this product. Very easy to apply with fingers. I use more per application than other, more pigmented cream blushers, but there is a lot in the tube. I have no issue blending it in (one reviewer said it went on patchy on her, but we are all so different). I like that the brand does not test on animals an donates to charitable causes too." — Nordstrom
The Best Multi-Purpose Liquid Blush
Yves Saint Laurent NU LIP & CHEEK BALMY TINT with Hyaluronic Acid
If in the back of taxi or in a major rush, this product is my holy grail. The pigment is relatively sheer so you quite literally can't mess up your application. Plus, it's as multi-purpose as multi-purpose can be. Not only can you swipe it on your cheeks, but it also doubles as a tinted lip treatment. Ingredients like shea butter, hyaluronic acid, and orange blossom create a nourishing, hydrating texture that you can apply on repeat.
Pros: Multi-purpose; Skincare ingredients
Cons: Not as pigmented as others
Customer Review: "I think I've found my favorite tinted balm. This is such an amazing, hydrating, easy application and super pigmented balm. I'm in love. The most beautiful color is soft plum. Don't go for the peach nude one unless you have very fair skin and are into almost invisible makeup. You also have to use a lot of product to get some color out of that one, and it doesn't really work on the lips." — Sephora
The Best pH Adjusting Liquid Blush
Magic. That's what this blush is. Apply a small amount to cheeks and watch as the green liquid adheres to skin's pH to turn into a customized flattering pink shade. If you're struggling to pull a look together, subtle pink cheeks via this personalized blush is always a good choice.
Pros: Customized shade match; Glassy finish
Cons: Might be too oily for some
Customer Review: "It says to use two dots but for me personally I did six. That said, it looked amazing and lasted all day. I didn't go outside much and didn't sweat but it lasted a while and kept it's color. I've been looking for skincare based makeup and I'd definitely buy again."
The Best Blurring Liquid Blush
By Terry Brightening CC Liquid Blush
There are two shades in this lineup—and I highly recommend buying both. In my experience, mixing the copper hue with the rosy pink is the secret to a bronzed, slightly sunburnt-looking glow. Each gives a radiant, healthy glow that shimmers in the light. You'll be so dewy, you won't even need a highlighter. While they go on relatively sheer at first, the liquid formulas are very easy to build up.
Pros: Multi-purpose; Hydrating
Cons: Expensive
Customer Review: "I love the ease and color of this blush, it's a lovely bright color that is very lifting and flattering. So easy to apply as well." — Bluemercury
The Best Liquid Blush Drops
These liquid blush drops are going to be your best friend if you want to recreate the sunburnt blush trend. The pinky hue gives a perfect flush and the finish is silky without looking too sparkly. Use as much product as your heart desires (I suggest one full dropper full) and spread the product from your temples to the bridge of your nose. You can even layer the product on before foundation if you want a more low-key flush.
Pros: Silk finish; Buildable
Cons: Pigment fades throughout the day
Customer Review: "Fantastic blush. I love the color, the smoothness of it on my skin and how it's long lasting. Also perfect to add color to your lips and can also be used as a highlighter. Highly recommend it. Gives a beautiful glow and as it's drops it's so easy to use." — Rodial
The Liquid Blush With the Best Applicator
Surratt Artistique Liquid Blush
For mess-free application, a sponge-tip applicator is the way to go. Just dot, blend, and you're good to go. Plus, the Surratt shade range is absolutely stunning. Parfait and Barbe a Papa are ideal for cool undertones (think: pink or red) and Classique and Cantaloupe are a dream for warm tones (think: golden or yellow).
Pros: Great shade selection; Easy to apply
Cons: Expensive
Customer Review: "I was finding that my powder blushes looked dull on my skin rather than giving some healthy color. It was love at first try with this product, which I got in "Barbe A Papa." I have fair skin so I thought this was the safest choice. I found it to be lightweight and smooth formula. It is very pigmented and I was able to build the color from sheer to the intensity that I desired." — Bluemercury
The Best Liquid Blush for Pigment
Rare Beauty by Selena Gomez Soft Pinch Liquid Blush
If it were possible to get an Oscar for creating a blush, Selena Gomez and her development team would win it. A quick search on literally any social media site will result in thousands of reviews singing the praises of this blush, and for good reason. The formula packs a punch and blends subtly without losing pigment, working wonders for all complexions and tones.
Pros: Pigmented; Long lasting
Cons: Difficult to apply at first (a little goes a long way)
Customer Review: "STUNNING!!! I put 2 dots on the back of my hand and used a round fluffy blush brush to apply it. A little goes a long ways, and it is super pigmented! The finish is so smooth! I swear it will last a lifetime. I am currently using this as my summer shade since I am super tanned right now. I will definitely be buying more shades!" — Sephora
The Best Drugstore Liquid Blush
Milani Cheek Kiss Liquid Blush
Milani has been a staple in beauty routines since the brand's inception in 2001. They're always one to keep up with the trends while creating affordable products that stand on their own. Don't believe me, try this drugstore blush for yourself—pick up a few shades, actually, you'll thank me later.
Pros: Affordable; Pigmented
Cons: Dries down quickly—act fast
Customer Review: "It is very blendable and you can get a nice flush to your cheeks. I bought the Berry Smooch and I am fair-skinned. To apply, I put several little pin dots along my cheek line and blend upward. Having never used liquid or cream blush, my learning curve was about two days." — Ulta
The Best Jelly Liquid Blush
Saie Dew Blush Liquid Cheek Blush