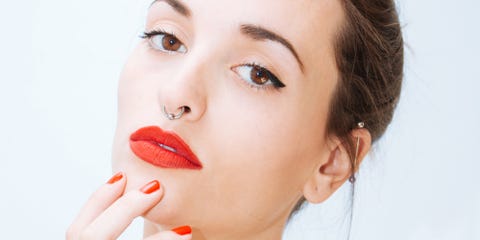 As Flannery O'Connor famously once wrote, "A good red lipstick is hard to find." Okay, fine, maybe I took some liberties with that quote, but I'd rather have a perfectly creamy, moisturizing, brilliantly good red lipstick over a good man any day.
Which is why I sifted through virtually every red lipstick on the market to bring you a definitive list of my absolute favorite formulas that I would like to be buried with when I die. These lipsticks are matte when they should be, hydrating when they need to be, and perfectly bright, opaque, and long-lasting when you want them to be (i.e. always). Find your new go-to formula, ahead.
1
This Cult-Classic True Red
Revlon Super Lustrous Lipstick in Certainly Red, $5
BEST FOR: A lightly moisturizing, semi-matte, blue-based finish that really, truly looks good on every single skin tone.
2
This Velvet-y Soft Liquid Lipstick
Burberry Liquid Lip Velvet in Magenta No. 33, $34

BEST FOR: Anyone who wants a longwear formula and hates the super-drying, moisture-sucking nature of typical liquid lipsticks.
3
This Bright, Red-Orange Lipstick
NYX Pin-Up Pout Lipstick in Fiery, $6

BEST FOR: An orange-toned pop of color that won't make your teeth look yellow, as most tangerine-red lipsticks can.

4
This Ultra-Moisturizing Berry Red
Make Silk Cream Lipstick in Maraschino Cherry, $25

BEST FOR: Anyone with naturally flaky lips. This creamy, berry-toned formula is filled with softening rosehip and safflower oils to keep skin from drying out.
5
This Soft Chubby Crayon
Hourglass Girl Lip Stylo in Icon, $32

BEST FOR: Lipstick newbies who feel more comfortable wielding a creamy, easy-to-draw crayon, rather than a dry, precision-required bullet.
6
This Stays-on-Forever Liquid Lipstick
Too Faced Melted Matte Liquified Long Wear Matte Lipstick, $21

BEST FOR: A matte, deeply opaque, long-lasting (like, lasts-until-you-wash-it-off long) finish that looks like you literally dipped your lips in pigment.

7
This Chromatic Rusty Red
Smashbox Be Legendary Liquid Lip in Brains 'N' Bronze, $24

BEST FOR: Anyone who thinks, "Red lipstick? Pish posh!" This chrome-y, oil-slick lipstick adds a cool, iridescent twist on a classic color, without looking garish.