What's in Hope Solo's Bag?
The superstar soccer goalie for Team USA breaks from her Olympic training drills long enough to pass off the contents of her well-traveled tote.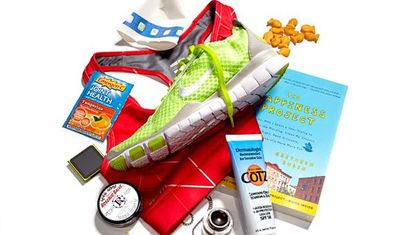 (Image credit: Jeffrey Westbrook/Studio D)
Hope Solo, superstar soccer goalie for Team USA, breaks from her Olympic training drills long enough to pass off the contents of her well-traveled tote
The Bag: Tory Burch Louisa Crossbody. "I travel a lot and rarely make it home to Seattle. Today I'm training in Los Angeles, tomorrow in Vancouver, and after that I'm off to Miami, New York, Dallas, Portugal, and Barcelona. This bag is stylish yet big enough to fit everything I need for a long trip."
Sports bra: "The prints on the Nike Pro bra are really cute. And the fit is perfect — the wider band at the bottom is made for an athlete's body."
Emergen-C Tangerine:"When you're around 30 women, there is often somebody on the team who isn't feeling well. So I keep this with me wherever I go."
IPod Shuffle: "I carry my iPod everywhere. My favorite group is the John Butler Trio, an Australian jam band. The lead singer and guitarist writes amazing lyrics."
Smith's Rosebud Salve: "Addicted. Literally addicted. I keep this balm in all of my bags."
Jolly Ranchers: "I'll probably get so many cavities from these one day."
Silver cross: "I wear my dad's cross. It's very important to me. I hang it in my locker before each game."
MAC Fluidline in Blacktrack: "When I want to spice things up — and really, I learned all these new makeup tips on Dancing With the Stars — I pull out this liquid liner, which you apply with a brush."
Lighted key ring: "This is really dorky, but my mom bought me a key ring with a purple light built in so you can see where the keyhole is if you're returning home late at night."
Cotz SPF 58 sunscreen: "It's a bit thick and heavy, but because I'm outside all day training, it's completely necessary. It doesn't make me break out since it's oil-free."
Book: "Right now I'm reading The Happiness Project by Gretchen Rubin. I keep four or five photos of my family tucked into it like a bookmark, including one of me and my dad from when I was 5. I also keep a letter that our coach had us write, about what we'd tell ourselves if we were to make the USA women's team. I start and finish the letter saying not to have any regrets — that's been my life's motto."
Goldfish crackers: "I always have a little something to snack on in my bag. I love how salty Goldfish are. They fill you up pretty quick, so I have them at every hotel."
Nike Free Twist: "My good-luck charm. I think an athlete always looks for an edge. These new sneakers don't have a lot of cushion in them, so you're literally building the muscles in your feet, ankles, and calves, which helps with power, speed, and agility."
Paper cup: "Every athlete acquires routines as a way to help control nerves. Last summer, I had to have Gatorade in a paper cup — not a bottle — and by the time I stepped foot on the field, I had to finish it and toss the cup to the ground. It's become an obsession — I need a paper cup filled with Gatorade as I walk onto the field."
Celebrity news, beauty, fashion advice, and fascinating features, delivered straight to your inbox!