Indie Beauty: Chloe Sevigny
When Big Love star Chloë Sevigny steps out, the paparazzi start clicking. Here, we crack the maverick icon's glamour code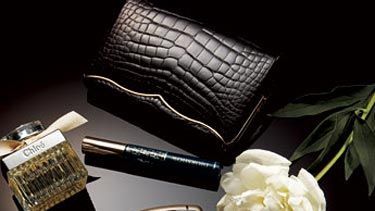 (Image credit: Jeff Westbrook/Studio D)
LANA MARKS Cleopatra alligator clutch: "Too many bags flaunt huge labels. I prefer a more discreet look."
DIOR DiorShow Mascara: "I love lots and lots of lash and this is the best - I can keep it on without drying out my lashes."
WHITE PEONIES: "I always like my trailer or hotel room to have fresh flowers or pillows I find at a local flea market - anything to personalize the environment."
MAC Cream Colour Base in Premeditated: "This pigment packs a punch, so just a bit does the trick. Besides, I find most men don't like a lot of makeup."
KIEHL'S Dermatologist Solutions Skin Care: "I recently started having microdermabrasion at Mamie's Spa in New York City, which leaves my skin bright and my pores tight. My home version is this Kiehl's."
SMITH'S Rosebud Salve: "This balm, a small hairbrush, and a gold Estée Lauder compact from the Tom FOrd Collection two years ago are always on my person."
BLACKBERRY Curve: "This makes texting so easy. I don't have the browser hooked up, because I'd constantly be surfing the web."
RENEW & RELAX spa: "The day after a long night of dancing at the clubs, I go foa fabulous foot massage at Renew & Relax, a nail place near my house in downtown Manhattan."
ESTÉE LAUDER Tom Ford Collection compact
CHLOÉ Eau de Parfum
Celebrity news, beauty, fashion advice, and fascinating features, delivered straight to your inbox!