Beauty Snoop: Christina Hendricks Shares Her Beauty Secrets
Mad Men's Christina Hendricks has single-handedly revived the sex appeal of porcelain skin, womanly curves — and the bouffant. Here, Hollywood's new siren reveals her must-haves.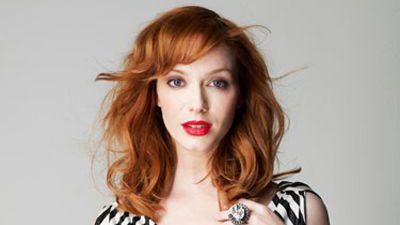 (Image credit: Perry Hagopian)
Your character, Joan Holloway, has such a distinctive look, with her hourglass figure and glamorous makeup. How does your real style compare?
I've started to wear more form-fitting dresses to show off my waist. And everyone thinks Joan wears red lipstick on every episode, but she's usually wearing coral. I love ruby lips in real life.
Is your taste retro, then, like Joan's?
I'm more girlie than Joan. Her character's very coiffed and put together, so the producers wanted to have her hair up. It takes about an hour-and-a-half for hair and makeup because her updo is like a sculpture. I'll usually bring a book or my knitting — I made my husband a steel-gray fisherman's sweater for a wedding gift. Once in a while, Joan gets to wear her hair down, but I feel like it's wrong; it's not her. When I'm not working, I love crazy rock-and-roll curls.
So without the bouffant, do people still stop you on the street?
At the beginning, I hardly ever got recognized because I looked so different than I do on the show. Now just the red hair is a signal. But if I wear a hat, people don't notice me as much.
You're actually a natural blonde — and have been dyeing your hair crimson since age 10. Is it a lot of upkeep?
We color my hair every other episode to make sure it maintains the same brightness. I use a lot of Redken Color Extend conditioner. It's like sunblock for hair!
You've been showing more skin on-screen. How do you prepare?
If my legs are showing, the makeup artist adds a tiny amount of foundation to body lotion and rubs it in. Now if I have an event to go to, I'll buy CoverGirl foundation and mix it in with my lotion.
How do you maintain your figure?
My new obsession is Häagen-Dazs Low-Fat Frozen Yogurt in Dulce de Leche. It's a revelation. I can't believe it's low-fat. It doesn't make any sense, it's so good.
Any other beauty essentials?
I love perfume. I have 10 L'Artisan Parfumeur scents. Right now I'm super into the amber, but they also had a mandarin that's absolutely amazing. I bought it when I did the pilot for Mad Men, so every time I spray it on, it reminds me of how excited I was to start the show.
HENDRICKS'S HOT LIST
1. Benefit Erase Paste in Fair, $26: "I use this and Koh Gen Do Moisture Foundation [$55]. They're the exact right color for my skin."
2. Benefit Bad Gal Lash Mascara, $19.
3. MAC Matte Lipstick in Russian Red, $14.
4. Chanel Rouge Coco in Satin, $30.
5. Julie Hewett Lipstick in Celeste, $20.
6. Dermalogica Super Sensitive Faceblock, $45.
7. L'Artisan Parfumeur L'Eau d'Ambre Extrême Eau de Parfum, $155.
8. Talika Lash Conditioning Cleanser, $24: "Joan's always wearing false lashes. They drive me crazy, but this really sops up the eye makeup and lash glue."