8 Mistakes You're Making with Your Lipstick
Because we've been there.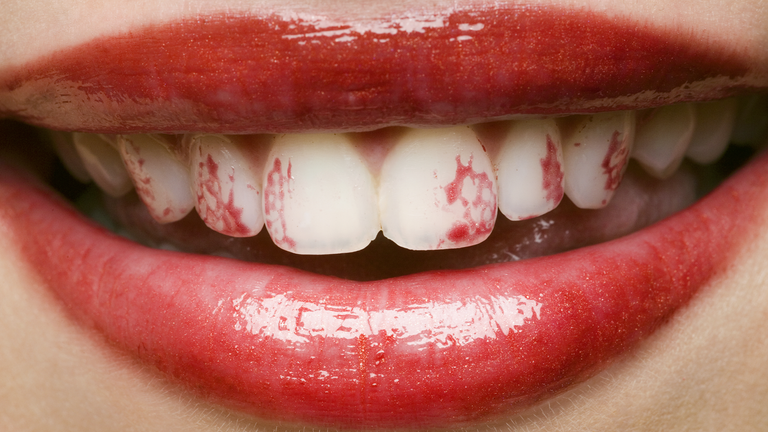 (Image credit: archive)
Complain as we may about the trials and tribulations of lipstick, you shouldn't knock it till you've done it properly. The bottom line is that if you want to reap the immeasurable benefits of lipstick—like helping you get the job or feeling confident on a first date—you've got to make sure you're ticking every box on the long list of what'll give you a perfect, long-lasting pout. Here, find our simple breakdown of what you're doing wrong (because we've *so* been there).
When it comes to skincare, there's no step that's more important and the same goes for your lips. Particularly during the colder months, you've got to apply lip balm persistently for smooth, crack-free lips. Speaking of smooth...
If there's one thing that's going to ruin an immaculately-painted pout, it's flakes. "Results last longer on a smoother surface," says Gina Brooke, artistic director for Shu Uemura. "But if you start to notice flaking, it's best to clean off your lips and start from scratch."To gently banish dead skin cells, use a gentle scrub with moisture (like that which you might find in Bite Beauty's 5 Night Lip Fix).
Primer adds a smoothing layer of moisture that's a perfect color-free base for underneath your lipstick. It's the ultimate blank canvas.
A waxy lip liner serves as a barrier between the formula and the outside of your lips. "I line along the lips' outer edge to enhance their shape and prevent color bleeding," says Brooke. Make sure you're using a color that matches your lipstick perfectly or a clear formula if you're worried about treading into '90s territory.
A tricked learned from a fellow editor, you should always start at the center of your lips and move outward. It's the best way to quell shakiness when you reach the ever-tricky outer lines of your lips.
While formula plays its part—greasier formulas will always bleed more—you should always safeguard your lip color by holding a tissue over your pout and lightly dusting on face foundation or translucent powder with a brush.
Lipstick all over your coffee cup or worse, your teeth? That's a direct result of going too heavy on your application and not dabbing off the excess afterwards. To ensure no unsightly oozing, simply place a tissue between your lips and pat lightly.
Take it from us, all is lost if you don't have the right shade of your choice color. As a rule of thumb, remember that blue-based shades (classic red) complements people with fair skin tones, while orange-based shades (brick red) complements warmer skin tones.
You should also check out:
These Lipstick Shades Are Scientifically Proven to Get You What You Want
Pucker Up: The History of Red Lipstick