These Lipstick Shades Are Scientifically Proven to Get You What You Want
Does it all start with the right color? New research says yes.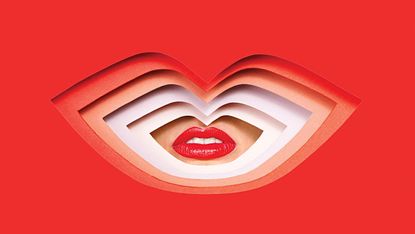 (Image credit: Jonathan Storey/Getty Images)
Marie Claire Newsletter
Celebrity news, beauty, fashion advice, and fascinating features, delivered straight to your inbox!
Thank you for signing up to Marie Claire. You will receive a verification email shortly.
There was a problem. Please refresh the page and try again.
Are you so committed to one lipstick that you have it set to auto-ship from Amazon? (Prime FTW.) Whether you realize it or not, that color is sending people a message about you—and changing it up can be helpful, according to a new study from P&G Beauty (the parent company of CoverGirl). Researchers showed 2,375 people images of nine different women wearing six different shades of lipcolor. The participants then made spot evaluations of the women's personalities, rating attributes like how creative, reliable, and professional they seemed.
The findings? In general, the bolder, more glamorous lipstick colors tended to be associated with powerful traits, while more natural hues were associated with warmer personality traits, says Sarah Vickery, Ph.D., principal scientist for research and development at CoverGirl, and lead researcher of the study. "This is consistent with earlier research we did in conjunction with Harvard psychologist Nancy Etcoff," she explains. "But this time around, we got more specifics on exactly what each different lipstick color demonstrates—something you can use to your advantage." Here's what works in different situations:
You want to look strong and confident without coming off stronger than your interviewer, says New York City career coach Roy Cohen. The shade that will do it? Plum, which is most likely to make you look professional and ambitious but still relatable. "It portrays confidence without making you appear inaccessible—a unique combination of power and warmth," says Vickery.
People look for loyalty in a long-term partner and for attractiveness in a sexual partner. Which trait do you want to portray? Thankfully, you don't have to decide! Whether you want a lover for life or just for tonight, go with a nude or plum lipstick. "People who wore these shades were seen as the most reliable and attractive," says Vickery.
"If you're leading the session, you want people to feel at ease and willing to share unconventional ideas," says Michael Woodward, Ph.D., an organizational psychologist based in New Jersey. Vickery has just the hue: "Wear nude to come across as collaborative, caring, and open," she says.
Your instinct to avoid a racy red is spot-on, but you can take your look a step further by wearing pink. It was associated with looking sociable and fun-loving—a perfect choice for meeting new people in a casual setting, explains Vickery.
Unlike in a team brainstorm, the goal here is to come off as a leader. "Show the crowd that you're an expert—someone who's taking risks and making creative advancements in the industry," says Cohen. This is the time to pull out that classic red, the shade most associated with looking daring and confident.
Researchers showed study participants photos of women wearing these CoverGirl Colorlicious Lipstick colors (all $6.99).
3. Hot (Red)
This article appears in the April 2015 issue of Marie Claire, on newsstands April 24.
You should also check out:
Are You Ready? Meet the Marie Claire 7-Day Lipstick Challenge
Pucker Up: The History of Red Lipstick
Celebrity news, beauty, fashion advice, and fascinating features, delivered straight to your inbox!
Kiera Carter has a decade's worth of experience covering fitness, health, and lifestyle topics for national magazines and websites. In a past life, she was the executive digital editor of Shape and has held staff positions at Fit Pregnancy, Natural Health, Prevention, and Men's Health. Her work has been published by Marie Claire, Cosmopolitan, Travel + Leisure, and more. She spends her free time boxing, traveling, and watching any movie or show with a strong female lead. She is currently based in New York.