6 Things Every Hot Tool Addict Needs To Do
6 Heat Damaged Hair Treatments - How To Avoid Heat Damaged Hair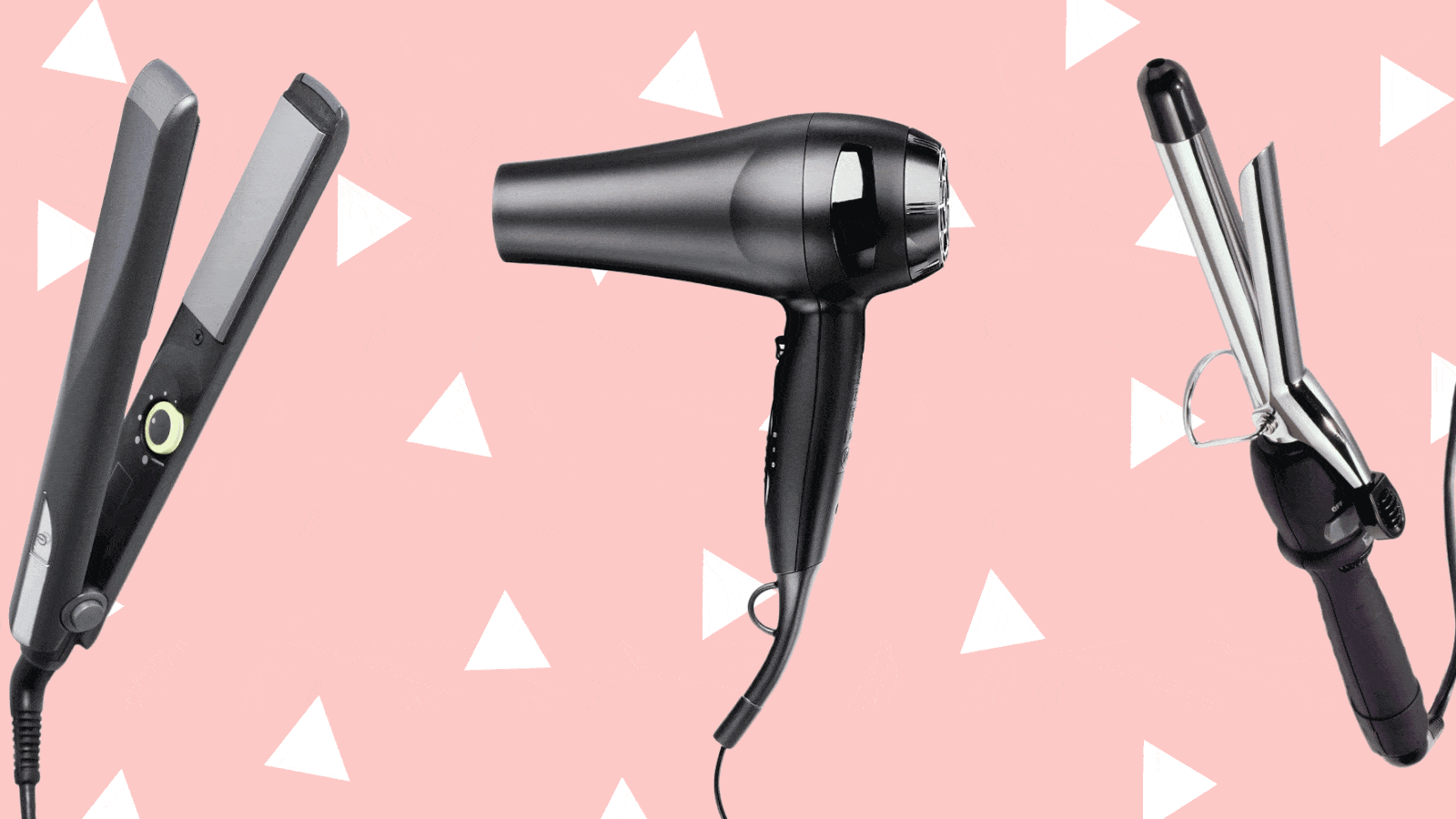 (Image credit: marie claire )
No, you're not imagining things: "Hair that is consistently heat styled and chemically treated is really fragile," says Jenny Cho, a Suave celebrity hairstylist in Los Angeles. Which is why, over time, heat styling it every day at volcano-like temperatures and skimping on moisture treatments can cause the cuticle to erode—literally!—leaving the hair shaft completely exposed. The result? Dry, wiry looking hair with split ends galore. But don't worry: introducing a few new healthy-hair habits each day is all you need to do to get it back on track. Work these nourishing steps into your routine and you can style without remorse!
1 Hydrate.
"Moisture, moisture, moisture," says Cho. "Your hair needs it to stay healthy, if you are constantly manipulating the hair's shape with stylers." Look for shampoo and conditioner formulas that are infused with ingredients known as natural moisturizers, like coconut oil, coconut milk or argan oil. The formulas will quench hair without weighing it down. One to try: Suave Professionals Coconut Oil Infusion Damage Repair Shampoo & Conditioner.
2 Create a protective shield.
Having healthy-looking hair could take you just five seconds a day. Before applying any heat, it's important to protect hair that's freshly washed because "when hair is wet, it's more prone to snapping and breaking," says David Lopez, a hair stylist in New York City. It's just as key to shield second-day dry hair pre-touch up. Lopez suggests reaching for a water-soluble spray (not creams or oils) to use on damp hair (try Oribe Foundation Mist) and a dry protecting spray like Oscar Blandi Pronto Dry Heat Protect Spray on second-day hair before turning on those hot tools.
3 Turn down the heat.
You don't have to use scorching temperatures to get the style you love, especially because hair should always be dry before it comes in contact with a curling or flat iron. "I never have any of my irons at the highest setting," says Cho. The one exception: if your hair texture is extremely thick or natural. "If I do have it really high, I move it through hair as fast as I can," says Cho. The mane rule: "Most hair can handle 380-degrees," says Lopez. (This usually translates to the second highest setting.) "But if your hair is double-processed, bleached, or relaxed, you want to keep it even lower—about 300 to 320-degrees, or the lowest level," he says.
4 Schedule a biweekly hair mask.
"If you regularly heat style or flat iron your hair every day—and I do it to my hair too!— you need a hydrating mask one to two times a week," says Cho. Simply swap in a conditioning mask in place of your daily conditioner, let it soak in while you wash your face, shave, and so on, then rinse. Need easy ways to work a mask into your routine? If you're heading to the gym on Saturday, apply it to your hair from midway on strands and down, secure hair in a bun, then rinse it out post-workout. Or simply apply it all over, braid your hair and leave it on overnight, suggests Cho. (Try Suave Professionals Coconut Milk Infusion Intense Moisture Mask or Kevin Murphy Young. Again. Mask.) Good morning, Gorgeous!
5 Oil up before bed.
It's a slick move. "I tell clients to apply an oil treatment on their ends at night so that they wake up with healthier-looking hair," says Cho. Promise, it won't make you look greasy. Think about it: Depending how long your hair is, your ends are one, two, even three years old. And after facing countless heat styling sessions, the cuticle layer is often noticeably thinner than rest of hair. Cho suggests smoothing a pump or two of Suave Professionals Coconut Oil Infusion Damage Repair Oil Treatment between hands and smoothing over ends, then wrapping your hair into a bun and securing the ends with two criss-crossed bobby pins. For hair that's really fried, bring out the big guns: Use a split-end mender like Suave Professionals Split End Rescue Split End Hair Serum.
6 Mini-trim on the regular.
Snipping ends every few weeks may sound high maintenance, but it's worth it. If you don't want to sacrifice length, ask for just the tips to be taken off. By nipping the super dry, ready-to-snap-at-any-second sections of your strands before they work their way up the hair shaft, causing splits and frayed ends, your hair will be easier to style. End result: You won't need to work as hard (or use as much heat) to get the look you want. Standing appointment, please!
Nicole Catanese is a beauty and wellness editor.