An Ad for a Dating Site Called Freckles "Imperfections," and People Are Not Having It
Is the message empowering or bullying?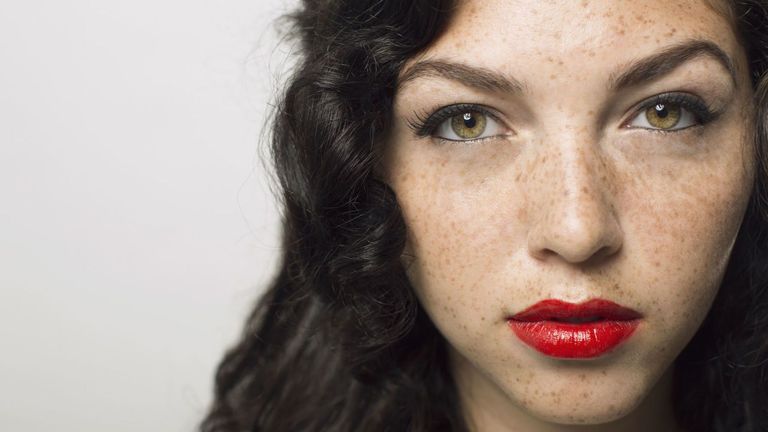 (Image credit: Getty Images)
When I was a little kid, I used to hate my freckles. I hated that they would pop up uncontrollably whenever I went outside, no matter how much sunscreen I used, but mostly, I hated that they made me look different than the other kids in my class. Now that I'm a grown-up, I actually love my freckles and try not to hide them with makeup—but apparently, not everyone agrees with my love for my spots.
The Guardian (opens in new tab) reports that Match.com has released an ad in the London Underground that features a woman with red hair, hazel eyes, and a face full of freckles, with the text, "If you don't like your imperfections, someone else will." The ad is part of their campaign surrounding #loveyourimperfections, which ostensibly aims at getting people to feel good about themselves. But that is not how it went over with the London public. Here's how they reacted on Twitter:
Hi @Match. Think you need to rethink your latest campaign. There's nothing wrong with freckles. #match.com pic.twitter.com/AteHsJVFt2April 11, 2016
See more
Advert fixed now! Judging on the colour of skin... FAIL #advertisingfails #freckles #skincolour #dating @Match pic.twitter.com/eB3i8ZntyzApril 11, 2016
See more
Perhaps I'm a secret leopard. Or maybe they're coordinates. But my freckles are certainly not "imperfections" @Match pic.twitter.com/I4dVPfX7MqApril 11, 2016
See more
Dear @Match - these are my #freckles, not my #imperfections - whether people like them or not. pic.twitter.com/5ipUTTnLjWApril 8, 2016
See more
No @Match - #freckles are not imperfections…#frecklesarebeautiful Stop judging people on skin pigmentation. pic.twitter.com/VFOoC6f1CWApril 11, 2016
See more
@Match look... Freckles! I have to walk past your ad calling them 'imperfection' every morning. Cheers! #grotesque pic.twitter.com/Bo0DC9i8rgApril 8, 2016
See more
The U.K.'s Advertising Standards Authority has received around "half a dozen" complaints about the ads, with people calling them "bullying" and cruel, but the group hasn't launched an investigation yet. Match.com responded with the following statement (opens in new tab):
"We have taken note of the response about our advert concerning freckles. Following this feedback, we are in discussions with our relevant partners about removing these posters as soon as possible. We believe freckles are beautiful. The intention of our 'Love Your Imperfections' campaign is to focus on the quirks and idiosyncrasies that people wrongly perceive to be imperfections–this can include freckles, a feature that is sometimes seen as an imperfection by people who have them. We're sorry if this ad has been interpreted in a different way and we apologize for any offense caused, this was not our intention. Our overall campaign is all about celebrating perceived physical and behavioral imperfections, from having freckles to being chubby, messy or clumsy. The adverts are designed to encourage everyone to be proud of their individuality, as the features that make us unique are often the ones that make us most attractive."
The bottom line is this: Freckles, "chubbiness," and a tendency to leave socks all over the house are what make you awesome, not what make you "imperfect." There's no such thing as perfect, anyway, no matter what a subway ad might imply.
Follow Marie Claire on Instagram (opens in new tab) for the latest celeb news, pretty pics, funny stuff, and an insider POV.
Megan Friedman is the former managing editor of the Newsroom at Hearst. She's worked at NBC and Time, and is a graduate of Northwestern's Medill School of Journalism.