Chic or Clownish? Pom Pom Makeup Is Now a Thing
Things are starting to get really tactile.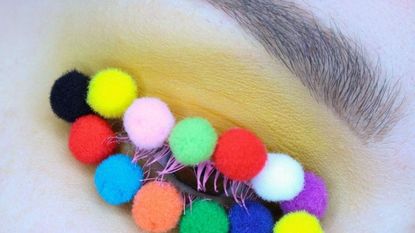 (Image credit: Archive)
The internet's having a tough time differentiating between arts and craft supplies and beauty offerings as of late. See: glitter lip art, terranium eyes, bejeweled undercuts, and now? Pom pom eye makeup.
That's right, those furry little balls you used to fluff up your art projects once upon a time are now serving as fancy appliqué for colorful eye looks. Adding both dimension and playfulness, MUAs are spangling the area around the eyes, then adding even more embellishment with glitter, sequins, and stickers.
Unless your day job consists of wearing a red nose and making balloon art for children's birthday parties, these looks probably aren't work appropriate. However, we get the feeling they'd be right at home at, you guessed it, a music festival.
So go ahead and raid your local Michaels before your next festival weekend, but before you go breaking out the Elmer's glue for old times' sake, we suggest applying your pom poms with eyelash glue instead. See below for several impressive takes on the equal parts chic and clownish makeup trend.
Follow Marie Claire on Facebook for the latest celeb news, beauty tips, fascinating reads, livestream video, and more.