Chatting Up Chrissy Teigen
SI swimsuit model Chrissy Teigen talks razors, cooking and curse words.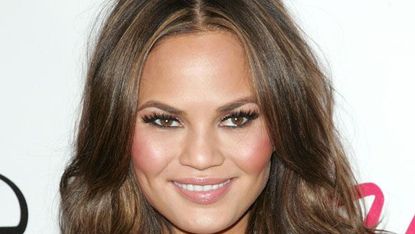 (Image credit: Jim Spellman/Getty Images)
Marie Claire Newsletter
Celebrity news, beauty, fashion advice, and fascinating features, delivered straight to your inbox!
Thank you for signing up to Marie Claire. You will receive a verification email shortly.
There was a problem. Please refresh the page and try again.
I first met Chrissy Teigen through a mutual fashion friend at the Alice + Olivia show last September and since then she's become one of my favorite Twitter buddies. (Follow her @ChrissyTeigen). She's smart, funny and totally unfiltered. The lady goes from talking about the ridiculousness of Chris Brown to recipes (she also has a food blog sodelushious.com) in seconds flat. Plus she looks AMAZING in the Sports Illustrated swimsuit and is engaged to a guy you might know, John Legend. But Chrissy's definitely her own woman which is why I was excited to chat with her last week about all sorts of topics, including the new Gillette Venus & Olay Razor.
So how did you get involved with Gillete and Venus?
Well, this whole partnership came about because they are the official razor of the Sports Illustrated Swimsuit Issue and I am in my third year now and they so kindly asked me to represent the brand. And I am more than happy to do so because as you know as a Sports Illustrated girl we are thrown brands all the time. But one of the things that is huge for me is that it is something I really, actually, truly believe in so I was more than happy to agree to it. I'm a Gillete freak.
I know. The day it came out it changed my life.
I love Venus. And I actually have learned so much throughout this process about all these different razors that exist. But now of course I'm strictly a Venus and Olay girl. Obviously "Olay" is known for being an awesome skincare brand already. So their partnership together with razor and skincare elements is really huge and important and very different for a razor to have. I don't usually feel like there are any skincare elements in it but in this one really does. You get a really close shave, which is obviously really important because it makes your legs smoother and softer. You have the gel bars that smell delicious. They smell like crème brulee and I am absolutely obsessed with them. I smell them all the time.
Well, you do also have your food blog!
[laughs] Yes!
How did you get into cooking?
Basically I was really modeling for fun, but it wasn't ever something that I wanted to do to begin with. I always loved food and I think I kind of needed an outlet. I didn't want to just talk about modeling all the time and just be in the modeling realm. It wasn't to shock people like "oh models eat and models like to cook", it wasn't about that at all. I just kind of needed somewhere to just talk. I think like Twitter is somewhat difficult sometimes, and it can be kind of negative. But I feel like my blog [link href='http://sodelushious.com/' link_updater_label='external' target='_blank']sodelushious.com[/link] is a place where it is so positive and it feels like a real community. I will rant about "What am I doing with my life? I don't know what to do" and then I'll turn that into hamburgers. It makes no sense but I noticed that I always get people leaving the most lovely comments and I like to feel like the way I speak on there is much more myself. You know, Twitter is fun to be snarky and crass.
Twitter is snarky.
I don't think it should be a place for "nicecity". I think it's actually for comedians only. And you know, beauty stuff. I'm not an inspirational quote kind of person. But if you do go to my blog honestly it is a much more peaceful place.
Like a spa.
Yeah. A lot more zen.
And because I'm obsessed with James Lipton (and I knew Chrissy would be game), I ended our little chat the way he does each episode of Inside the Actor's Studio, with some of the questions from the "great Bernard Pivot". Luckily you don't have to listen to me imitate him.
What is your favorite word?
The F-bomb. I'm sorry. That's my most favorite word for sure.
What's your least favorite word?
I hate the word "moist"
What is your favorite sound?
[Makes a fart sound] Seriously, I have the fart app on my phone.
What sound or noise do you hate?
Oh god, so many. I actually pick up on absolutely everything. Sounds really bother me a lot - but I hate that one when the lavatory is occupied in the bathroom. Just like that simple "bing". It sounds like something from my childhood. Maybe lavatories were occupied and I hate myself for something.
What's your favorite curse word?
Definitely "F-bomb". I mean yeah, I'll stick with that one. There's a few more.
What profession other than yours would you like to try?
I always get so excited when I get to go to my friends at corporate offices. I am always like looking around. I think that's really exciting to be apart of an actual corporate office. It was so exciting in yours today. But I would love to be like Tabatha [of]. I would love to know so much about one topic that I can just go in and you know, verbally assault people.
What profession would you not want to try?
God,I kind of want to do everything, I'm kind of sick. I would not like to try any high stress job. Honestly I wouldn't like something like a PR job. I can't diffuse situations.
And if heaven exists what would you like to hear God say when you arrive at the pearly gates?
I just want him to be happy that I am there. I mean like hopefully he is like welcome and not like, "What are you doing here?"
Check out Chrissy in the swimsuit issue and buy the new Gillette Venus & Olay razor in stores on March 15th.
Celebrity news, beauty, fashion advice, and fascinating features, delivered straight to your inbox!