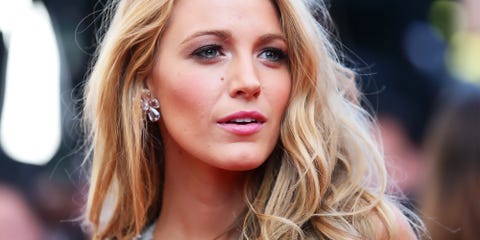 Those perfectly tousled, piece-y, just-napped-on-a-beach waves? Yeah, those don't just happen. Blake Lively didn't just come out of the womb with gorgeously textured waves, and Chrissy Teigen doesn't emerge from bed each morning with gently mussed "tendrils." No, the secret to getting the ultimate "what, this ol' thing?" beachy waves is to use the actual beach on your hair—via sea salt sprays.
Salt sprays are exactly what they sound like: Sprays that are formulated with your classic sodium chloride (i.e. salt). When the formula is done well—i.e. it also contains a mix of softening, volumizing, and shine-enhancing ingredients—you'll be blessed with red carpet–level beachy waves. When it's done poorly, however—i.e. it's mainly just salt and alcohol—you'll be left with a sticky, straw-like mess. Thankfully, I rounded up only the best of the best for you, ahead. Spritz them over damp or dry hair (or both!) for a perfectly wavy finish, even if your beach vacation isn't for months.
1
This Texturizing Formula
Verb Sea Texture Spray, $16
Technically all sea salt sprays add some grit to your hair, because salt is a natural texturizer, but not all sea salt sprays give your hair an amped-up, wind-blown finish in the process. Luckily, this dry spray does. It's essentially a mix between a salt mist and a dry shampoo, so it manages to give your hair a touchable, non-matted texture (and won't weigh down fine hair).

2
This Gold-Flecked Formula
Captain Blankenship Golden Waves Sea Salt Shimmer Spray, $28
Yes, the idea of spritzing a shimmer-flecked spray over your hair probably conjures flashbacks to your middle-school days, but trust me: This gilded formula is anything but gaudy. Infused with subtle, finely milled flecks of shimmer, the light-hold formula gives hair a softly tousled finish that looks ethereal when the light hits it—as if you got really, really excellent highlights yesterday.
3
This Frizz-Smoothing Formula
OGX Moroccan Sea Salt Spray, $6
If you're still not totally sold on the idea of salt sprays ("I don't want tangles!" or "I have curly hair!"), try a formula that's less salt, more moisture, like this spray from OGX. It's filled with argan oil and kelp extracts, which leave hair shiny and soft—yet still definitively beachy—for a laid-back, trying-but-not-trying vibe.
4
This Volumizing Formula
IGK Beach Club Texture Spray, $29
This lightweight texturizing spray mimics the effect of salt-soaked waves, leaving your hair looking full, textured, and piece-y. But unlike most sea-salt sprays that give you a shiny, crunchy feel, this salt-free formula (gasp! Yup! It uses wheat proteins, instead) dries down to a semi-matte and flexible finish.
Herbivore Coconut + Sea Salt Beach Wave Mist, $26

This coconut-infused spray contains the same degree of salinity as the Pacific Ocean, so it's the closest you'll get to an actual beach day while sitting on your couch. Extra salt would usually mean extra stickiness, but this formula uses a dose of aloe water to keep your hair moisturized all day.
6
This Wave-Enhancing Formula
John Frieda Beach Blonde Sea Waves Sea Salt Spray, $9

Don't be fooled by the name—this iconic spray works just as well for any hair color, from brunettes to redheads to raven-black beauties. The title is a throwback to its '90s counterpart, the O.G. formula that became a decade-long sensation as a result of its ability to create shiny, smooth, piece-y waves in even the straightest of hair. Thankfully, the formula is back and, dare I say, better than before, so you'll be able to get dream-level waves without a time machine.

7
This Fade-Protecting Formula
Bumble and Bumble Surf Spray, $27
The goal of any good salt spray is to help you get Baywatch-worthy, just-romped-in-the-surf beachy waves, and this cult-favorite helps get you there 100 percent of the time. Its saltwater base is infused with shine-enhancing fruit oils and hydrating coconut water to keep hair from feeling stiff, along with a mix of UVA- and UVB-protecting agents that'll keep your hair color (whether it's natural or bottled) from fading in the sun.