The 17 Best Sea Salt Sprays for Vacation Hair
Get the beachy waves of your dreams with these fake-it-'til-you-make-it sea salt sprays.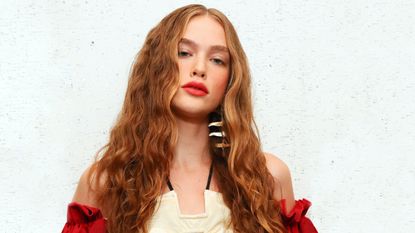 (Image credit: Astrid Stawiarz)
Let's face it: We all love looking effortlessly fabulous, and that goes for our hair, too. And while the key to luscious, flowing locks is to take thorough care of your hair by staying hydrated, maintaining a healthy diet, and investing in high-quality hair essentials like shampoos and conditioners, scalp treatments, and hair growth oils, there are also a number of styling products that go a long way in terms of getting you the look you desire. One of my favorite hair products is sea salt spray, which I especially love using when my hair needs a little extra something.
But what is sea salt spray, exactly? Hairstylist and founder of Hair Addict Salon Michelle Cleveland explains: "Sea salt spray is a product that when added to the hair will mimic the effects of spending the day at the beach with a tousled, textured look." So, if your hair is feeling weighted down, a sea salt spray is the perfect solution for creating that effortless summer mane no matter what season we're in.
What to Look for in a Sea Salt Spray
Not all sea salt sprays are built alike and, as with all products, you should strive to find ingredients that won't harm or dry out your hair. "The active ingredient in most sea salt sprays is magnesium sulfate," admits Cleveland, "however, some better brands will also include more nourishing ingredients to protect the hair from damage." In particular, she highlights sage, balm mint, and yarrow plant as healthy ingredients that combat damage and dryness.
How Do You Use Sea Salt Spray?
There are so many hair product options on the market that it's difficult to understand when and how to apply each one. Luckily, Cleveland has the answers. She advises that when it comes to sea salt spray, users "apply it to wet hair, and let it air dry or blow dry it in. You can also add it after the blow dry for a more matte texture. I would, however, avoid putting it in your hair more than one time between washes, as it can make the hair dry and brittle."
In that vein, Cleveland warns that there are, in fact, times when you shouldn't use a sea salt spray. Consistent with the spray's goal of giving you that windswept beachy look, she says, "sea salt spray will add a gritty and matte texture to your hair, so if you are already experiencing over-processed, dry, and damaged hair, I would totally avoid using sea salt spray altogether. On the contrary, if your hair is stronger and can handle the texture, you can add it sparingly onto wet or dry hair to create loose, natural-looking beach waves."
The Best Sea Salt Sprays
Best Frizz-Smoothing Sea Salt Spray
OGX Moroccan Sea Salt Spray
This is my personal favorite, and not just because I love the smell of argan oil. As someone with curly hair, I'm constantly concerned about whether products are going to dry out my strands in the long run or make them frizzy and tangled. Because this option incorporates nourishing ingredients like argan oil and sea kelp, though, I feel comfortable spray it in my hair to my heart's content, and it quickly turns a lank mane into a tousled masterpiece.
Pros: affordable; editor-approved; gentle scent; expert-approved
Cons: contains sulfates and propylene glycol
Customer Review: "This is one of my absolute favorite products! This gives my hair the perfect beachy waves! It literally makes your hair look like you were surfing all day, I love it!" -Ulta
Best Stylist-Approved Sea Salt Spray
Cleveland says she "definitely love[s]" this option, which is vegan, cruelty-free, paraben-free, and contains natural ingredients that protect hair from environmental damage. In particular, it contains Canadian-sources Cranesbill, which helps make hair shafts look thicker and more voluminous; yarrow plant extract, which protects and thickens hair; balm mint, which supports color retention; and sage, which strengthens hair follicles. These result in an impressive formula that Cleveland calls "one of [her] favorites."
Pros: vegan; cruelty-free; free of parabens and gluten; contains Vitamin C; expert-approved
Cons: expensive; contains sulfates
Customer Review: "This product truly does what it says it's going to do. I have very fine, thin hair, and when I use this product, it helps my hair, feel, and look fuller." -R+Co
Best Sea Salt Spray For Short Hair
John Frieda Beach Blonde Sea Waves Salt Spray
Don't be fooled by the name—this iconic spray works well on any hair color, from brunettes to redheads to dark, raven hair. The title is a throwback to the brand's '90s counterpart, the O.G. formula that became a decade-long sensation because of its ability to create shiny, smooth, piece-y waves in even the straightest hair. Reviewers say that this product does wonders for short haircuts in particular, breathing life into bobs and lobs so that you don't end up looking like you have a 1980s-era, toddler-style bowl cut.
Pros: volumizing; aids with greasy hair or scalp
Cons: strong coconut smell can be polarizing
Customer Review: "This spray adds volume and texture WITHOUT making it hard or sticky. After washing my hair, I let it air dry until it's just damp. Then I shake it and hold it at arm's length so it's just misting my hair and not spraying directly on it...So easy for my early mornings. I don't wash my hair everyday but this product keeps my hair so I don't have to use too much heat on it." -Walmart
Best Firm-Hold Sea Salt Spray
Aquage Sea Salt Texturizing Spray
This hair spray-like formula has a litany of enthusiastic rave reviews, with one customer in particular raving that they "can't live without" it. Another helpfully adds that, because this product has such an effective thickening effect, it's great for those looking to mask their thinning hair. For those who are simply looking for a styling product, this option promises effective, all-day hold that still manages to look naturally tousled rather than hard and plastic-like. Customers also love the smell, writing that it reminds them of days at the beach.
Pros: affordable; effective hold; effects mimic a blowout; combats frizz; cruelty-free
Cons: customers complain that the spray bottle itself is fragile and difficult to use
Customer Review: "Just the right amount of texture for the the messy curls look and my hair still feels good. And it washes out so easily. I love it!" -Ulta
Best Softening Sea Salt Spray
R+Co Sail - Soft Wave Spray
Using a sea salt spray may seem scary for those who have curly or natural hair (which craves moisture), or for those who have struggled with dryness, heat damage, and frizz. "So many salt sprays make hair look dry and damaged when people use them on themselves," admits Los Angeles based hairstylist Clayton Hawkins—but he makes an exception for this lightweight product from R+Co. It contains castor oil, aloe vera, Vitamin C, and witch hazel, all of which support hair health for all hair types, including curly, coarse, bleached, fine, and damaged hair.
Pros: lightweight; contains natural ingredients; free of parabens, gluten, and sulfates; expert-approved
Cons: expensive
Customer Review: "I have a long bob, or 'Italian bob.' I have some wave to my hair but it needs help to actually look good and intentional. This stuff on wet hair, plus a scrunch gets me there. Using it when it's already humid helps, but isn't required. It has just enough hold without being crunchy like a mousse, but doesn't feel greasy either. I can easily brush through it if I wanted to." -Dermstore
Best Subtle Sea Salt Spray
Odele Texturizing Sea Salt Spray
Marie Claire's E-Commerce Writer Julia Marzovilla loves this spray from Odele, which is infused with sea salt and boasts a gentle fragrance incorporating cucumber, ylang ylang, and oakmoss. Marzovilla raves, "Most sea salt sprays leave my hair feeling really sticky and make it look oily in a second. This one from Odele has a really fine mist and actually gives my hair tons of texture without giving it a wet look. I love to use it after I've styled my hair for some extra texture."
Pros: works well on all hair types; works well on oily or thin hair; editor-approved; affordable; free of sulfates, phthalates, and parabens
Cons: some reviewers say it leaves their hair tangled and sticky if they sleep with it in
Customer Review: "Very nice. Not heavy. Not drying. Just the right amount of texture. Strongly recommend this. My hair is fine and it does not weigh it down." -Odele
Best Mattifying Sea Salt SPray
Davines This Is A Sea Salt Spray
Chicago-based hairstylist Ryan Babbitt is committed to educating his clients on how to find the best products both short-term styling and long-term hair health. And he relies on this salt spray to give his clients the windswept curls they crave. Unscented and made to give a subtle, matte finish, the formula is perfect for those looking for a low maintenance look that makes it appear as though you rolled out of bed looking fabulous. Reviewers say that the bottle lasts for ages, but they do caution that when it comes to application, less is more.
Pros: effectively volumizes from root to tip; product lasts long
Cons: can make already-greasy scalp greasier and more acne-prone; expensive
Customer Review: "It brings out the most texture and and wave in my thin and slightly wavy hair." -Walmart
Best Easy-to-Use Sea Salt Spray
Sun Bum Texturizing Sea Spray
It doesn't get much more user-friendly than a spray nozzle, and this one dispenses a mattifying formula that's infused with natural ingredients like Hawaiian black lava sea salt, for an authentically beachy look, and seaweed, which provides definition to curls, coils, and waves. Several customers write that it does wonders for their curls, while those with straight and way hair say that it revived their 'dos on days where their strands looked especially limp. And at a price point under 20 dollars, what's there to lose?
Pros: fresh scent that customers love; lightweight
Cons: contains sulfates
Customer Review: "I have very baby fine hair. I live in Florida with very high humidity which makes my hair straight. This gives me body and texture. Best product I have ever used." -Ulta
Extra Salty Sea Salt Spray
Bed Head Salty Not Sorry Epic Texturizing Salt Spray
Customers say that, when applied sparingly and appropriately, this product from fan-favorite brand Bed Head provides subtle lift without over-drying. It's designed to make you look like you just left the beach or rolled out of bed (in a good way). The formula contains dead sea salt for a beachy finish with lots of hold, along with a styling polymer that allows for flexibility and individual styling. It also contains glycerin, which hydrates hair from the inside out. For best results, simply hold the bottle 10 to 12 inches from your hair, spray two to three times, and you're on your way.
Pros: highly texturizing
Cons: some customers report that it can weigh hair down; contains sulfates; strong floral scent may not be for everyone
Customer Review: "Love it when my curls need and extra boost. This doesn't feel dirty like other salt sprays. This gives me the perfect beach waves in my hair and it smells amazing. It's not heavy in my hair." -Ulta
Best Sea Salt Spray For Chemically-Treated Hair
IGK Beach Club Texture Spray
Many reviewers mention how wonderful this product smells (a huge plus for me, personally), writing that its coconut-infused, tropical island inspired scent makes the feel like they're on vacation no matter where they are. But that's not the only quality to love in this formula— it's also ultra lightweight, so that your waves and curls never look weighed down, and it's formulated with wheat proteins instead of salt. This strengthens hair over time, making this option particularly appealing for parched, textured, and chemically treated hair.
Pros: color-safe; keratin-safe; vegan; free of gluten and silicones
Cons: can have a crunchy/sticky effect, particularly on thin hair
Customer Review: "I use this product for the hair volume. Just spray it on wet hair before blow drying and blow dry your hair with you head pointed downwards. Creates very good volume and stays for the whole day." -Sephora
Best Dry Shampoo-esque Sea Salt Spray
Joico Body Shake Texturizing Finisher