Argan Oil for Hair: Hair Experts on the Benefits and Uses
Your softest hair yet is well within reach.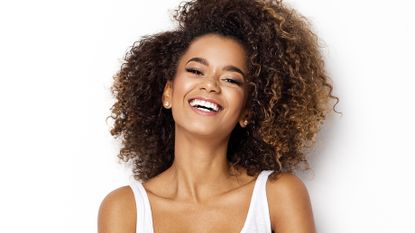 (Image credit: Getty)
Along with coconut oil and castor oil, argan oil was one of the first hair oils I discovered when I started expanding my haircare routine beyond basic shampoos and conditioners. And when I tried my first argan oil-infused product, I instantly fell in love with its smooth feel, powdery scent, and the way it made my curls feel lightweight and bouncy. What I didn't yet realize was that argan oil was protecting my hair from everyday damage—like heat and pollution—nor did I know that argan oil products vary in type, potency, and quality.
In my mission to unpack all things argan oil for hair, I consulted experts, including two board-certified dermatologists along with a celebrity hairstylists, in order to better understand what argan oil is, how it works, and how to find the best argan oil-infused products for every type of hair.
What Is Argan Oil?
So, where does argan oil come from? Board-certified dermatologist Dr. Marisa Garshick says, "It is derived from the fruit of Argania Spinosa, a tree native to Morocco and traditionally used to improve the appearance of skin"—yes, you can use argan oil on your skin, too—"and hair, as well as can be used in wound healing."
Indeed, Dr. Rebecca Marcus, board-certified dermatologist and founder of Maei MD, points out that scientific studies indicate that argan oil "has a regulatory effect on sebum secretion, and it has been shown to increase hair elasticity when applied topically." This, she explains, is because "it consists of mostly unsaturated fatty acids and is rich in oleic and linoleic acids, as well as antioxidants including Vitamin E, all of which contribute to organ oil's ability to support hair's elasticity and protect it from damage that may lead to breakage."
Because of these health-boosting effects, Dr. Marcus says that argan oil enhances hair shine by boosting it from within.
Why Use Argan Oil on Your Hair?
Why use argan oil? Dr. Garshick explains, "Argan oil helps to moisturize, as it is rich in fatty acids to help strengthen the skin barrier and also contains squalane to help hydrate and protect. It can also help to reduce inflammation as it contains linoleic acid which is thought to be anti-inflammatory. In this way, it is also known to help promote shinier and smoother hair."
Plus, using argan oil can help your other moisturizing products penetrate your hair follicles more effectively. "Argan oil contains oleic acid and linoleic acid, which are thought to be penetration enhancers, and help improve penetration of other ingredients into the hair and can also reduce inflammation," she says. "Linoleic acid can help with dryness as it has moisturizing benefits and support the skin barrier. Additionally, argan oil contains antioxidants such as polyphenols and Vitamin E to help with free radical damage, making the oil helpful in addressing overall hair health."
In short, Dr. Garshick recommends argan oil for those who are "experiencing dryness or dullness of their hair." Celebrity hair stylist Dominick Pucciarello agrees, saying that argan oil is "better for enhancing manageability than other oils are."
What to Look For in Argan Oil Products
Dr. Garshick says that when it comes to finding the ideal argan oil products, "generally the full-strength version is best for those with thick or curly hair." In other words, you should consider opting for a pure, organic argan oil treatment.
However, she concedes that argan oil also "works well as a conditioner to help nourish the hair and leave the hair softer and smoother. It can also be found in heat protection products to help protect the hairs, hair masks, serums, and styling products."
And what should you avoid in an argan oil product? Pucciarello says it's best to avoid "sulfates, mineral oil, parabens, denatured alcohols, synthetic fragrances, formaldehyde, and silicones."
Dr. Marcus does point out that silicones "tend to be best for protecting hair before heat styling for adding shine and taming frizz," and various studies continue to indicate that silicones can be effective short-term solutions for frizz, breakage, and dryness. However, other studies point out that that silicones remain unsustainable from an environmental perspective in addition to causing dryness after consistent use over an extended period of time.
Possible Side Effects
While argan oil may seem like a magical hair panacea, Pucciarello says, "Using argan oil over time will actually dry your hair oil. The oil starts to create a barrier, breaking out any moisturize trying to get in." So be sure to mix up your hydration routine with other potent options, such as coconut oil, castor oil, and high-quality leave-in conditioners. And if you're concerned that too much product build-up is blocking moisture from penetrating your strands, consider a clarifying shampoo for a deep cleansing.
Best Argan Oil Shampoos
Pucciarello says that argan oil—and products infused with it—can "reduce breakage and split ends and keep your scalp healthy." Thus, it's worth integrating into your shampoo routine. That way, your wash routine will be infused with an extra boost of hydration and scalp support.
Briogeo Farewell Frizz Spray Smoothing Shampoo
"Containing a blend of organ oil, rosehip oil, and coconut oil, this nourishing shampoo helps to soften and smooth the hair, while also reducing frizz and protecting the hair," Dr. Garshick attests. "It is especially good for those with frizzy, dry or damaged hair but can be used in color-treated, keratin-treated, chemically-treated and relaxed hair."
Pros: free of gluten, sulfates, SLS, and SLES; increases shine; smooths frizz; effective for all hair types and curl patterns
Cons: high price for size of the bottle
Customer Review: "I have thick hair that's been on the dry side lately. This product has helped regain shine and for sure helps with the frizz. Love the smell and would highly recommend this shampoo!" -Sephora
Moroccanoil Moisture Repair Shampoo
"Moroccanoil Moisture Repair Shampoo contains keratin proteins and fatty acids in addition to argan oil," says Dr. Marcus. "The ingredients combine well to give hair the most beautiful shine. I especially love that this shampoo is sulfate-free and therefore works well for chemically related hair."
Pros: gentle scent; color-safe; hydrating; free of parabens, sulfates, SLS, and SLES
Cons: contains silicones; high price for size of the bottle
Customer Review: "I like this Shampoo. It makes my hair soft. I have seen a huge difference in the overall health of my hair after using this." -Sephora
Best Argan Oil Conditioners
Dr. Marcus says, "Argan oil is a great choice for anyone looking to moisturize their hair, lessen frizz, add shine, and protect it from breakage and damage." These qualities make it an ideal ingredient when you're looking for your next go-to conditioner.
Luseta Beauty Argan Oil Conditioner
Reviewers rave that this conditioner made their hair feel softer, tamed their frizz, and that it smells fantastic yet not overpowering. Plus, several users add that it helps reverse the visible effects of heat damage!
Pros: color-safe; contains strand-strengthening ingredients like keratin, aloe vera juice, and sunflower seed oil; free of sulfates, phosphates, and parabens
Cons: contains methylisothiazolinone, which can irritate some users' skin
Customer Review: "This conditioner is thick and smells great! I have super frizzy and uncontrollable hair and this product is great at taking my mane. I love the natural ingredients and that it's color safe!" -Luseta Beauty
OGX Argan Oil of Morocco Conditioner
I'm a huge fan of this drugstore favorite. Its gentle, powdery scent is perfect for layering. Plus, it always leaves my curls light, hydrated, and bouncy after each use.
Pros: cruelty-free; sulfate-free; editor-approved
Cons: contains silicones
Customer Review: "This is my go to shampoo and conditioner for the colder months, when my hair needs some hydration, or when it needs a boost of shine and frizz protection. It smells amazing too." -Target
Best Argan Oil Leave-In Treatments
In the words of Pucciarello, argan oil "can moisturize the hair and scalp and protect hair from everyday damage." Thus, you'll probably want to make it part of your daily styling routine. Below, some of the best argan oil leave-in treatments that will guard your hair against pollution and other irritants while you go about your day.
Shea Moisture 100% Pure Argan Oil
"Designed to help improve moisture from head-to-toe, this multitasking oil contains fatty acids and vitamins," Dr. Garshick tells us. "It can be used on the hair to tame frizz and flyaways, but absorbs quickly. It can also be used to boost moisture on the skin involving the face and body and may help improve the appearance of fine lines and wrinkles."
Pros: organic; free of silicones, sulfates, and parabens; affordable
Cons: thick, so those with very thin hair may find it greasy
Customer Review: "I bleached and dyed my hair up to 6 times in 6 months and my hair was paying for it. This oil seriously has saved my hair! I already had fry and brittle hair prior to dying it. I put it on at night and put it in a braid. I have also experienced less breakage and soft ends!" -ULTA
Andalou Naturals Argan Stem Cells Scalp Intensive Treatment
Dr. Garshick stands behind this treatment, which can regularly be massaged into the scalp before styling. "Using PhytoCellTech Argan Stem Cells, this product helps to prevent hair breakage," she explains, "while argan oil nourishes and conditions to leave the hair looking softer, smoother, and shinier."
Pros: dermatologist-approved; supports scalp health; organic; supports healthy hair growth
Cons: small bottle
Customer Review: "I gave this product a try and I am surprised that so far, after almost two weeks of using it, it helped lessen hairfall. It is mildly scented, does not irritate my scalp and easy to use." -iHerb
Best Argan Oil Hair Deep Conditioning Treatments
Whether it's from pollution, inclement weather, dehydration, or damage from bleach or heat, we all need some intensive hydration now and again. These ultra-hydrating treatments are perfect for giving your hair that desperately needed TLC, and they'll leave your hair smelling fresh and clean to boot.
Moroccanoil Intense Hydrating Mask
I have curly hair that hovers between type 2C and 3A, which means I'm constantly on the lookout for products that define my curls and bring them the moisture they need. This mask from Moroccanoil is fabulous for doing just that. For an extra hydration boost, I recommend covering hair with a shower cap while you let the treatment sink in.
Pros: gentle scent; free of sulfates, SLS and SLES, parabens, formaldehydes, and phthalates; editor-approved
Cons: contains silicones
Customer Review: "Wow, I have seen this product before but was unsure if it would work with my hair texture. I must say it has helped define my curls. Detangling is easier and my curls feel moisturized once they're dry." -Sephora
Nature's Potent Argan Oil Hydrating Hair Mask and Deep Conditioner
"Nature's Potent Argan Oil Hair Mask is the best," says Pucciarello. He advises that, for best results, you "use it once a week as a deep conditioning mask."
Pros: cruelty-free; smoothing; works on all hair types and curl patterns; stylist-approved
Cons: contains silicones
Customer Review: "This smells so good and left my hair feeling and looking refreshed. I straighten my hair a lot so it dries out and frizzes. After one use this hair mask my hair looks significantly healthier." -Walmart
Meet the Experts
Dominick Pucciarello is a New York-based hairstylist. He trained under top hairstylists Italo Gregorio and Serge Normant, and has since accumulated an impressive portfolio of celebrity clients. They include Olivia Culpo, Katharine McPhee Foster, and Alessandra Ambrosio.
Marisa Garshick, MD, FAAD is a leading board-certified dermatologist serving patients throughout Manhattan, New York at MDCS Dermatology: Medical Dermatology & Cosmetic Surgery, as well as an assistant clinical professor of dermatology at Cornell - New York Presbyterian Medical Center. Dr. Garshick provides a wide variety of cosmetic and medical procedures and services including treatments for acne, eczema, hyperhidrosis, moles, psoriasis, rosacea, signs of aging, skin cancer, skin tags, vitiligo, and wrinkles.
She completed her undergraduate education at Emory University and attended medical school at Tufts University School of Medicine, where she graduated with Research Honors and Alpha Omega Alpha. As a medical student, Dr. Garshick was awarded the prestigious Doris Duke Clinical Research Fellowship at Harvard Medical School, during which she performed dermatology clinical trials and research at Massachusetts General Hospital. She was also awarded the American Medical Women's Association Glasgow-Rubin Academic Achievement Award for graduating in the top of her class and the William Dameshek Award for Research Excellence. Dr. Garshick's post-graduate training in dermatology began with an internship at Memorial Sloan Kettering Cancer Center. She completed her dermatology residency at Cornell's New York Presbyterian Hospital, where she served as Chief Resident in Dermatology.
Dr. Rebecca Marcus is a board-certified dermatologist who specializes in medical, surgical, and cosmetic dermatology. She has nearly two decades of experience and completed her residency along with a clinical research fellowship at Columbia University. Since then, in addition to practicing dermatology, she has founded her own skincare line, Maei MD.
Celebrity news, beauty, fashion advice, and fascinating features, delivered straight to your inbox!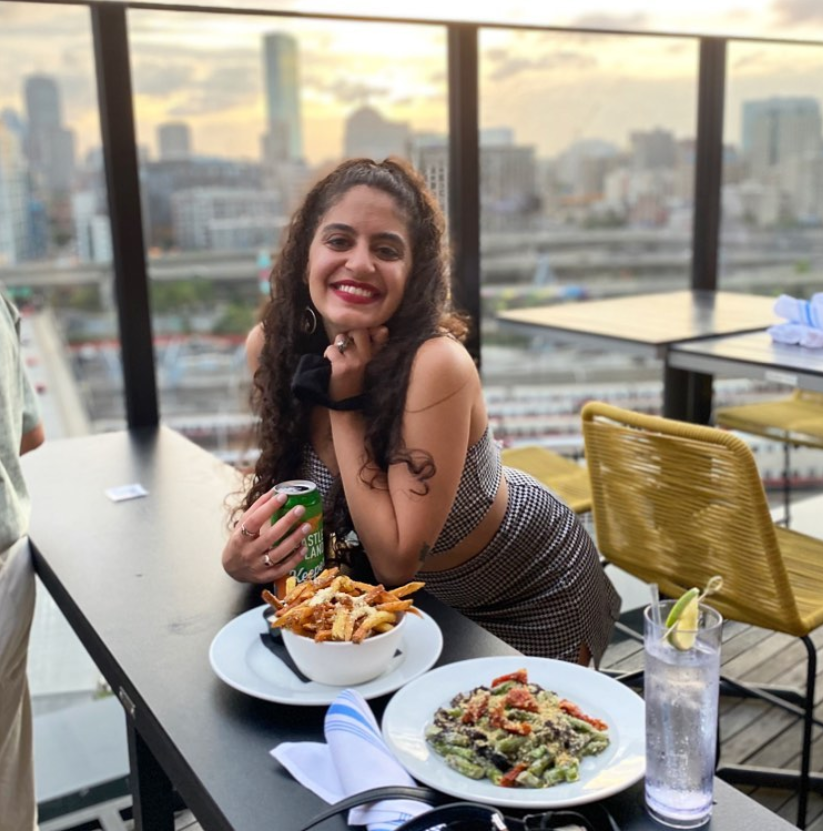 Gabrielle Ulubay is an E-Commerce Writer at Marie Claire and writes about all things beauty, sexual wellness, and fashion. She's also written about sex, gender, and politics for publications like The New York Times, Bustle, and HuffPost Personal since 2018. She has worked extensively in the e-commerce and sales spaces since 2020, including two years at Drizly, where she developed an expertise in finding the best, highest quality goods and experiences money can buy. As a film school graduate, she loves all things media and can be found making art when she's not busy writing.