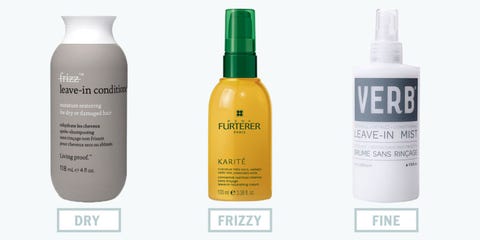 "Love it when I use the wrong leave-in conditioner and my hair feels like damp shag carpeting," said no one ever. Here, we break down the best formulas for seven different hair concerns, because it only takes a few pumps right out of the shower (before any frizz forms, hurry!) for things to go really wrong *or* really well.
Simultaneously hydrate and fight the puff with this supersaturated formula.
Bumble and Bumble Quenching Complex, $35, sephora.com.
2
If It's Drier Than How You Like Your Martinis
Fix yourself a glass or three, then apply a less-than-you-thought-you-needed amount of this PolyfluoroEster-rich treatment. (It's a miracle ingredient that creates a shield on the hair to lock in smoothness and repel dirt and oil. Score.)
Living Proof No Frizz Leave-In Conditioner, $25, sephora.com.
3
If It's Frizzy Like Chutney Windham's from 'Legally Blonde'
*Do* get in the shower, and when you come out, smooth on some of this heavier cream to subdue any fuzz.
René Furterer Karité Leave-In Nourishing Cream, $28, beauty.com.
4
If, Like Your Soul, Its Sparkle Has Been Dulled
Shine on with this multitasking cream that works both as a treatment for coarse, thick hair *and* as a styling product.
Oribe Supershine Moisturizing Cream, $49, birchbox.com.
5
If It's More Tangled Than Your Love Life
Simplify, simplify like Thoreau with the brand's

signature Ocean Silk Technology, which won't weigh your strands down, *and* its Swedish minimalist packaging.
Sachajuan Leave-In Conditioner, $31, nordstrom.com.
6
If It's Got More Splits Than an Olympic Gymnastics Floor Routine
Patch it up with this lightweight formula that's meant to repair up to 80 percent of split ends in just three uses. Bonus: It's also muy affordable.
Tresemme Split Remedy Leave-in Conditioning Spray, $5, walmart.com.
7
If It's Literally as Fine as the Day You Were Born
Keep things light with a sulfate- and cruelty-free spray that's reminiscent of the pear-scented one you used until two years ago as a kid.
Verb Leave-In Mist, $14, sephora.com.