60 Epic Tips, Tricks, and Secrets for the Best Hair of Your Life
We got the pros to give us the good stuff.
Marie Claire Newsletter
Celebrity news, beauty, fashion advice, and fascinating features, delivered straight to your inbox!
Thank you for signing up to Marie Claire. You will receive a verification email shortly.
There was a problem. Please refresh the page and try again.
Caution: you're now entering the secret beauty files, a restricted area where the lips are loose and classified information flows freely.
To share with you the most useful hair tips, tricks, and secrets possible, we contacted the top stylists in our little black book. After separating the wheat from the chaff—or rather, the been-there-done-that from the trying-that-immediately—we present the cream of the crop to you below, organized by care, cut, color, and styling. (Command-F for easy referencing.)
CARE
"Combine Puerto Rican rum with a raw egg. The rum contains honey and molasses, which quickly hydrates dry damaged hair. Be sure to rinse with cold water! Leave on one to two minutes."—Kerry Joly, hairstylist for ABC
"Don't be afraid to do more than one shampoo—sometimes all you need is more water. For people who only wash their hair a few times a week, I recommend doing one quick shampoo first to just loosen up all the build-up in the hair, then go in and really scrub a second time."—Siobhán Quinlan, stylist at Michael Angelo's Wonderland Beauty Parlor
"Before rinsing out conditioner in the shower, I recommend using a broad flat paddle brush to gently brush hair from root to tip. Once you've detangled, easy brushing can happen; you always want to make sure you are taking every step necessary to prevent damage and ensure you're properly caring for your hair."—Danilo, Pantene celebrity stylist
"Try mixing mayonnaise, raw egg, and beer together for severely dry, damaged hair. Mayonnaise will give hair shine, and the raw egg and beer provide protein, which is great for strengthening the hair. The alcohol contains vitamin B, which adds shine."—Kerry Joly, hairstylist for ABC
"To help hair grow healthier, opt for 3-4 Brazil nuts every day. You will see the difference in your hair within a few weeks."—David Babaii, partner at Blo Blow Dry Bar
"For an oily, flaky scalp, use 2 tablespoons of apple cider vinegar or fresh lemon, 2 tablespoons distilled water, and 2 tablespoons of olive oil."—Kerry Joly, hairstylist for ABC
"Coconut oil and castor oil are amazing. Both oils promote hair growth and health without weighing hair down—a small amount goes a long way and can be applied any time."—Wellington Hair Spa
"A quick treatment you can do at home is using an entire egg to condition hair. [Editor's note: Apparently eggs are what our hair's been missing all these years?] Use egg whites to treat oily hair; use egg yolks to moisturize dry, brittle hair. To make, use 1/2 cup of whichever egg mixture is appropriate for you and apply to clean, damp hair. Leave on for 20 minutes, rinse with cool water, and shampoo hair. Whole egg and yolks-only treatments can be applied once a month. Whites-only treatment can be applied every two weeks.
" —Cynthia Alvarez, Ojon stylist
"For an at-home hair treatment, try using Bumble & Bumble's Hairdresser's Invisible Oil as a hot oil treatment. Apply Hairdresser's Invisible Oil to freshly washed hair from roots to ends, then comb through with a wide-toothed comb. Warm a wet towel in the microwave for just a few seconds. Then wrap hair in the wet towel and cover with a shower cap. Leave in for 20–30 minutes. Shampoo hair thoroughly. This will leave your hair shiny and help protect from protein loss. You can do this treatment once a week." —Frankie Denise, Bb.Stylist
"For blonde hair, clarifying shampoo can keep your hair looking light and fresh for at least one more week. If you do your highlights every 6 weeks, by clarifying it, you can go an extra week because your color will look blonder and brighter." — Jennifer J, Wella Professionals celebrity color ambassador
"Avocado and coconut oil are great at-home hair treatments for dry or stressed-out hair. Apply either one liberally to hair, allow to sit for about 30 minutes, and then shampoo out."—Jessica Gillin, stylist at Marie Robinson salon
"An easy at-home hair treatment I recommend to clients is to saturate the hair in an oil, put their hair in a bun, then go work out! All the heat their bodies create heats up the oil and makes a deep-conditioning treatment. Simply wash the oil out of your hair post-workout."—Siobhán Quinlan, stylist at Michael Angelo's Wonderland Beauty Parlor
"Microwave equal part of extra virgin olive oil, organic coconut oil, and local honey. This kitchen concoction can be left on your hair for at least 15 minutes and up to an hour before washing. Organic coconut oil is full of properties that are moisturizing, and local honey helps to retain moisture." — Micki Charles, Cutler/Redken Salon junior stylist

"If you're a swimmer, use clarifying shampoo after you get out of the pool to rinse all that chlorine out. Directly after, make sure to use a moisturizing shampoo and a deep conditioner."—Mia Silverio, Paul Labrecque Salon and Spa stylist
"Using a deep-conditioning treatment every week or every two weeks is perfect. You don't want to overload the hair with too much protein from deep treatments."—Joseph DiMaggio, Davines North America master session ambassador

"A weekly moisturizing mask is important. You're only at the salon every two months, so you have to maintain your hair at home. Between shampooing, straightening, and blow-drying, you have to add nutrition back into the hair from torturing it at home."—Rita Hazan, celebrity colorist and owner of Rita Hazan Salon
"One of my favorite recipes for a homemade treatment is a vinegar and olive oil rinse after shampooing and conditioning hair. If you don't like the smell of vinegar and olive oil, you can mix it into your conditioner."—Nelson Chan, celebrity hairstylist and founder of Nelson j Salon
"A Gotu kola hair mask is very good for both damaged and dry hair. To boost the hair treatment benefits, you can apply the treatment on half blow-dried hair and steam inside a steam room or shower."—Nelson Chan, celebrity hairstylist and founder of Nelson j Salon
"Combine 8 oz. of warm water with 2 tablespoons of either Epsom salts or another type of mineral salt. Add a teaspoon of coconut oil for a bit of conditioning along with a teaspoon of gel for a bit of hold. Let the mixture cool and put into a spray bottle. Use as you would any salt or beach spray.—Charles Baker Strahan, Herbal Essences celebrity stylist
Mix fresh lemon with a small amount of water. Using a clean cotton ball dipped in the mixture, remove excess moisture and freshen the scalp. Another easy dry shampoo is to mix some baking soda with a touch of cinnamon—the cinnamon hides the whiteness of the baking soda while giving a fresh scent."—David Babaii, partner at Blo Blow Dry Bar
"Almond oil is a great conditioning treatment to naturally condition and add shine to your hair. It helps to mend split ends and hydrate those frizzies away."—David Babaii, partner at Blo Blow Dry Bar
CUT
"A good haircut should last 2.5 to 4 months. The days of six-week haircuts are over and a sign of a not-good cut. The idea is that your hairdresser should be able manage length and density so you can have more time in between cuts." —Jon Reyman, founder of Spoke& Weal salons and Jon Reyman Pro
"Longer hair requires less maintenance and fewer cuts, so you can wait up to 10 weeks. If you have plans of growing out your hair, I always recommend my clients put off their next cut as long as possible, then come in for a trim when they can't handle styling their hair anymore."— Micki Charles, Cutler/Redken Salon junior stylist
"I would suggest a cut every other month. If you're one who doesn't frequent the salon, then I would say try to make it at least 3–4 times a year. If you want your hair to be super-healthy, then come in every 4–6 weeks."— MiaSilverio, Paul Labrecque salon and spa stylist
"Tell them what you don't like rather than what you do like. Good stylists base a haircut on what you do not want and customize it to your desired look. Trusting your stylist a little more will definitely allow you to achieve a better look. If you do not trust the stylist, then you probably should not be going to them."—Joseph DiMaggio, Davines North America master session ambassador
"Pictures, pictures, and more pictures, especially if you want to get a new haircut but aren't sure what style to get. Go visit a wig store and try on some wigs, take photos of yourself, then put them on Facebook to see what type of comments you get."—Nelson Chan, celebrity hairstylist and founder of Nelson j Salon
"Schedule trims around every 10 weeks or so—it can just be a light dusting to the ends, but it's important to get rid of the split ends to allow your hair to continue to grow."—Charles Baker Strahan, Herbal Essences Celebrity Stylist
COLOR
"Every client needs to take into account her skin tone and eye color. For example, if you have a ruddy complexion, warm tones are going to bring out the red in your face and make your skin look uneven. On the other hand, warm tones tend to make blue eyes pop, so if you have the right complexion, consider a warmer tone to bring out those baby blues. And blondes might want more depth in the winter, as brighter highlights tend to look great in the summer when they get a little more warmth to their skin. A great rule of thumb is to find a celebrity doppelganger who has similar eye color and skin tones —they tend to change their hair color a lot so you can see which shades of red, brunette, and blonde flatter you best."— Sean Gallagher, senior colorist at the Serge Normant at John Frieda Salon
"Bring in at least three pictures to your consultation with a colorist. You may think the photos look like one shade that's the same, but I can pick up on subtle similarities. Does each picture have highlights or lowlights? Are there common tones? As a colorist, I can find the things that are really drawing you to the shade which will make for the best end result."— Sean Gallagher, senior colorist at the Serge Normant at John Frieda Salon
"It's all about complementing your skin tone and facial features. If you have a light complexion and some pink tones, it's safe to say you can be some version of red. If you have more olive tones in your face, then warmer, richer tones are best. If you have a very pale complexion, stay away from dark, dark hair."— Mia Silverio, Paul LabrecqueSalon and Spa Stylist
"The best place to figure out your skin tone is on your inside of your forearm. This area doesn't usually see the sun and is most often spot on!"—Kari Hill, L'Oréal Paris Consulting Hair Colorist
"The color of your wardrobe can really clash with hair color. The right color of wardrobe works hand and hand with a hair color that is flattering to your skin tone and eyes. It's all connected!"—Cassondra Kaeding, Colorist at Sally Hershberger LA
"It's best to choose a color that is no more than one or two shades darker than your natural hair. A little secret of mine is to take a trip to your nearest hair or wig shop and try out a few different colors. This can really help you determine what color route you may want to take without all the hassle!"—Cassondra Kaeding, colorist at Sally Hershberger LA
"Always use a gloss to keep color vibrant, fresh, shiny and healthy. It helps to prevent fading and dullness."—Rita Hazan, Celebrity Coloristand Owner of Rita Hazan Salon in New York City
"For people who color their own hair at home, I recommend doing test strands on your hair to see how your color comes out before coloring the entire head."—Nelson Chan, celebrity hairstylist and founder of Nelson j Salon
"Adding a lowlight back into previously highlighted hair can also produce the visual appearance of healthier hair, and it also helps to fill in faded hair that lacks shine and luster."—Charles Baker Strahan, Herbal Essences celebrity stylist
"In addition to noticing the color fading from your roots,you can tell when it's time to get your hair colored by its texture and shine. Color adds shine and dimension to the hair, giving it an overall healthy and voluminous look. When it's time for new color, your hair will start to look lackluster and feel less healthy to the touch."— Joel Warren, master colorist and co-owner at Warren-Tricomi Salons
"If you are sold on "ammonia free" haircolor, guess what? These coloring products contain an ammonia substitute called MEA that is extremely similar to ammonia. But the products often require three times as much MEA to do the same job that far less ammonia does. So they're not necessarily gentler on hair."—Angelo David Pisacreta, celebrity hairstylist and hair extension expert
STYLING
"I love when people embrace their own natural texture. If you want volume, just blow-dry the roots and let the rest air dry. If you want a little bend, just let it dry naturally and iron the ends."—Jon Reyman, founder of Spoke & Weal salons and Jon Reyman Pro
"
I find girls often make the mistake of trying rush through their hair by taking sections way too big for the hot tool. Wrong! That will only waste more because you will have to go back over each section. The smaller the section, the quicker you will finish because you will only need to curl or flat iron that section once and then move on to the next."—Dayna Goldstein, Ted Gibson Salon

"Here's a quick hair transition for going from the office to an evening out. Look one: First thing in the morning, lightly spray clean and dried hair with beach spray. Slightly dry with a diffuser (you don't want it totally dry, just damp to the hands). Flip your head over and loosely braid your hair in the center of the crown. Mind the ends and keep them loose as you want this to have a wave instead of a braided finish. (Don't elastic the bottom or top to keep the look loose and soft.) Pin it up in a bun near the crown of your head. At the end of the work day, unbraid hair and just shake it out. Add a bit of beach spray to your hands, then work it through your hair. Look two: Blow out your hair with a round brush. Once your hair is dry, begin twisting it. Continue to do so until all of the hair is completely twisted. Wrap it around your finger, then clip into place for the day. Once you are ready to go out, remove the clip and brush out the waves. Fuss with it slightly until you have an appealing shape, but don't over-brush or you will remove the softness. Feel free to dress it up with flowers or a beautiful clip at one side to add a bit of extra glamour."—Marc Anthony, celebrity hairstylist

"To curl or straighten your hair quicker, preheat your iron to a high enough temperature for your hair type. About 350 degrees for fine hair and up to 450 degrees for thicker hair. For both straightening and curling, moving slowly and deliberately is often quicker. "—Nicole Pascual, stylist at Sally Hershberger LA
"If you are looking to create a more sophisticated look for evening or a special event but have fine hair or a lot of layers, use a really fine hair net in the same color as your hair to contain the strands. This is especially great for creating a chignon. Simply gather hair in a ponytail, cover the ponytail with a fine hair net so the layers and hair lie tightly, and simply twist into the traditional chignon shape and secure with bobby pins. Finish with a strong hold hairspray."—Lucie Doughty, Paul Mitchell editorial director
"Flip wet hair upside down, brush and twist onto the top of head, and wrap in a lightweight towel. Let it sit for a few minutes while you get dressed. When you pull the hair down, it holds its shape for quick styling. Blow dry the remaining wet hair. Fifty percent will already be dry, and it's basically styled for you!"—Roz Safdari, stylist at Rita Hazan Salon
"Spray any dry shampoo before curling or straightening. It gives the hair more beautiful texture and protects it from the heat too!"—Antonio Velotta, stylist at John Barrett
"For the woman with hair at the shoulder or above, give yourself a good blowout. At night, make straight locks more festive by curling the bottom under for a '40s-inspired roll."—Garren, R+Co co-founder
"Give second or third-day hair new life with dry shampoo. Spray it through the hair and blow-dry with the cool air setting to achieve lots of volume. Then pull hair into a messy French twist. Rake through the top of the hair with your fingers for more separation, then lightly use your hands to add oil for some holiday shine."— Garren, R+Co co-founder
"Use a diffuser! People with straight hair that doesn't "hold a curl" often blow their hair out with a brush and a blow dryer, making the hair straight and less likely to curl. Stop doing this! Allowing the hair to dry in a basket diffuser with the high heat setting and low wind speed allows your mousse to force out the excess moisture and maintain any and all natural body or movement in the hair."—Charles Baker Strahan, Herbal Essences celebrity stylist
"Most women try to blow out their hair in a hot, steamy, humid bathroom right after they get out of the shower. Take a little time and wait until the bathroom cools off, or move into a more open space to blowdry."—Charles Baker Strahan, Herbal Essences celebrity stylist
"Don't wear a big heavy robe – it's not good to break a sweat while you're trying to achieve a sleek blowout!"—Charles Baker Strahan, Herbal Essences celebrity stylist
"If you've just worked out, rinse off with cold water before you get out of the shower—this will also help cool your body down so you don't start sweating again when you break out the blow dryer."—Charles Baker Strahan, Herbal Essences celebrity stylist
"No matter what your style, leaving the hair around the face more relaxed and slightly straighter really accentuates bone structure."—Charles Baker Strahan, Herbal Essences celebrity stylist
"If you're going for a straighter, smoother look, blow dry your hair with a round brush and put it in a loose ponytail on top of your head. That way, the bounce stays in the hair without it being flattened while you're sleeping. In the morning, just pull out the ponytail. Since it's been lifted to the top of your head, it'll have volume throughout the day."—Cynthia Alvarez, Ojon stylist
"One of my favorites easy hairstyles is making a quick chignon. Start by taking a bit of argan oil and conditioner, and mix them together. Comb the mixture evenly through wet hair, then part it on the side. After it's parted, pull it back into a low pony tail and make a braid. Twist the braid up and pin it. You'll look cool and elegant, and it won't take more than a few minutes."—Edward Tricomi, master stylist and co-owner at Warren-Tricomi Salons
"My favorite trick for perfectly curled hair is what I like to call the "Magic Set." All you need to do is take your hair into a high ponytail right on top of your head, then split it into four sections. Take a curling iron and curl each of the four sections in different directions, pinning them down as you go along. Let the curls sit for five minutes, pull out the ponytail, and voila: perfect, glamorous curls in minutes."—Edward Tricomi, master stylist and co-owner at Warren-Tricomi Salons
"My grandmother taught me this. It really works! Wet your hair 10 percent with a spray bottle. Set your hair in Velcro rollers. Let it dry with a blow dryer or wait until dry. Spray with a lightweight hairspray like Shear Lacquer from Shu Uemura. Pop out rollers and style as desired."—Antonio Velotta, stylist at John Barrett
One of my favorite, unexpected uses of a straightening iron is to create waves. Braid your hair in several braids (the thicker your hair,the more braids you should add) and then run an iron over the braids to press heat into the braids. I recommend a ceramic iron like the Remington T-Studio Silk Ceramic Iron for a smooth finish. Let your hair cool down and release the braids – the result is instant waves and texture! On the second day, spray some dry shampoo to your roots for lift and add more texture by rocking a flat iron back and forth in a zig-zag pattern over random sections."—Richard Marin, celebrity stylist
"
I love to use a curling iron to make a variety of textures in hair. Take a section of hair and twist it, then wrap the twisted hair around the barrel of the curling iron. Continue with he next section until you've done your whole head. Shake out your hair—don't brush—for a cool, textured look."—Richard Marin, celebrity stylist
"To make sure your hair smells amazing all day long, spray your brush with a lightweight shine spray, then intermittently brush throughout the day."— Joel Torres, Tigi creative director Latin America
"Preparing hair is really important and will help give your style hold. Mousse is perceived as being a bit old-fashioned, but modern mousses are great and won't leave hair crispy. Mousse is a great product to add some grip to your hair—apply it on damp hair and blow dry."—Mark Hampton, Toni&Guy Hair Meet Wardrobe global hair ambassador
"I've been caught taming flyaways with deodorant … shhh!"—Ursula Stephen, Motions celebrity stylist
You should also check out:
30 Pro Makeup Tips You've Never Heard Before
Celebrity news, beauty, fashion advice, and fascinating features, delivered straight to your inbox!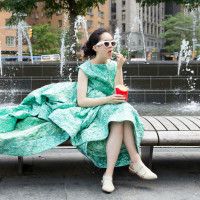 Chelsea Peng is a writer and editor who was formerly the assistant editor at MarieClaire.com. She's also worked for The Strategist and Refinery29, and is a graduate of Northwestern University. On her tombstone, she would like a GIF of herself that's better than the one that already exists on the Internet and a free fro-yo machine. Besides frozen dairy products, she's into pirates, carbs, Balzac, and snacking so hard she has to go lie down.