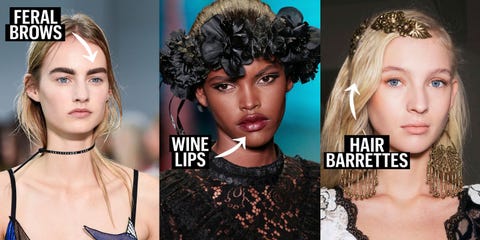 Whether you've been with your significant other for 10 years or 10 weeks, on Valentine's Day you want to feel sexy. Due to lack of time or a full-on beauty education, the runways might seem like an unlikely source for on-the-fly inspiration, but the spring catwalks have yielded plenty of looks you can achieve from the comfort of your bathroom. Here, we've narrowed down wearable, easy-to-nail hairstyles and makeup techniques that'll elicit all the hot love and emotion your heart so desires.
Embrace your natural texture, but change things up with a few tiny braids that frame the face or stick out from the nape as seen at the Louis Vuitton Spring 2016 show. If you want to go sans elastic, spray your strands with dry shampoo and they'll stay put on their own.
If you don't want to go near a hot tool, but still want a standout 'do, simply opt for a gilded hair barrette like those seen at Rodarte. You can use it to sweep your hair out of your face with a side part or pin back a half-up, half-down look.
Red wine and Valentine's Day are a match made in heaven. So if you plan on snogging, but still want to rock a statement lip, go for a shade that'll match the bardot you guys are sipping. Remember: a warm burgundy shade will cover up those wine-stained lips.
The more glitter, the more complications. For a touch of sparkle make like makeup artist Peter Philips at the Dries Van Noten show and use a glitter-speckled liquid liner in the color of your choosing for subtle slashes along the upper lash line.
Okay, so you do have to be braid literate to nail this look. But if you can weave like the best of 'em, take advantage with wispy, worry-free Dutch plaits like those seen at Giles. What makes them so great is that by ending the braid at the nape and letting the rest of the strands lay loose, they're much more hospitable to a romp in between the sheets.
One of the biggest trends for 2016, a quick sweep of the reddish-orange shade was seen on many a runway, including Adam Selman's (pictured here). We love this look because it not only evokes the sultry '70s, but the burnt hue is universally flattering for all eye colors. For a custom shade of 'ronze, Urban Decay's Naked2 Palette is our go-to.
Okay, so this is definitely requires the most maintenance of any look on this list, but because it really is so easy to achieve and yields smokeshow results, it's worth making an exception. At Nina Ricci, makeup artist Aaron de Mey gave the girls super-pigmented red lips that are practically kiss-proof, then applied a matching gloss for a high-shine effect. It may require a few touch-ups through the night, but you'd be surprised how well the right lipstick formula holds up. (Word up to Lorac's Lip Luxe 8 Hour Lip Color)
Far more romantic than a half bun, hairstylist Odile Gilbert gave the models at Altuzarra two effortless twists that meet in the middle for a soft, carefree look. Plus, when you take 'em out your front pieces will have great texture.
It doesn't get more low maintenance than a low ponytail, but a sumptuous ribbon tied a in a simple bow will add a nuanced touch. Make like hair genius Guido Palau who created this easy-yet-elegant look and who knows, the bow could be the new bra clasp at the end of the night. (Wink, wink.)
At Christoper Kane, the girls rocked dewy, after-sex glows with "feral" brows that were thick and decidedly untamed. To get the look, use a tinted brow pomade (we live for Glossier's Boy Brow) to brush the brows upwards.