19 Sultry Makeup Tutorials for Valentine's Day
Stay in, look fierce, have romance.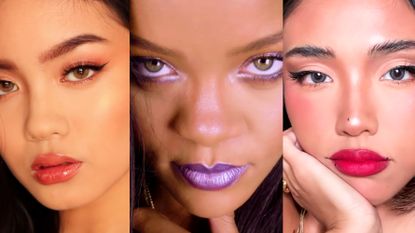 (Image credit: Future)
Marie Claire Newsletter
Celebrity news, beauty, fashion advice, and fascinating features, delivered straight to your inbox!
Thank you for signing up to Marie Claire. You will receive a verification email shortly.
There was a problem. Please refresh the page and try again.
I have a prediction for 2021 that I'm absolutely certain will come true: February 14, or Valentine's Day, a holiday predicated on physical closeness and proximity, will look a lot different this year. But a cheeky wink about that prediction is that some parts of it will stay very much the same. It will still be fun to get a Valentine's Day-themed manicure. It will still be fun to re-up your lingerie drawer with racy (non) essentials. And putting on Valentine's Day makeup? Yep. That still hits. Because if you (or your partner) appreciate a good beauty look, no doubt you'll appreciate it just as much from the comfort of your own home. And saying this now for the fans in the back: You do not need a partner to enjoy and embrace Valentine's Day—pandemic or otherwise.
But rather than dig into your regular old makeup bag with your tried-and-true techniques, only to walk away from the mirror with your same ol' look, why not hop onto YouTube and pick up a few new skills? Whether you're after lush and luscious lips, smoldering eye shadow, or lashes for days/weeks/months/years, we've rounded up Valentine's Day makeup tutorials that are first and foremost gorgeous (and also relatively simple to follow). The key with all of this is to do a test run before the big reveal. So dust off your makeup brushes, check your Wi-Fi signal, and get ready to serve some serious Valentine's face.
1. This Rosy Eyes/Lips Duo
A pretty-in-pink lip paired with peony pink lids and all the lashes? Pure romance.
2. This Sophisticated Set
I've said it once and I'll say it again: A classic is a classic for a reason. Here, crisp red lips pair just so with brown neutral eyes and a strong brow. He/she/they don't stand a chance.
3. This Tonal Wonder
One of the easiest ways to pull-off an absolutely over-the-top lip shade, regardless of your skintone? Make sure your cheeks are dosed with a generous dose of the very same shade. (Add a little on your lids if you're nasty...)
4. This Glowy Masterpiece
Some people *think* they don't like a lot of makeup. To those people, I raise this look. Which is in fact a lot of makeup, but doesn't look like anything more than the dewiest glow imaginable.
5. This Subtle Smokey Eye
Believe it or not, there's a way to do a smokey eye in a subtle way. Without going full-on grunge queen, try this natural approach instead. The trick: use a brown eyeshadow like this neutrals palette from MAC instead of a black or charcoal color. Then blend, blend, blend until you can't anymore.
6. This Feline Flick
A feline-flicked liner is flirty, fun, and easy to execute. Just extend the wing as much as you'd like and use a q-tip to clean up the line if you struggle with a steady hand. Glam up the lewk even more with lashes, because why the hell not?
7. This Bordeaux Lip
The darker the lip, the sweeter the night. The texture of your lipstick on date night is important. You don't want to have to run to the bathroom every few minutes for mirror checks or touch-ups if you don't have to. Opt for a super-matte, long-lasting liquid lipstick like this OFRA Liquid Lipstick in Milan that'll show up and show out on your lips.
8. This Makeup Look for Dark Skin Tones
Women with deep complexions will appreciate every product used in this stunning tutorial because they work especially well for dark skin tones. If you're not sure where to start, pair a popping pink eye shadow with a cut crease and a neutral lip, and don't forget MAC Gold Deposit Highlighter (an OG highlighter for WOC).
9. This Bronzed-Out, Champagne-Colored Eye
When in doubt, go with a gold eye. It's alluring, sexy, and classic. Plus, it puts so much focus on your eyes, and you know what good eye contact means on a date...The best part about this look is you can achieve it with one eyeshadow palette. Try Pat McGrath Labs Mothership Palette in Bronze Seduction ($125). An optional red lip is the cherry on top.
10. This No-Makeup Makeup Look
If in-your-face makeup is just not your vibe, don't put pressure on yourself to look all-the-way-done up just because it's V-Day. Enhance your natural features with a neutral lip and eyes and lips for a low-key look. Yep, I'm about to get preachy: You're beautiful the way you are, so embrace your unique features on every occasion.
11. This Fuchsia Eye
Sure, pink is slightly predictable when it comes to V-Day but who TF cares? If you love being on-theme you'll feel fabulous with a fuchsia eye that'll bring on all the double taps on the gram. Amrezy's Anastasia Beverly Hills palette ($49) was used to create this screenshot-worthy eyeshadow.
12. This Glowy Glam Look
Keeping things ~natural~ is such a power move—especially if you have a "less is more" approach to makeup. Do your everyday makeup as you normally would. Then, to spice things up a bit, tack on some flirty lashes and add another layer of highlighter to amp up your glow.
13. This Full Face of Drugstore Makeup
On Valentine's Day, you may feel pressured to invest in fancy makeup to impress Bae—and you totally should treat yourself if you want to—but here's proof that do not need to blow-up your bank account; the local drugstore can produce truly excellent results for a fraction of the price. This sparkly smokey eye and decadent red lip was created with products all under $12.
14. This Frosty Lavender Lewk
Leave it to RiRi to serve up this fierce, frosty look that will certainly guarantee a double-take. It's a nice departure from the typical reds and pinks associated with V-Day—but just as stunning. Trust, these intergalactic shades will make you look like you dropped from a different planet, a.k.a. a dream girl.
15. This Matte-Red Lip With Bronze Eyes
It's fairly impossible to go wrong with a classic, bright-red lip, as evidenced in this simple—yet still so, so gorgeous—look that pairs it with dewy skin and bronze, shimmery shadow.
16. This Mauve, Monochromatic Look
Sure, Valentine's Day is usually associated with bright pinks and fiery reds, but we're loving this chic (and surprisingly simple) dusty-mauve combo for an understated look. Even if mauve typically washes you out, stay with us—the monochrome palette actually makes the color pop.
17. This Ultra-Gilded Combo
If you're looking to go all-out with your makeup (without overpowering your killer outfit, naturally), follow this metallic makeup tutorial. It mixes a shimmery bronze eye with dewy skin and a highlight fit for an actual bar of gold.
18. This Gorgeous Day-to-Night Look
Got evening plans, but also a life that doesn't allow you to spend an hour on your makeup after work? Start your day with a neutral berry lip and a little brow definition, then transition into night with a quick swipe of gold-foil eyeshadow, a few thick coats of mascara, and a glossy red lip.
These Glossy Lips and Flushed Cheeks
Celebrity news, beauty, fashion advice, and fascinating features, delivered straight to your inbox!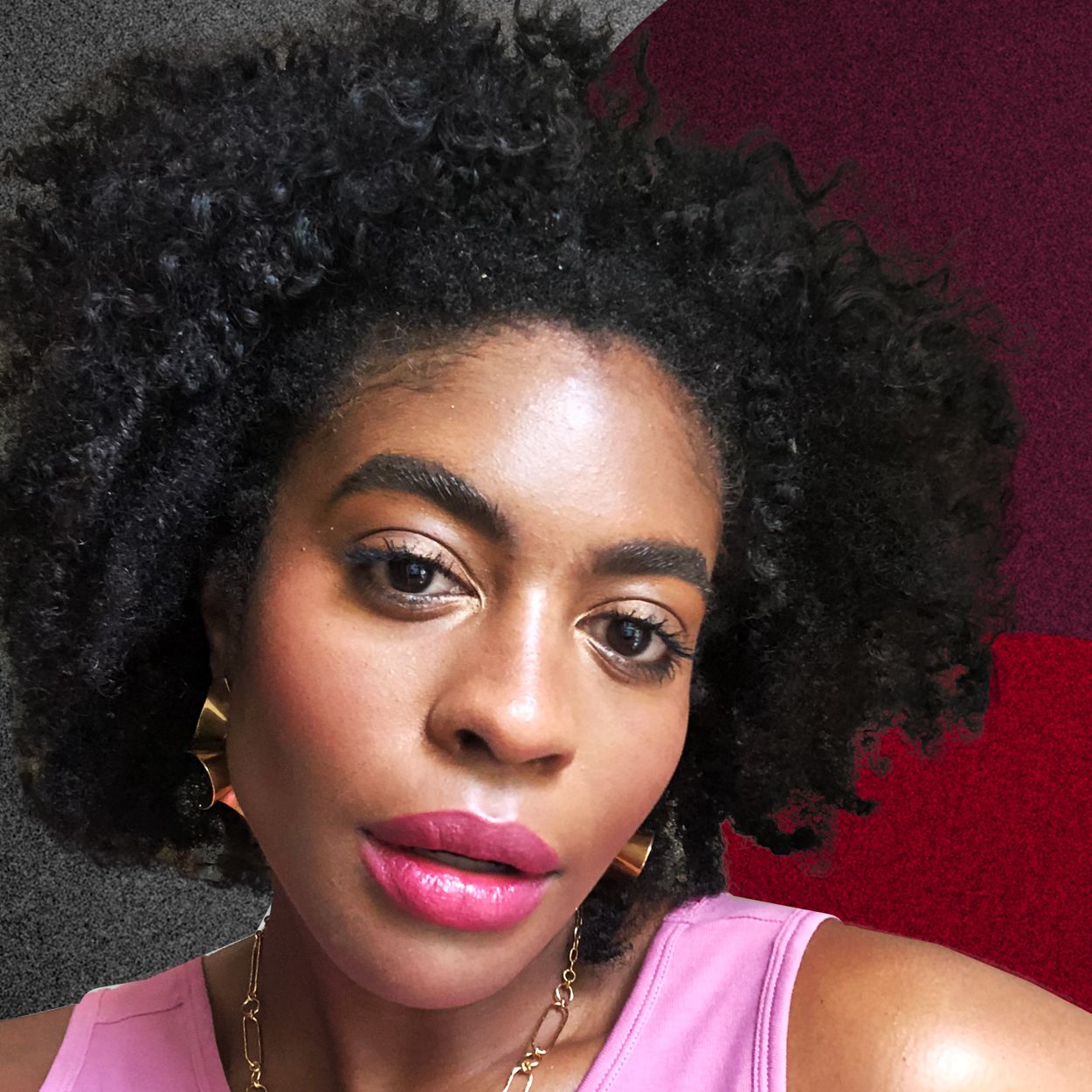 Maya Allen is the former Digital Beauty Editor at MarieClaire.com where she covered makeup, skincare, haircare, wellness, you name it! She has a 15-step skincare routine, owns over 200 red lipsticks, and enjoys testing the latest and greatest in beauty. On most weekends, you can find her at her happy place, which is her makeup vanity. There, she's usually blasting her speakers while singing along to lyrics at the top of her lungs, and making sure her highlighter is on point.