Ulta Beauty Just Launched a New Luxury Category
You can now grab your favorites from Dior, Chanel, Lancôme, and more.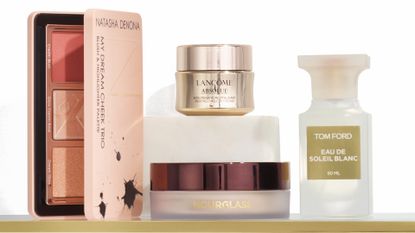 (Image credit: Ulta Beauty)
Ulta Beauty is amping up its offerings with a brand-new luxury beauty category. The country's largest specialty beauty retailer just launched its curated assortment of luxury brands in select stores across the country, with the full collection of products available online at Ulta's dedicated Luxury Beauty Products page. (opens in new tab)
Now, you can find at Ulta luxury brands like Chanel, Dior, Natasha Denona, Hourglass, and Lancôme. Additionally, the launch includes luxury fragrance options from Tom Ford, Givenchy, Yves Saint Laurent, Gucci, Viktor & Rolf, and Tiffany & Co. You can expect more of your favorite brands to join the platform in the coming months, too.
Ulta's new expansion comes as part of a continued effort to become the preferred destination for Gen Z by offering a wide selection of beauty products across all price points and categories.
Shop some of our favorites from the newly launched luxury category, below, then head to Ulta (opens in new tab) to see the full curation.
Brooke Knappenberger is the Editorial Fellow at Marie Claire, where she writes across the board from fashion and beauty to books and celebrities. As a pop culture junkie, Brooke obsessively consumes and writes about the latest movie releases, streaming TV shows, and celebrity scandals. She has over three years of experience writing on fashion, beauty, and entertainment and her work has appeared on Looper, NickiSwift, The Sun US, and Vox Magazine of Columbia, Missouri. Brooke obtained her Bachelor's Degree in Journalism from the University of Missouri's School of Journalism with an emphasis on Magazine Editing and has a minor in Textile and Apparel Management.