Beauty Around the Clock: Zooey Deschanel
The actress and musician on her love for at-home facials, old school music, and why she hardly ever eats breakfast.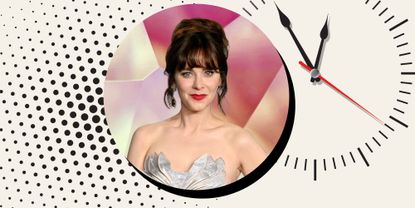 (Image credit: Future)
Welcome to Beauty Around the Clock, Marie Claire's weekly peek into the daily lives of some of the most game-changing men and women in their industries. Ever wonder how they get it all done in a day? Here's your answer.
Three minutes into my interview with actress Zooey Deschanel, I asked her a question I already knew the answer to: what is your signature style?
"My signature look is fun and cute," she giggled. "I don't take myself too seriously." I don't personally know Deschanel, but her answer was seemingly spot-on. The Los Angeles native has always been a bestie in my head—a friend who is laid back, yet firm, always down to try new things, and adventurous in all the right ways. I "met" her during a New Girl episode I accidentally stumbled upon in 2012 and instantly became a fan. Ironically, her approach to beauty is similar to her fashion style. She's a no-fuss minimalist who loves to explore products, especially at-home devices that promise to minimize wrinkles and improve her skin texture.
Here, the busy mother of two dishes on how she maintains her look while co-parenting and why at-home beauty maintenance is more important than seeing a professional.
Rise & Shine
I always drink coffee with a little cream first thing in the morning. It's what gets me out of bed.
Morning Maintenance
My wake up time is different every day because if I'm working, it's really, really early. When I have my kids, it's 6:30 a.m. and then sometimes I'll sleep in if I can. I don't sleep in that often but when I do I enjoy it.
Fitness Fix
I try to work out most days. I usually take classes like barre or Pilates because I can go, and then I don't have to think about it. I can just take the hard class, and then I'm done for the day.
Power Start
I usually don't eat a lot at breakfast. I'll just grab something on the go, like a protein bar, and then I'll usually have lunch a little bit later. But normally I just don't have a lot of time to sit down and eat breakfast.
Food is so important to me, that's why I co-founded Merryfield when I was pregnant with my daughter. I grew up eating really healthy. My mom would make homemade sourdough all the time and we never had anything artificial. So then when I was pregnant, I wanted to eat extra healthy, and when I started looking for more information about food, I realized how hard it was to access information and how hard it was for many people to access good food. That really bothered me. With Merryfield I can help consumers learn more about the food they are buying and incentivize them to buy better-for-you brands. Merryfield allows you to get at least 5 percent back every time your receipt includes any of the better-for-you brands on our app. Helping others in this way makes me feel good.
Signature Look
When it comes to makeup, I'm not a maximalist or a minimalist. I see people wear a lot more makeup than me, and I see people wear a lot less than me. So probably I'm in the middle. But I love makeup, and I usually wear it. But, I don't wear a lot of foundation. Normally I like to wear a little eyeshadow, mascara, lipstick, blush, and concealer. I wear a lot of Kosas. It's a clean brand, and I'm into their concealer, brow gel, and eyeshadow.
I can't use retinol. I mean, everyone's like, "Oh, you have to use retinol." Which I think is crazy because not everything works for everybody. I have sensitive skin, so I use Bakuchiol. Like Moon Fruit by Herbivore because it has Bakuchiol in it, which is kind of like a retinol but it doesn't dry my face out. And then I also use Cloud Jelly by Herbivore.
Self Care Ritual
I love facials, but unfortunately I'm not getting them all the time, so I give myself little facials. I have the Dr Dennis Gross Pro Facial Steamer and DRx SpectraLite device. I have the LYMA Laser. I've got all kinds of different fun things. A couple times a week I'm giving myself an at-home facial. And sometimes If I ever have a night where I don't have too much to do, I'll dive into my beauty products. There's lots of stuff I don't have, but I do enjoy collecting different things and trying them. And especially if I'm working, it really makes a difference if I'm doing masks.
I enjoy getting facials, but for me, the most important thing is the home maintenance. I also don't always have time to get facials—I have two little kids.
My skincare philosophy is to take good care of your skin and wear sunblock every day. Sunblock is so important to me; I've seen the difference that it makes. I love Suntegrity 5-IN-1 Tinted Sunscreen Moisturizer. It comes in different shades and you can wear it under makeup or you can wear it alone.
Signature Scent
I don't wear scents. I'm kind of sensitive to fragrance, so I don't wear any. I'm usually just wearing the scent of my favorite skincare products.
Daily Playlist
Oh my! I make lots of playlists, but it's not really new stuff. I've always liked old school music. I play The Beatles, Beach Boys, and Motown classics.
Hair Help
My hair is wavy. I've worn it like this for so long that I forgot what my real hair texture looks like. Gosh, I wish I could remember. I do love R+Co conditioner.
Lights Out
My night routine is practical. First, I tuck my kids into bed around 8 p.m. Then, I take a shower and slather my face with Herbivore, Sunday Riley, and SkinCeuticals products and then I put on the comfiest clothes before getting into bed. I usually fall asleep before 10 p.m. My kids tire me out so I try to get my rest when I can. Resting is such a great feeling!
Shop Zooey's Favorite Products:
Deena Campbell is the Beauty Director of Marie Claire where she oversees beauty and health content on all platforms. Deena joined Marie Claire after a decade-long career as an editor in print and digital media. Before joining the brand, she managed editorial content for L'Oréal owned Makeup.com and Skincare.com. In 2015, she launched Essence.com's hair channel where she received Time Inc.'s Henry R. Luce Award, shortly before joining Allure.com's staff as Senior Beauty Editor. Along with her editorial positions, she also consulted on content and marketing strategies for beauty companies including DevaCurl and Dove, and has appeared at various speaking events and live television segments.