How an Economist and a Lawyer Ditched It All to Become Successful Style Bloggers
Meet Amra and Elma—that is, if you haven't already.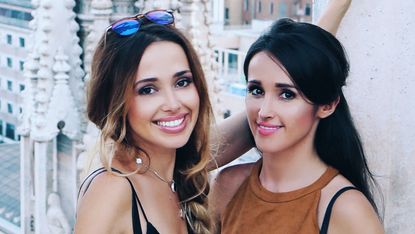 (Image credit: Archives)
For many, becoming a blogger has now become a totally identifiable career path. (Ah, how times have changed.) But for Amra and Elma Beganovich, the sisters and lady bosses behind two major blogging brands—Club Fashionista and Amra and Elma—it wasn't the plan at all. Amra, 32, was working as an economist for different bank projects and Elma, 31, was on the path to becoming a super successful lawyer. But while they both call New York City home, they have lived all over the world: from Paris, London, and Madrid, to Washington D.C., Miami, and even Heidelberg. That, coupled with their love of fashion and photos, got them started as bloggers—and it all seemed to snowball from there. Now, the two run their own business—with 10 employees to boot. We got the scoop on their rise to the top of the blogging biz, how they craft their looks, and what makes their bucket list.
Marie Claire: How did you get into the blogging business?
Amra Beganovich: I was exchanging some beauty tips with my friend from Sweden, and realized that we both had some great tricks we learned over the years. We agreed
it would be valuable if we could share this with a wider audience. One evening, I sat down and designed my own simple blog. I remember that I didn't sleep that evening trying to make it look presentable and ended up writing my first post.
Elma Beganovich: I was in the midst of completing my LLM at Georgetown Law when my sister approached me with the idea of having our own blog. I had always loved taking photos of the latest fashions, beautiful landscapes, and architecture—and of course documenting my escapades around the world. So our website really began to take shape.
MC: So from there, what happened? How did it transform from an accident to a full-blown career?
EB: We started receiving an enormous amount of traffic, and then brands noticed and start approaching us. I realized then that this could very well turn into a business.
AB: Within 3 short months, we reached 150,000 monthly unique visitors. As we grew in size, we realized it was a full-time job. Within a year, we left our jobs as an economist and an attorney to work full-time.
EB: It was a very interesting time because social media channels were taking shape. We realized there was a huge movement of turning to digital influencers who had managed to attract a regional and even global audience.
AB: Fast-forward almost 3 years later, we are full-time bloggers, developers, and founders of a 10-person company.
MC: What is a typical day like?
AB: There are no typical days! During fashion week, our days are mostly attending shows and documenting trends for our audience. Other days, we are traveling for projects or meetings.
EB: Every day is sort of a roller coaster and I never know what will be thrown my way. I spend a lot of time thinking about what is next in the digital space, and then there are always the mundane tasks with running a company: answering emails, strategizing with our team, and conceptualizing photo shoots.
MC: Let's talk about your photo shoots! They so beautifully done and are such a huge part of your blog and your Instagram presence. How long does a shoot take and how do you decide what to wear?
AB: In the beginning, it took us a long time to complete just one shoot but now we're quite skilled—we often shoot multiple looks in one day. My outfits are based on my mood. Now that spring has arrived, my mood is a lot livelier. Our aim is to wear pieces that ultimately make us feel great.
EB: I quickly learned that multiple shoots could be accomplished in one day by doing crazy things like changing in the middle of Central Park or Uber-ing your way across town to catch the sunset beneath the Brooklyn Bridge. Most people don't realize that putting a look together and finding the right location to create a mood takes a lot of creativity and time. Also, I have help from my wonderful team in creating looks.
MC: How do your personal senses of style differ?
AB: I am more of a bohemian; I always gravitate towards easy and timeless pieces. I love feeling a little undone. A boyfriend shirt, a worn moto jacket, sneakers, aviators, and hats are my staples.
EB: I'm a huge fan of the '50s glamour, like the Old Hollywood looks of Audrey Hepburn and Grace Kelly. I try to incorporate that feel with modern pieces, like ripped denim and even white sneakers. But the femininity, grace, and pretty silhouettes of the '50s are a huge inspiration.
MC: Who inspires you?
AB: I am inspired by all the wonderful ladies I have had the privilege to meet on Instagram. They are everyday women who are strong, creative, and kind. I derive my daily inspiration from reading their posts and exchanging messages with them. I feel like I'm part of this community—our blog is not a one-way communication tool. I'm also so inspired by women leaders and "girl bosses."
EB: I'm inspired the most by people who have endured hardship and have overcome obstacles. These heroes amaze me—where everyone saw doom, they saw opportunity.
MC: How do you use your platform to empower women?
AB: I try to provide advice or tips that have helped me. I listen to my readers and followers and I try to cover topics they express interest in. My favorite part of blogging is the ability to lend my voice to those who don't have it, to support to other women, and shed light on issues that affect us all.
EB: My goal is to give women everyday inspiration to be the best versions of themselves. I realize that we don't have an infinite amount of resources but I hope my content can inspire women to travel to amazing destinations, to cook foods they never thought they could, or to rock the chokers again that they probably wore in 6th grade.
MC: What is the best piece of advice you've ever received?
AB: Working better does not necessarily mean working harder or longer. It just means making more of your time by taking care of yourself, being happier, thinking about ways to improve, strategize, and executing with ease.
EB: I don't know if this counts as advice, but there's a Robert Frost quote that says: "In three words I can sum up everything I know about life: it goes on."
MC: What are three words you'd use to describe your sister?
AB: Elma is a classic, a warrior, and an optimist.
EB: Amra is a free spirit, an artist, and a girl boss.
MC: What are your beauty essentials?
AB: De-puffing eye cream, hydrating cleanser and a night moisturizer, sunscreen, lip balm, concealer, lip stain, and a brow pencil.
EB: Argan oil for hair and skin, and a matte lipstick in maroon, red, or soft pink.
MC: And what's on your bucket list?
AB: Go kayaking or ride a bike in the Grand Canyon, visit Transylvania, and help build a space shuttle that would take humanity to Mars.
EB: Travel to the Galapagos Islands, travel beyond Earth, and to leave a legacy behind.
Follow Marie Claire on Instagram for the latest celeb news, pretty pics, funny stuff, and an insider POV.
Celebrity news, beauty, fashion advice, and fascinating features, delivered straight to your inbox!
Maggie Maloney is the associate editor at Town & Country and ELLE Decor, where she covers style, beauty, jewelry, and the many members of the royal family. She also manages social media and content strategy for both brands.