Savannah Guthrie and Hoda Kotb Reflect on Their Historic Year at Today
The duo take Marie Claire behind the scenes of NBC's Today one year after were named the first-ever female coanchors.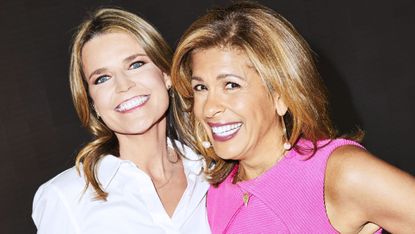 (Image credit: Allie Holloway / Studio D)
It was Savannah Guthrie's job to tell us. After more than 20 years of hosting Today, Matt Lauer was out.
On November 29, 2017, Guthrie appeared to be struggling to reconcile the alleged abusive actions of her friend and coanchor, the upheaval of her workplace, and the fallout from the #MeToo movement, televised in real time. In NBC News chairman Andy Lack's words, which Guthrie read live on air moments after she heard the news herself, "We received a detailed complaint from a colleague about inappropriate sexual behavior in the workplace by Matt Lauer.... While it is the first complaint about his behavior in the over 20 years he's been at NBC News, we were also presented with reason to believe this may not have been an isolated incident."
Guthrie's voice wavers in the footage. She had to break one of the most difficult stories of her career, about the guy who'd been sitting next to her for over five years. The guy her children knew. The guy America loved. "I was terrified," she tells me nine months later, in her office at the famed 30 Rock building in Midtown Manhattan. "Terrified to think of who would possibly sit next to me [in Lauer's place], and could I hold this show? I didn't think so. In fact, I knew I couldn't."
But in video of that moment, Guthrie looks to her left and Hoda Kotb is there; she grabs Kotb's hand, and it's like she's clinging onto a railing. She seems steadier. "When it was Hoda," Guthrie says, "I was so happy. Like, 'Oh, I have this partner. I don't feel scared anymore. We can do this together.'"
This means being the first all-female coanchor team in Today's 66-year history. "We would never have chosen these circumstances," Guthrie says, stating the obvious. But it feels like the only way forward after Lauer's reported behavior: In case of emergency, break glass ceiling.
In their first year as cohosts, Guthrie and Kotb have maintained the consistency of a successful show—Today ranks No. 1 with the coveted younger demo of adults ages 25 to 54—while making history. Although viewership is 62 percent women, everyone I spoke to on staff carefully maintains that Today is not a "chick show." They're on the tightrope with us, balancing our desire to celebrate the accomplishments of women while wishing gender didn't matter so much.
Executive producer Libby Leist, the first woman to run Today's lucrative 7 to 9 a.m. slot, insists, "Today skews a little more female, but we certainly don't produce it that way. It's everything you need to know to start your day, and your gender is not specific to that. In the 8 o'clock slot, we do parenting and lifestyle stories that may be more female-friendly, but I think any parent can watch a back-to-school segment and learn what notebooks to get their kids."
The process of selecting what stories will help Americans of all genders start their days happens in the glam room. Kotb is resplendent and Guthrie en route to resplendence, with rollers in her hair and crescent-shaped hydrating masks plastered under her eyes, as they have their morning meeting with Leist. A giant digital clock broadcasts the hour: 6:15 a.m. All three women have been up for at least two hours, and Leist gives the rundown of the show while Guthrie edits teleprompter copy on her cell. Kotb describes a segment she's about to film at a church that experienced a devastating hate crime. Guthrie starts throwing out taglines. "The real story of amazing grace," she rattles off. "If they can forgive that, what can you forgive?" The meeting feels like a Rube Goldberg machine put into motion while still being assembled.
"One of us can be having a hard day," Kotb says, "and by the time the show is over, you're fully charged." Guthrie adds, "You lift each other up."
Yet their styles—how they secure and prep for interviews—could not be more different. "I interview celebrities all the time, and I don't have anyone's phone number," says Guthrie. "Hoda's like, 'Oh, Tom Cruise. I'll text him back later. Anyway!'"
"Bullshit," Kotb objects, with her signature humility. One of her favorite self-effacing anecdotes is her origin story: In 1986, Kotb borrowed her mom's car with the intention of driving around until she got a job in local news, traveling to ever smaller markets before finally being accepted by the 28th news director she interviewed with. (She often leaves off the rest of the tale: She wound up at a CBS affiliate in New Orleans before getting poached by NBC to be a Dateline correspondent in 1998.)
The fact that Kotb tends to get what Leist calls the heart-on-her-sleeve interviews—for instance, in January, she conducted moving interviews with gymnasts who were sexually abused by former Michigan State University sports doctor Larry Nassar—makes sense. She regularly opens up about her own struggles, like a breast-cancer diagnosis in her early 40s (she's now in remission) and deciding to adopt her daughter after being inspired by Sandra Bullock (who, yes, texts Kotb).
Anyone who has seen Guthrie, who graduated magna cum laude from Georgetown Law in 2002, dissect a subject's talking points will not be surprised to hear her describe her approach like a deposition. She gets up at 2 a.m. the day of challenging interviews—like her conversation with James Comey, whom she spoke to in April—reads, watches, and listens to previous interviews, and maps out questions. Then she maps out the person's potential responses. Then she maps out what she calls a counterargument for each one. "It's not emotional for me," the former NBC News White House correspondent says.
When it comes to discussing Lauer and the effects of his departure on the workplace culture of Today, Guthrie says NBC seems like "it's trying to do things as an institution to make sure that people who have complaints or need to be heard know where to go."
Kotb drily notes, "It wasn't as if someone wrote a policy that said, 'No more boinking under the desk.'"
"We didn't know that was a thing!" Guthrie adds, throwing her hands up in an office decorated with countless framed photos of her husband and children. A copy of one of the two best-selling children's books she's cowritten sits on her desk. (Kotb has also authored a children's book, which was adapted into a song by Kelly Clarkson.) It is impossible not to imagine the nearby office, once occupied by Lauer, in which a former NBC employee says Lauer pressured her to have sex. It's equally difficult to imagine either of the women sitting in front of me using their considerable power in the same way.
But why this works, Leist says, isn't because Kotb and Guthrie are women. "Hoda brings everybody into her world with her warmth and her attention to what makes everybody tick. She was in the news division as a Dateline reporter for so long and traveled all over the world, covering the 2004 tsunami and the Iraq War." As for Guthrie, Leist explains, "She's a political expert. She blends her legal skills and her Washington knowledge to make an incredible interviewer and newsperson—and somebody who is hilariously funny."
That combination allows Kotb and Guthrie to guide us through the chaotic news cycle with grace and humor. Will exposure to women (literally) running the show start to warm Today's nearly four million viewers to the idea of women leading other things—like, perhaps, America?
We'll have to tune in to see.
Correction: A previous version of this story incorrectly stated that Savannah Guthrie hired Libby Leist. In fact, NBC News' president made the hire.
This article originally appeared in the holiday 2018 issue of Marie Claire.
RELATED STORY
Celebrity news, beauty, fashion advice, and fascinating features, delivered straight to your inbox!
Anna Peele is a culture writer and editor who has written features for Esquire, GQ, The Washington Post Magazine, and ESPN the Magazine.