11 Things Powerful Women Do Every Day
Success secrets, right this way.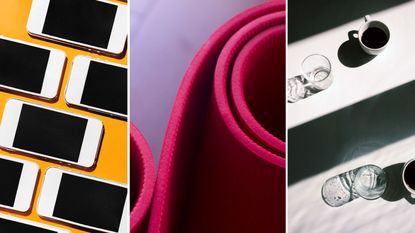 (Image credit: Stocksy + Getty Images)
1. They start the day with a good mindset.2. They bond with coworkers.3. They make the first move.4. They keep lists.6. They visualize success.7. They plan for the worst.8. They stay connected—socially.9. They go outside their comfort zone.10. They don't try to balance it all.11. They stop comparing themselves to others.
Work, life, love, friends, family, world domination—sometimes it seems like you have to be some sort of magical being to stay on top of it all. But some ultra-successful women truly have it all under control while they're killing it as leaders in their fields. They may seem like superheroes but we assure you they don't have capes, they just have strategies. Here, daily habits from three female entrepreneurs at the top of their industries.
1. They start the day with a good mindset.
For power players, having a "me" moment first thing in the morning is a must. "While in the shower, I always set my intention for the day," says Meg Driscoll. In just over two years, Driscoll's grown her own public relations and communications agency, EvolveMKD, into a major force in the field, after which she snagged Female Entrepreneur of the Year at the Stevie Awards for Women in Business. One of her go-tos: "Interacting with everyone in a kind and compassionate way, no matter what space they are coming from."
Meditation's another way Driscoll grabs some zen—and it's also a smart habit: One study found that just two weeks of meditation helped people's focus and memory enough to raise their score on one section of the GRE by 16 percentile points.
And Samira Far, who founded of the L.A.- and Dallas-based celebrity-favorite nail empire Bellacures 11 years ago at the age of 22, writes in a journal for five minutes when she gets up. "It's important to connect with myself before I go out into the world," she says.
2. They bond with coworkers.
Being on both the giving and receiving end of trust from the people who could be instrumental in your success is vital. That's why Driscoll, who has grown her business from three to 20 staffers in two years, tries to have special moments with her team as often as possible, whether that's a five-minute chat over coffee or drinks after work. As a bonus, she says, "When you really know people, you have a better sense of how to communicate with them so you work better together."
3. They make the first move.
Successful women don't wait for opportunity, they create it. Nicole Rose "DJ Rosé" Stillings knows this from making her way in a male-dominated field (she's the music director for Gilt Group as well as the house DJ for Saks Fifth Avenue and W Hotels).
She says a good place to practice is with dating—but if you're shy, Stillings says an app like Bumble, where communication with a match must be initiated by the woman, is perfect for getting you started. "Once you break your 'making the first move' virginity and see that it works, you'll be empowered to do it again."
4. They keep lists.
"Keeping all your tasks and goals written down and staying focused helps keep your accountable and organized," insists Far. Her advice: "You need a big vision list that ties to a monthly list, a weekly list and a daily list." If that doesn't come naturally to you, a task app like Swipes can get you in the habit.
5. They stay flexible (literally).
We all know exercise can keep you running on all cylinders, so it's no shock all three of the ladies we interviewed make sure they move regularly. But what's interesting is that they all choose the same method: Yoga. Not only is the practice a do-anywhere kind of thing—which makes it great for travel—but it's been proven to help reduce stress and anxiety, which makes for a calmer, centered, more capable you.
6. They visualize success.
Devotees of positive visualization swear by it for helping ignite ambition. Stillings says she does this every chance she gets, picturing herself conquering the world in everything she does. "The best thing is that you can go back to it later in the day when stuff hits the fan and use that memory to replace the crazy with calm."
7. They plan for the worst.
OK, yes, positive thinking can be great, but preparation makes pivoting easier when things go south. Far says any time she's working on a new project, she thinks of the worst-case scenario. "After I'm comfortable with that, I can then see what would be the 'middle case' scenario. I get centered for all possible outcomes and then let the rest go."
8. They stay connected—socially.
It's hard to keep up your relationships when you're blazing your own path, but having a strong support system is important. After all, Far says, "I read somewhere once that you are the sum of your five closest people." Plus, you never know whose help you may need down the road. When time is short, focusing on the small gestures that take seconds is your best strategy. "Commenting on [friends'] Instagram posts or sending a 'thinking of you' text can make a big difference," says Stillings.
9. They go outside their comfort zone.
The willingness to take risks is one of the biggest qualities that set CEOs apart from other executives, so keeping yourself reaching is important. Stillings says, "I try to push myself in my workouts, push myself to eat healthy, push myself to power through my work. At first, it's kind of like a blind date—you're throwing stuff on the wall and seeing what sticks. Then you find your direction and take it from there."
10. They don't try to balance it all.
"The trick to managing everything together is to throw out the conventional idea of 'balance.'"says Driscoll. Instead of trying to excel in every area of life and give it all equal energy, she says she tries to stay present in the moments outside of work to maximize the feel of the short time she has. For example, rather than aiming for dinner daily, she and her husband have a quiet, dedicated date night once a week. "That way, we make sure we can have a quality conversation and a quality makeout session on the books."
11. They stop comparing themselves to others.
There's probably no quicker way to sabotage your confidence and success. Just take it from a six-time Olympic medalist: For Gymnast Aly Raisman, silencing self-doubt daily is key. "I don't have the typical gymnastics body, but I'm still one of the best gymnasts in the world," she says. "I have insecurities just like everyone else." Her solid advice? "You can wake up in the morning and pick yourself apart, or you can wake up in the morning and decide to have a good day and feel confident." Watch her full interview for Bumble's International Women's Day series below.
Follow Marie Claire on Facebook for the latest celeb news, beauty tips, fascinating reads, livestream video, and more.
Celebrity news, beauty, fashion advice, and fascinating features, delivered straight to your inbox!