How I Plan to Get Funding Into the Hands of Black Female Entrepreneurs
Black Women Raise founder Dee Poku Spalding is on a mission to get venture capitalists to invest in women of color.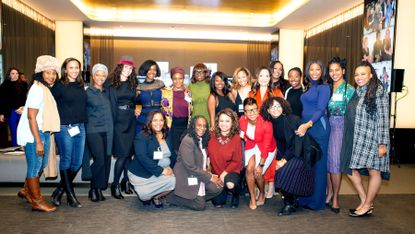 (Image credit: Hannan Saleh)
About two years ago, my friend Asmau Ahmed, the founder of beauty tech platform Plum Perfect, spoke on a panel alongside two other successful female tech founders about building their brands. At the end, I asked Asmau how it went. "Great," she answered. Then she paused and added, "I've been positioned in the public sphere as the epitome of what success looks like for a black female founder, when in reality these two women—both Caucasian—have raised 20 times the amount I've raised in a similar period, with similar business models. I'm actually kind of embarrassed. It's just not right."

So I started doing my homework, reading more about the struggle black women face raising venture capital. One interesting piece of research was DigitalUndivided founder Kathryn Finney's Project Diane, which tracks the true "unicorns" of the tech industry (black female founders who have raised more than $1 million), and is perhaps the most comprehensive survey on the subject. Its 2018 findings? That although the number of tech startups founded by black women has doubled since 2016, the average amount of funding raised by said founders was only $42,000. The average male startup? $2.1 million.
A few months later I had a similar conversation with Jean Brownhill, whose company Sweeten, a tech platform for home renovations, has raised just under $10 million. She kept saying, "I wish I could do something to help. I wish I could create something, but it's finding the time."
As the founder and CEO of WIE (Women: Inspiration and Enterprise), a leadership platform and network for women, I thought, I convene women and provide access to business leaders every day. And I have the time. That was the moment the seed was planted for what would eventually become Black Women Raise, an initiative launched this month to accelerate the ability of black female founders to raise growth capital, scale up, and create pathways for the women behind them.
I decided to limit the first event to founders who had raised or achieved revenues of more than $500,000 in order to create a forum that was intimate and hyper-targeted toward entrepreneurs with a certain level of success. The goal was to help elevate this group, to reverse the 'pattern matching' often employed by VCs, and present a new prototype of success to the world, which, I hope, will have a trickle down effect on the black founder community at large.
We had about 40 attendees, and the program spoke directly to the audience's areas of need. Our speakers included JPMorgan Chase Consumer Bank CEO Thasunda Duckett, Tory Burch's Chief People Officer Keisha Smith Jeremie, Unilever's EVP and COO of North America Beauty and Personal Care Esi Eggleston Bracey, and Zume Inc co-founder and president Julia Collins, the first black woman to have a tech company valued at over $1 billion.
The day was filled with tactical and truthful discourse about fundraising, brand building, and revenue generation. A common theme was authenticity. As women of color, we often find ourselves trying to be all things to all people. We're constantly having to navigate our behavior knowing there is unconscious and sometimes implicit bias at play. What is the first impression I'm giving as I walk into the room? How as black women can we create the best chance of success? Over and over again, our speakers stressed the importance of "being our authentic selves." It may work in some rooms. It may not in others. But ultimately by being true to who you are, you have the best chance of finding common ground with your investors, your customers, and your employees.
And of course we talked a lot about investing. It was possibly the most open and forthright collection of conversations about the fundraising landscape for founders of color that I've ever encountered. Black women are just fed up with the double standards and the cronyism, and many of our participants spoke up. But we also focused on solutions. We tried to get behind the investor mindset to better understand VCs thought patterns and requirements. We heard about the value of advocates and the need for strong networks. We explored alternative sources of capital and discussed the importance of increased investor diversity, with the likes of Abyah Wynn, founder of the new Twenty65 Fund, and Melissa Stepanis, an executive at Silicon Valley Bank.
So how do I feel about the future? I'm an optimist at heart and I believe change will come. We have to keep knocking on those doors, or breaking them down. I spent the majority of my career in the film industry, and I remember sitting in rooms just 10 or 15 years ago, where I heard comments like, "black movies don't sell internationally," or, "we can't have a black leading actor because the film won't perform at the box office." Now, there are black leading women across a plethora of TV shows like How To Get Away With Murder, Insecure, and Black(ish)—and we've witnessed runaway successes led by diverse casts in Hidden Figures, Get Out, Girls Trip, and Black Panther (which has made more than $1 billion at the box office thus far and is nominated for a Best Picture Academy Award). We're still far from where we need to be, but I feel a growing appetite for change in the investment community, evidenced by the launch of the All Raise initiative, for example. We have to accelerate that. We also have to do more to highlight the stories of success and open funders' eyes to the opportunities they're missing. And quite frankly, sometimes we have to call them out. Ultimately, the talent is there—and the talent will win through.
I'll be sharing more of my findings from the event in a detailed 'call to action' to the industry. And I'll keep pushing forward with this movement. Who knows, hopefully in 10 or 15 years, we won't need it anymore.
For more stories like this, including celebrity news, beauty and fashion advice, savvy political commentary, and fascinating features, sign up for the Marie Claire newsletter.
RELATED STORY
Tonya Russell is a freelance journalist with a passion for health, wellness, and culture, and how they intersect, which includes topics like the physiological effects of racism, implicit bias in medicine, and how parents can talk to their children about race. Her writing can be found in the New York Times, Washington Post, Self, Women's Health, Health, Marie Claire, and more.