How We Built Hollywood's Hottest Publicity Firm
The women behind the Lede Company took an entrepreneurial leap and now run one of the most powerful PR firms in entertainment.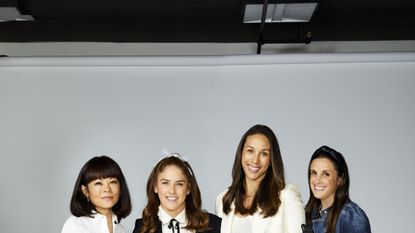 (Image credit: Kathryn Wirsing)
Marie Claire Newsletter
Celebrity news, beauty, fashion advice, and fascinating features, delivered straight to your inbox!
Thank you for signing up to Marie Claire. You will receive a verification email shortly.
There was a problem. Please refresh the page and try again.
On a Friday morning in June of last year, Meredith O'Sullivan, Sarah Rothman, and Amanda Silverman gathered in O'Sullivan's Santa Monica living room. The hard-charging public-relations executives headed up divisions at 42West, a giant bicoastal entertainment PR firm representing A-list celebrities and companies. But for the moment, the drive that fueled their rise to the top was on pause. They fidgeted in their chairs, left their breakfast untouched. They were about to quit their jobs to take the biggest risk of their careers: starting their own PR firm, the Lede Company. "We were nervous as hell," Rothman remembers
The three coworkers had started out in various entry-level gigs in the industry and worked their way up. Silverman had been a receptionist at an entertainment PR firm, where she learned on the job. Rothman had started in public relations in college, doing outreach for the governor of North Carolina, her home state. She'd been planning to go into politics when she heard about a communications job at Miramax in New York. The pop-culture fan "flew up on Wednesday [to interview], moved on Saturday, and started on Monday." O'Sullivan, who went to college in Los Angeles, pitched in on an acquaintance's L.A. event for a celebrity couple, where someone recommended she interview for a corporate PR job. She was so green that "when I went in to HR to interview, the guy says, 'We don't have a job in corporate right now; we have talent jobs.' I literally was like, 'Oh, I don't have any talent.' " After he explained that the job wasn't to be an actor but to represent them, O'Sullivan got her first gig.
Now they were all executives with impressive client lists. They'd put in their time, "working our asses off," as Silverman puts it. They knew what it was like to be roused at 3 a.m. by a client unhappy with a Page Six item, demanding it be corrected. Or to stand in a hallway spraying Febreze after a client was caught smoking pot in the greenroom of a late-night talk show. It was time, they thought, to create their own firm.
But nothing had prepared them for how scary the leap would actually be. While most would-be entrepreneurs spend months or years preparing for launch—wooing potential clients, securing office space—the three felt they didn't have that option. To abide by the code of the industry (and because they didn't want to burn bridges with their longtime bosses), they hadn't revealed their plans to anyone. They needed to quit their jobs without knowing if any of their clients—including Rihanna, Lady Gaga, and Reese Witherspoon—would follow.
A few hours after their non-breakfast, they'd tell their bosses they were striking out on their own. "We were, like, puking. We were freaking out," recalls Silverman. Those conversations were "very emotional," according to her, and, to their collective relief, "very lovely." They regrouped at a hotel and began working to launch the business, including hiring a tech firm. Really, though, they were waiting. The women decline to comment on their employment contracts, but typically those in PR prohibit employees who quit from reaching out to clients. They had to hope the celebrities they'd developed relationships with would follow them. Later that day, 42West announced the departures. Word traveled fast, and their phones began to ring. Within a few days, the Lede Company boasted a client list that had the industry salivating: Rihanna and Gaga and Reese, plus Charlize Theron, Will Smith, Halle Berry, Jennifer Garner, and Illumination Entertainment, the studio behind billion-dollar box-office hits Minions and Despicable Me 3. Soon afterward, they joined forces with Christine Su, who ran her own PR and branding firm in New York and became Lede's fourth cofounder and co-CEO. Born in Taiwan, Su and her family moved to New York when she was six. Her parents eventually opened a Chinese herbal-health shop, and Su inherited that entrepreneurial streak.
By the end of 2018, the Observer put Lede at number two on its list of most powerful PR firms. "We've never featured an agency this new at this position on this list," the Observer wrote. "We also don't think there's ever been an out-of-the-gates success story quite like the Lede Company." Even if you haven't heard of Lede, you've probably seen its work. The Oscar campaigns for Lady Gaga (A Star Is Born) and Emma Stone (The Favourite)? Rihanna's Fenty launch? Book launches for Demi Moore and Chelsea Handler? The premiere of Big Little Lies season two for Witherspoon's media company, Hello Sunshine? All Lede. They're up to 50 staffers now, including the addition of partner Dvora Englefield, who heads the music division and brought clients like Shawn Mendes and Camila Cabello.
The cofounders each specialize in an area—Rothman in corporate PR, Silverman and O'Sullivan in talent, and Su in branding—and collaborate across divisions. They strategize, for example, on how to make a movie like the upcoming Minions sequel pop, with Rothman representing Illumination and its CEO, the talent side thinking about how to potentially involve clients, and Su weighing in on pop culture and branding.
With Lede, the partners can also marry their interest in social justice with their entertainment work. O'Sullivan grew up "a little mixed girl from Detroit," as she puts it, in a household and a city where racial and social justice were constant topics. She and others now work with clients using their platforms to get involved in social issues. (O'Sullivan helped shape the campaign for Time's Up.) "Building a company that stands up for its values was super exciting," O'Sullivan says. That extends to backing issues they care about, like when they signed their names to a full-page New York Times ad in June denouncing the restriction of access to abortion and reproductive health care.
The partners are designing a workplace that reflects how people work these days, and they get it when personal issues crop up. "We are creating a culture where balance is extremely important and no one worries about saying, 'Sorry, I have to go; it's my kid's last day of school,'" says Rothman.
While going out on your own can be intimidating, the founders were never alone. "It was an amazingly scary feeling, but also it felt good," O'Sullivan says. "I've chosen these people to walk this road with, and I can do it."
This story appears in the October 2019 issue of Marie Claire
RELATED STORY
Why I Started My Business While on Maternity Leave
Celebrity news, beauty, fashion advice, and fascinating features, delivered straight to your inbox!
Stephanie Clifford is an award-winning journalist writing about criminal justice and business, and author of the bestselling novel Everybody Rise.