The Birchbox Mafia
A group of East Coast founders used the lessons they learned while working at the subscription beauty company during its roller-coaster rise to build their own brands.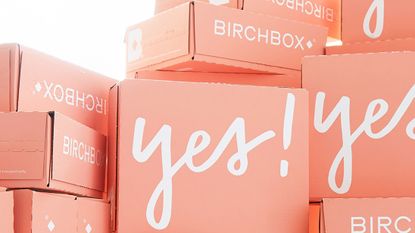 (Image credit: Courtesy of company)
Marie Claire Newsletter
Celebrity news, beauty, fashion advice, and fascinating features, delivered straight to your inbox!
Thank you for signing up to Marie Claire. You will receive a verification email shortly.
There was a problem. Please refresh the page and try again.
They all have the sneakers—hot-pink Air Jordan 1's emblazoned with "Birch" on the left heel, "Box" on the right, and their name—a gift bestowed upon Birchbox's employees on their one-year anniversary working for the beauty-product subscription service. They remember the company's early days in 2010, when the company was one of Silicon Alley's shiniest startups. And they're still close, bonded by a philosophy of scaling fast and celebrating in style.
They're what some in tech circles have called the Birchbox Mafia, a tight-knit set of New York–based founders who worked at the company during its early days, around 2010 to 2015, as a subscription-service pioneer shaking the beauty industry to its core with sleek marketing, an ambitious business model, and, at one point, a $500 million valuation.
The women lived through many of the company's peaks and valleys—and refer to their time there as a better startup boot camp than money could buy. There's Rachel Liverman, Birchbox's 19th employee (the company now has 230) and cofounder and CEO of Glowbar; Deepica Mutyala, founder and CEO at Live Tinted, who was a brand-strategy manager; Rachel Jo Silver, founder and CEO of Love Stories TV and Birchbox's former head of social media; Nidhi Kapur, founder and CEO of Maiden Home, who oversaw business development; Linden Ellis, cofounder of Coterie, who was a marketing associate; and Jess Williams, founder and CEO of Communal Creative and the former creative director.
Birchbox arrived on the scene in 2010, during the heyday of Silicon Valley's second coming, when many people trusted the hoodie-wearing dudes running Bay Area behemoths like Facebook and Google to figure out the future. Headquartered in Manhattan and dominated by women, Birchbox seemed, on paper, like a different breed of animal. Hayley Barna cofounded Birchbox with Katia Beauchamp, her Harvard Business School classmate and the company's current CEO, and Mollie Chen, who she met while they were undergrads at Harvard.
The three cofounders drew on their personal values and what they disliked from their previous jobs—magazines (Chen), management consulting (Barna), and investment banking (Beauchamp)—to create a radically transparent and welcoming workplace where everyone could impact the business. The culture can be unofficially summarized as follows.
One: Break down barriers. The cofounders never had corner offices; they sat in the same space as the entire team. "We made it easy for people at every level to talk to us," says Chen.
Two: Be transparent about the highs and lows. The number of Birchbox subscribers was prominently displayed and discussed weekly with the whole team. "The transparency was really motivating," says Williams. "There would be celebrations on the hour: of crossing a sales milestone, of how many likes a photo got on Facebook."
"The numbers created this energy," says Kapur. "The founders did a good job of making sure everyone saw the growth and success we were having. That creates positivity."
Three: Try new things and see what works. "If you look back at our early Instagram photos, they were not beautiful," says Silver. "They were dark and weird. I'd do a fun braid in my hair on a Saturday and take a picture and post it. We did whatever we wanted, tried whatever we wanted."
The atmosphere in the office felt like a never-ending adrenaline rush. "We were high-fiving all day," says Liverman, who was charged with bringing new beauty brands on board. "It was like the stock market. You're on the phone, you're selling, and then you put down the phone and you're like, 'I fucking closed it!' It was magical." She says they all believed in the work. "We saw the response from customers. I feel like we were at 500 subscribers one day, and the next we were at a million. Unfortunately, that trajectory plateaued."
Birchbox scaled so quickly and raised so much venture-capital funding—$90 million to date—that the women say the level of growth became unsustainable. There were more competitors popping up, and as the company ballooned from a few dozen employees to more than 300 spread across North America and Europe, the strategy that yielded wins in the early days began to falter. These hard times were when the real lessons were learned.
"There was a road trip where we popped up in shipping containers, we had a store in SoHo, we did a TV commercial," says Ellis, who sat on the marketing team "despite having no background in marketing." "Those things were expensive and hard to prove the ROI on, and that's one of the things I've taken with me to my companies," continues Ellis, who was employee number two at the frozen-food service Daily Harvest and cofounder of the party-supply company Coterie. "If you're spending too much on marketing and not getting the money back from a customer within a year, it's a recipe for disaster."
That Ellis lacked the right experience for her job points to another lesson. "There were certain roles we should have hired experts for, people who had years of experience, rather than just smart people who may have looked like us, acted like us, and also been recent grads," says Liverman, who left Birchbox in 2016 (the same year the company went through two rounds of layoffs and culled about 15 percent of its workforce). Last year, Liverman launched Glowbar, which wants to do for facials what Drybar did for blowouts.
The teachable moments went all the way to the top. "There was a lot to learn, especially as a first-time founder," says Beauchamp, who still serves as Birchbox's CEO. "There were high expectations and ambition but also a lot of humanity."

Many lessons fall in the "to-do" category. "The spirit of thinking beyond the task was something that Birchbox instilled in me," says Williams, who launched the design agency Communal Creative in 2015. "We'd think of unique ways to add to the feeling of surprise and discovery: What could we add on that subscribers wouldn't expect? I'm constantly driving my team to think beyond the task."
"Working at Birchbox was my first time seeing entrepreneurship firsthand," says Kapur, who launched the direct-to-consumer furniture company Maiden Home in 2017. "I didn't grow up seeing that. It always seemed unattainable, and I wasn't comfortable taking that kind of risk, but when I saw it in action, it demystified being a founder to me." Her firm now has 10 employees. "All those traditions and processes we had—to celebrate wins, talk openly about challenges, be transparent—I want to instill those in my company."
"I want everyone to walk into the Live Tinted office as fired up as I was when I walked into Birchbox every morning," says Mutyala, who launched her makeup and skincare company in 2019. "I learned the power of building a team that's passionate about the business. I walked into work feeling like it was my company too, and it fueled me to work hard."
Another reason to work hard: The Birchboxers rely on one another for capital and advice. Kapur was one of Mutyala's angel investors, as was Barna, who invested her personal capital, though she is now a partner at VC firm First Round Capital as well. Barna also invested in Silver's startup, the wedding-video company Love Stories TV, with her personal capital, and Chen invested in Glowbar through Cleo Capital, the female-led venture-capital firm founded by Sarah Kunst that counts Chen among its scouts. Ellis is on a text chain with former Birchboxers (called Labradoodles "because we're all obsessed with dogs," she says); Silver is on another text chain with ex-colleagues who've gone on to prominent roles at firms like Walmart and Rent the Runway.
Birchbox is still in business; it sold a majority stake to investment firm Viking Global in 2018, and Birchbox-branded shelves have cropped up at Walgreens locations around the country. For Beauchamp, who invested in Glowbar, Love Stories TV, and Maiden Home, watching her former employees unfurl their wings has been "nothing but sweet," she says. "How can you not be excited that they've invested in their potential to invent? Life is long, and I'd expect some of us to work together again."
This story appears in the March 2020 issue of Marie Claire.
RELATED STORIES
Celebrity news, beauty, fashion advice, and fascinating features, delivered straight to your inbox!