What I Wear to Work: Jennifer Fleiss, Co-Founder of Rent the Runway and Co-Founder of Jet Black
Her power outfit works for everyone.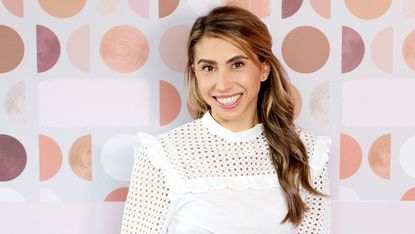 (Image credit: Courtesy of Jenny Fleiss)
In a bi-weekly series, we're interviewing female executives, founders, CEOs—basically, boss ladies—on their "power suit" a.k.a. the outfit they wear every day for easy dressing to conquer whatever the job throws at them.
---
Jennifer Fleiss, co-founder of Rent the Runway and co-founder of members-only personal shopping and concierge service Jet Black, had entrepreneurial blood in her veins from a very young age. She ran lemonade stands as a child, carefully picking the best corner to sell on, and grew up watching her parents, both real estate agents, manage a business together.
"It was fun to see all that from the sidelines," Fleiss says. "I was always really encouraged that I could think without boundaries and that made me feel like I could achieve and go after anything I wanted."
Fast forward to college: Fleiss attended Yale, then landed in the finance world because she says, at the time, "there weren't many people doing entrepreneurial things and finance was a natural place to go as a competitive person." Fleiss admits finance was never a passion area for her, so off she went to business school at Harvard, where she met Jenn Hyman. Together, the two launched Rent the Runway in 2009, now valued at more than $1 billion. Fleiss has stepped away from the day-to-day business at RTR, but still sits on the board and, of course, is good friends with Hyman.
Currently, Fleiss is putting all her focus on Jet Black, a personal shopping via text message service. One can order anything through this members-only club ($50 per month) , from paper towels to a designer handbag. The only items Jet Black doesn't sell? Alcohol, CBD, fresh groceries, tobacco, prescription medications, and lenses.
"The idea is to simplify shopping," she says. "It's become very inefficient for consumers to get answers about products because they have to read through reviews, go to blogs, and research the truth about all the products." Jet Black aims to get rid of all this noise. "Imagine the way you would text a personal shopper or a friend, [you can do that through Jet black]," she tells me. "You can ask a question about a product, you can ask for a recommendation, and [our tools combine that] shopping experience of browsing through a department store with that local mom-and-pop [service attitude]."
Though the company has gone through some ups and downs (opens in new tab) in recent years, Fleiss has remained positive, saying, "Consumers are coming to us with words like 'oh my god, you've changed my life.' I think we've really touched on something about digital shopping."
Speaking of shopping, Fleiss clearly has an interest in fashion. She shared with us some of her favorite brands and styles, including what she (a total #bosswoman) wears to work.
Her Morning Routine
"I have three little kids, so typically one of them wakes me up before I wake myself up. I recently started meditating, so I'll carve out 15 or 20 minutes to do that while some brewing coffee. I'll sometimes go on a run with my husband since we both really like to work out. It's another form of stress relief for me, but also a healthy way to spend time together. Then, I'll take the kids to school; we're lucky to be able to walk them and chat with them on their way. Afterwards, it's off to the office. During the commute, I'll listen to a podcast like Harvard Business Review's "After Hours." I'm constantly finding ways to multitask. Once I get in, I'll have some more coffee and breakfast, and go over the calendar and to-do list for the day."
Her Getting Dressed Strategy
"One [strategy] is to not clutter your closet with too many things, so you can be more efficient. I recently Marie Kondo'd my closet, since I'm pass the pregnancy years now and got rid of everything from that time in my life. Now, I have fewer things and it's such a great feeling.
I try to pick stuff out the night before, especially if I know I have an important meeting or if I'm traveling for a speaking event. My kids also love to help me get dressed in the mornings, especially my 8-year-old. She comes into my closet and kind of helps me style."
Her Work Uniform
"I definitely feel like I have a go-to travel uniform: fairly comfortable pants—I have a pair from ADAY, that look nice and are really comfy, I have a Helmut Lang sweatshirt that's kind of like a blazer because it has a little structure and pockets, which are key for traveling. For work, if I don't have big meetings, I'll pull on a pair of jeans, cute boots, and an oversize sweater.
If I didn't have time to do my morning workout, I really try to fit in [some form of] exercise every day, so I'll try to wear an outfit that's semi-flexible, where I can change one piece, like wear workout pants that look nice with a long tunic button-down top and a sweater on top, so that I can quickly jump into the gym if I have some time during my day.
I really love Ulla Johnson—it always has a little bit of extra design to it, and is fun, flirty, and feminine. I pretty much always get compliments when I wear her stuff. Obviously, Rent the Runway is a big part of my routine because it's so convenient, affordable, and has [a great list] of designers. It helps to keep my closet from being cluttered as well.

I have a dark-colored and a light-colored Celine bag that I typically use as a catch-all to throw everything in. I do find that I always need more space than I think, so I always say go with a larger bag [for work]."
The Three Words That Describe Her Power Outfit
"Feminine, multipurpose, and layers."
Her Motto
"My [Rent the Runway] co-founder and I say all the time: 'No doesn't mean no, it means not right now.' I find myself saying this to other entrepreneurs. Another one is 'Confidence is king.' I think your mindset and the confidence you bring to a conversation or whatever you're doing really changes and shapes you. [This ties back] to fashion in a woman's career because if [your wardrobe] can give you that extra bounce in your step, you feel like you're ready to take on anything and it's really powerful."
If you love Fleiss's feminine and functional work outfits, shop her style below.
---
For more stories like this, including celebrity news, beauty and fashion advice, savvy political commentary, and fascinating features, sign up for the Marie Claire newsletter.
SUBSCRIBE HERE (opens in new tab)
Related Stories
Marina Liao is the former fashion news editor at MarieClaire.com, where she covered celebrity style (from Meghan Markle to Katie Holmes), fashion trends, and shopping advice, plus conducted original interviews with industry insiders. She's also had many opportunities to write content in other areas such as beauty, food, tech, and even home. Her previous fashion stints include POPSUGAR and Cosmopolitan.