The Ultimate Guide to Buying A Car
In Marie Claire's latest money column, we break down one reader's plan to make a life-changing purchase. This month, two Capital One pros help Tara, a fintech program manager, figure out how to afford her very first car.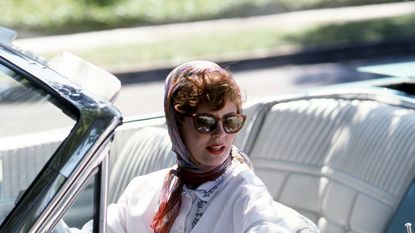 (Image credit: Silver Screen Collection)
Marie Claire Newsletter
Celebrity news, beauty, fashion advice, and fascinating features, delivered straight to your inbox!
Thank you for signing up to Marie Claire. You will receive a verification email shortly.
There was a problem. Please refresh the page and try again.
A car is likely the second biggest purchase a person will make in their lifetime, after a home. And there are a lot of things to consider when shopping for your wheels: Four-wheel drive! New car smell! Sunroof! Bluetooth audio connection so you can blast Olivia Rodrigo and sing along to "drivers license" while driving! But there are also important financial considerations to take into account when making such a life-changing purchase.
For many, the cost is worth it: a car isn't just a means of transportation, it also offers freedom and flexibility. Take Tara, 32, a creative program manager in the financial technology industry, who began to feel trapped in her Hoboken, New Jersey neighborhood during the pandemic. She doesn't want to be limited by subway lines or bus routes (and wants to travel to hiking spots with her dog!), so she's in the market to purchase her very first car. Ahead, two auto all-stars from Capital One, Liz Seeligson, Senior Business Director, and Courtney West, Divisional Sales Director, share their tips on how Tara can find a great deal to buy a car with her finances top of mind.
Tara's Financial Snapshot:
Monthly Income Pre-Tax: $13,354.94
Yearly Income Pre-Tax: $160,000
Average Monthly Expenses, Including Rent: $4,150
Total Debt: $7,500 in credit card bills; $91,302 in student loans
Credit Score: 741
Your credit score informs how much you might get loaned, your interest rate, and what down payment is required. Typically, a higher credit score will mean lower interest rates.
Car Price Range: $23,000-$25,000
Tara wants something that has four-wheel drive, leather seats, good gas mileage, and safety features (like sensors). She wants a crossover or compact SUV because she likes to be high off the ground when driving.
Target Monthly Car Payments: Under $400
Including the monthly cost, insurance, gas, and parking
Total Saved for Car Down Payment: $5,000
Know how much you can spend and how much you need to spend up front.
One of the first things to do when you start shopping for a car is to decide how much you want to spend, how big of a down payment you want to put down, and what monthly payment you are comfortable with. Down payments can often help you get better financing terms and protect you against the car's depreciation. Traditionally experts suggest that you put 20 percent down when you buy a car, but according to Edmunds, the average amount is closer to 12 percent. With Tara targeting a $23,000-$25,000 car with $5000 saved for a down payment, she's right around that 20 percent.
For a vehicle at this price, Tara will likely need to budget a little more for a monthly payment than the 'under $400' she desires. As an alternative, she could consider a less expensive vehicle, a larger down payment or a longer term loan. —Liz Seeligson
Try to snag a good interest rate.
Interest rates will vary by lender and manufacturer, as well as an individual's credit score. Research different vehicles and shop around to find these deals. Capital One Auto Navigator is an excellent tool that will allow you to see specific rates on the cars you are interested in. If you're looking for a zero percent interest rate, they are typically only offered as incentives by specific manufacturers on specific vehicles —L.S.

Consider your gas mileage.
Generally speaking, small hybrid cars can get excellent gas mileage, sometimes as much as 50 miles per gallon. However, Tara's lifestyle is centered around traveling with her pup and she wants a larger car. A hybrid CUV (compact utility vehicle), often called a crossover, still gets great gas mileage (up to 41 miles per gallon) and could meet everything on Tara's wish list. —Courtney West
Don't forget about additional costs.
Choosing a car and negotiating the sales price is just the first expense. Tara will also need to account for sales tax, registration fees, dealer fees and other extras. Once Tara owns the car, she will also need to pay for insurance, gas, maintenance, and parking, as she lives in a city. These costs will vary depending on Tara's insurance, the car she chooses, and how she uses it. It's important for Tara to do her research and understand the total cost of ownership to ensure it fits her budget.
Upon signing on the dotted line, there are a few other products (all completely optional) for Tara to consider that will increase her monthly payment, but may save her from out-of-pocket expenses later on. These products are sold by the dealer. These include an extended warranty, which covers certain repairs after the car's warranty expires; gap insurance, which covers the difference between what you owe on a car and what it is worth in the event it is stolen or totaled; and maintenance plans, which may cover things like oil changes and tire rotations. Talk with the dealer to get a better understanding of what each of these products cover. —L.S.

Consider both new and used cars.
A new car does have benefits, including not having to worry about the car's history, updated technology, and the fact that many new cars come with at least a three-year, 36,000-mile warranty. But there are some drawbacks to buying new, too: Cars generally depreciate by the end of the first year at around 20–30 percent. Not to mention, new cars are currently in short supply due to an industry wide chip shortage, which is driving up demand and creating higher than normal prices across the nation.
Used cars on the other hand typically depreciate at a slower rate at first, and a well maintained car can last well past 100k miles. Buying used allows you to get more for your money because someone else has incurred the initial depreciation. But there are drawbacks to buying used too: Because of the current new car shortage, there is also a higher than normal demand for used cars right now, making it more difficult than ever to negotiate a great deal.
Tara should keep all of these factors in mind as she makes her decision. —C.W.
Consider losing the sunroof.
All the extra bells and whistles will drive up the price. Going with the base model of whatever vehicle you choose could help keep the price lower. —C.W.
Be prepared to talk details with the dealer.
Arm yourself with the right information and questions before going to the dealership. Be upfront and transparent with the dealer about the research you've done on the models you're interested in (narrow down your list ahead of time). And don't be afraid to ask if they will negotiate the price (many will negotiate if they can). Look for additional fees as well, which are specific to dealers. Ask about negotiating that, too. —C.W.
Avoid getting scammed.
Okay, so this information feels obvious, but it's easier said than done. Here are some tips to help you drive off the lot feeling like the *proud* new owner of a car, not someone with buyer's remorse:
Make sure you are buying from a reputable dealership. Check the dealer's website, read its online reviews and review its Better Business Bureau rating.
Take down the VIN (vehicle identification number) and research the history of the vehicle on a few sites (paid and free). It's not totally comprehensive, but a good check.
If you love the car but it appears to have had body repairs or sounds rough when you drive it, ask if you can take it to an independent diagnostic mechanic before you buy. —C.W.
Celebrity news, beauty, fashion advice, and fascinating features, delivered straight to your inbox!
Megan DiTrolio is the editor of features and special projects at Marie Claire, where she oversees all career coverage and writes and edits stories on women's issues, politics, cultural trends, and more. In addition to editing feature stories, she programs Marie Claire's annual Power Trip conference and Marie Claire's Getting Down To Business Instagram Live franchise.