How American Apparel's First Female CEO Is Changing Everything
Pushing beyond the brand's pervy past is the job of one woman—Paula Schneider. And she has big plans.
American Apparel doesn't have a particularly "clean" record going into 2015. Helmed by Dov Charney since 1991—when he founded the company—it was saddled with employee complaints, sexual harassment suits, and basically a reputation for being, in a nutshell, perverted. (One of the allegations against Charney? That he imprisoned an employee in his home as a sex slave. Yeah…)
After the allegations kept coming—and the company's dwindling profits began to be a consistent cause for concern—a committee launched an internal investigation and ultimately let Charney go on his merry way.
In his place they appointed Paula Schneider, a seasoned executive who's been at the helm of retail companies like Warnaco and Gores Group. And her task is a big one: changing how consumers think about the brand and reinvigorating its profitability. Basically, turning the entire business around.
We caught up with Schneider to talk about the new regime, her plans for the company, and how—yes—some of the ads will still be just as sexy.
What's the vision for the new American Apparel? How do you see it differently than your predecessors?

"American Apparel is an unbelievably strong brand, and right now we're at a tremendous opportunity with the company. It's really my job to ensure the financial health of it."
How are you changing or shifting the business model that you inherited?

"This is a company that needed tweaking. It didn't have a broken business model, but it needed better planning and forecasting, an understanding of the opportunity to move product and a better calendar on the design program. More of a look at what's working for us and what's not—basically making sure that it stays the cool brand it always has been."
What do you think the toughest part of your new position is or will be?

"From a product standpoint, we're in 20 countries with retail stores and we have e-commerce as well. Stabilizing our business is my mission. We're the only company that fully serves the millennial consumer—from the 15-year-old boy to the 33-year-old woman. That's really amazing. We have an awesome mix and assortment of product—we just need to make sure it's getting the display and attention it deserves."
Do you plan to change up the marketing, then? Will that help it stabilize?

"This is an edgy brand, and we have to get past the idea that it's just a clothing brand. It's not. Our customers expect social commentary; they expect it to be a part of their lives. We're an interesting company in that we are the largest manufacturer of apparel in North America. I don't think people know that. And that comes with a call to action—if we want to keep jobs in the United States, we have to make our product relevant for people around the world."
How do you plan to reintroduce that relevancy?

"It's two prongs. First, giving everyone the understanding that you will never see anything like this anywhere else in the United States. From yard to fabric to cutting to design to sewing to distribution—it's an amazing machine. There's a lot we can use to tell that story, give insight to what we do, and how we add value to the U.S. economy. Secondly, we have to expand on this social commentary. We need to continue to be innovative and edgy. That's the brand DNA."
What are the missed opportunities others may have overlooked?

"I think that there's a huge opportunity in e-commerce. We're actually redoing our site, and you'll see that over the next couple of months. It's going to be more functional, more interactive. Just cleaner and easier to navigate. We're also working on the shopping experience in stores—a cleaner, easier to navigate experience. A more messaged version."
American Apparel ads have always been a bit salacious—do you see that as part of the brand DNA?

"I think it's fluid. We will have some sexy ads, we do have lingerie and that is sexy, and it's obviously a part of what we do here. But recently, actually before I signed on, we did a great ad campaign with Brendan Jordan, a 15-year-old in Las Vegas, who went viral after he was filmed vogueing for the camera, and we used him as a spokesmodel. At 15, he came out, and we celebrated that. I think that's really important and cool and our brand.
We also work with all types of models. In a new video, we had transgender models, young models, models in their 70s, women who were eight feet tall—we aim to be inclusive. It's more a psychographic than a demographic that we look to."
You're the first female exec of American Apparel. How do you think this figures into your strategy, if it does at all?

"You know, a lot of people don't know this, but I'm not the first female executive. I'm the first female CEO, but we have women at almost every level—presidents of retail, female executives...It's kind of interesting that that's been a hallmark of our brand for so long. But I'm proud of the work that we've been doing—we have employees here that have been here for 15 or 20 years. I want to shine a light on exactly what we do here, including the women. That's a goal of mine. But more importantly, business hasn't been that profitable. I'm here to turn that around."
What are your biggest tips for women in managerial positions?

"First and foremost, have a point of view and create a plan. But while you're creating a plan, encourage people to do what they do best. If you have a POV, if you create a plan, and you're inclusive of creating that plan, where everyone has a part, where they know the role they play and they're encouraged to do what they naturally do best, it'll resonate. It'll work. It'll be better.
Secondly, as a manager, you have to be able to make the tough decisions for the greater good. It's nice to be liked all of the time, but it's just not feasible. And the higher up you are, there is going to be more to deal with. You're going to be the one making decisions, deciding what is best for the stakeholders—stakeholders meaning the people that work there and the actual shareholders—and that's what you have to consider."
What's the biggest misconception people have about your position or being a CEO?

"Most people in different groups don't really understand the CEO, or a public CEO, and that's hard. It's hard to explain this job unless you've experienced it or worked for a CEO or had exposure to the position. There's a myriad of obligations that take up a lot of time, to build stakeholder value. There's really important layers that are constantly shifting. It's my job to orchestrate, and move forward strategy so that everyone can prosper. But the thing is, a CEO is not a solitary position—one person can't do it all. You have to have great people to work with. Thankfully, I do."
You should also check out:
Fewer Women Run Large Companies Than Dudes Named John
8 Ways to Make Your Boss Not Hate You
Celebrity news, beauty, fashion advice, and fascinating features, delivered straight to your inbox!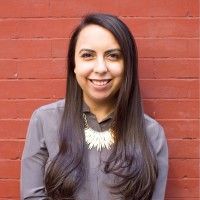 Samantha Leal is the Deputy Editor at Well+Good, where she spends most of her day thinking of new ideas across platforms, bringing on new writers, overseeing the day-to-day of the website, and working with the awesome team to produce the best stories and packages. Before W+G, she was the Senior Web Editor for Marie Claire and the Deputy Editor for Latina.com, with bylines all over the internet. Graduating from the Medill School of Journalism at Northwestern University with a minor in African history, she's written everything from travel guides to political op-eds to wine explainers (currently enrolled in the WSET program) to celebrity profiles. Find her online pretty much everywhere @samanthajoleal.