Thank God: Ivanka Trump Is Redefining the Idea of the "Working Woman"
She's changing everything.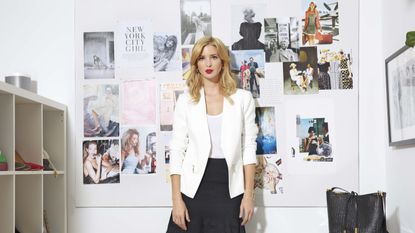 (Image credit: Tina Tyrell)
Marie Claire Newsletter
Celebrity news, beauty, fashion advice, and fascinating features, delivered straight to your inbox!
Thank you for signing up to Marie Claire. You will receive a verification email shortly.
There was a problem. Please refresh the page and try again.
After conquering real estate and fashion, Ivanka Trump, 33, is now setting her sights on #WomenWhoWork, an online venture for young go-getters. We caught up with the entrepreneur to get the scoop on her plans to change how we see women in the workforce and that whole life/work balance thing.
As part of your #WomenWhoWork campaign, on your website, IvankaTrump.com, you ask accomplished women to describe all their "jobs"—even those that fall outside their careers, like volunteering or training for a marathon. Why is that important to you?

"When you say 'working women,' the stereotype that comes to mind isn't always flattering, and, often, it's not that representative of this next generation. Technology has enabled us all to have one life rather than separate professional and home lives. I think that image of a working woman, which is so antiquated and quite laughable to anyone actually in the workforce, is still what's being shown in pop culture and advertising. So I asked a bunch of my friends to tell me what work looks like to them. It's been a lot of fun because they're working at many things—training for marathons, getting graduate degrees, raising families—and, obviously, one component of that is their professional title as well."
Do you think your generation is burdened with this idea that you have to "have it all"?

"The whole expression bothers me. The average person can look at someone in public life and say they have it all, but they might be struggling. Or you may think another person has more apparent challenges, but she's deeply grateful for her life. I don't think anyone can judge what having it all means for someone else."
You've obviously had a mentor in your father, Donald Trump. Do you yourself mentor anyone? Do you think mentors are overrated?

"A lot is made of mentorship. I think it's incredibly important. But it's a relationship, it's not a thing—so it has to be genuine. You can't walk up to someone and say, 'Be my mentor.' I created IvankaTrump.com as a destination for working women. That's my platform for mentoring. I wasn't necessarily looking for a 70-year-old man at the end of his career—who probably has great things to teach—but, instead, I'm reaching out to women who are doing it right now."
Do you feel like you've had to work harder to prove yourself because of your famous last name? Is it harder to be taken seriously?

"When I was younger, I was more self-conscious about living up to or surpassing the expectations of others. But as you get older, you start to build confidence. I do think that, to some degree, coming from a well-known family and having been born into great privilege does one of two things to people, typically. You either do nothing because it's almost debilitating. Or—and I think this is true of me and my brothers—it's a great motivator. It pushed us to work harder, be better, and set more aggressive goals for ourselves. Having that kind of external pressure isn't always the worst thing."
For young up-and-comers, what's the best way to get noticed? Is it just a matter of doing great work?

"The harder you work, the luckier you get. I'm a big believer in that. If you're young and just starting out, do everything—especially the things other people don't want to do. I've seen people make themselves invaluable by volunteering for projects that seem to get put off to the side. A very quick way to give yourself purpose is to look at what those projects are and request them. Our generation of Millennials, we're about self-improvement and about self-actualization. That's a great skill in life and professionally."
What are some big mistakes you see young women make at work?

"There are a couple. This isn't necessarily a comment about women alone; it's true of most young people. There's a fear of asking questions, which can lead to a lot of unnecessary failure. The best way to learn is by asking intelligent questions. There's a fear young people have that they should be better prepared. They don't give their bosses enough credit that a senior-level person will recognize they don't have experience and will need to be taught. That said—don't ask questions that can be easily Googled. Ask educated questions. Learn as much as you can independently and then confirm."
In addition to your role as executive vice president at your father's real estate company, you also oversee your own shoe, jewelry, and apparel empire. How can women use fashion to advance their careers?

"For me, the focus in all my collections is appropriate sexiness, polish, and great pieces that can be worn transitionally. I don't know many working women who are running home to change between the office and a date with their husband or drinks with girlfriends. They're playing on the floor with their kids in the mornings prior to heading out the door. You need something that is appropriate for the boardroom, for your role as a parent, for a date with your husband—and you want to feel feminine and effortless in all of those different roles."
What's your style philosophy? How do you dress for your many jobs?

"It's all about looking your best without being fussy, and being able to manage the look on the run. Every girl has a no-fail work outfit. For me, it's a great well-tailored dress—in jersey, which doesn't wrinkle and is always chic—paired with great accessories, like a good handbag and heels. I love to lend personality to a more conservative outfit through the accessories I'm wearing. I think a lot of professional women do that."
For a lot of women, comfort is a big issue—they don't want to compromise it for the sake of style. Is comfort a factor in your designs?

"The reality is I have a closet full of shoes that I don't wear because they are not comfortable, and I am not going to be hobbling between meetings. There's nothing that ruins an entrance like somebody who's uncomfortable in their shoes. It is important and critical that my shoes be incredibly comfortable. It's not the top adjective I use to describe them, but I have walked many a construction site in stilettos. And, if you do so, you better be able to walk without too much drama around it."
This article appears in the April issue of Marie Claire, on newsstands now.
You should also check out:
Ivanka Trump's New #WomenWhoWork Initiative Tackles the Myth of Work/Life Balance Head On
Is Doing It All the New "Having It All"? A Look at the Changing Face of Women's Careers
Celebrity news, beauty, fashion advice, and fascinating features, delivered straight to your inbox!
Maria Ricapito is a writer who lives in the Hudson Valley.