Is Community College the Key to Closing Tech's Gender Gap?
It's no secret that STEM fields are largely male—even at the undergraduate level. But here, there's a surprising revolution taking place.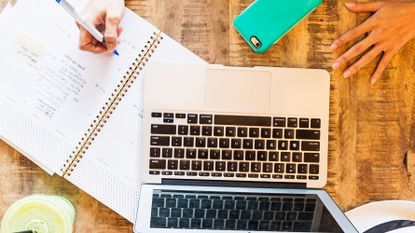 (Image credit: Archives)
Last month, Intel announced (opens in new tab) a $5 million investment in Georgia Tech to increase the number of women and minorities studying computer science and engineering over the next five years. It's only the latest example of a big-name university's push to shrink the well-known gender and racial diversity gaps in STEM (science, tech, engineering, and math) studies. Similar efforts at four-year schools go back more than a decade and a half, heralded by the landmark 1999 MIT report (opens in new tab) "A Study on the Status of Women Faculty in Science at MIT" that led to sweeping changes (opens in new tab) at that school in order to boost faculty diversity.
Overlooked in all the talk about closing the STEM gender gap? Community colleges, where women are apparently killing it. According to a 2012 Institute for Women's Policy Research report, over half (opens in new tab) of women who get advanced degrees in STEM-related fields started out at community college (54.7 percent of women, versus 44.4 percent of men).
What's more, a recent study (opens in new tab) by two Iowa State University researchers found that women at community colleges reported a friendlier atmosphere in STEM-related classes than at four-year colleges. "It is just such a global community," one student said of her community college experience. The researchers found that similarity in backgrounds and lifestyles made women feel more comfortable stepping into leadership roles in activities and assignments. Strong advising and support from faculty also marked a major difference. Since so many students transfer out, they often work closely with guidance counselors to develop transfer plans. "The two-year plan keeps me focused, and saved me with financial aid," another woman said.
"Community college is a great avenue for those who are considering STEM but aren't completely comfortable yet with the idea of going into a field that's heavily mathematical," says Catherine Hill, the vice president for research at the American Association of University Women (opens in new tab) (AAUW). "If you decide that you're interested in the sciences a little bit later in your career, you can inexpensively catch up on the coursework you're going to need."
Because community colleges cater to students seeking not just affordability, but flexibility to accommodate jobs and families, they tend to attract women—57% of community college students are women.
So when we talk about the STEM gender gap in academia, why aren't we focusing our attentions on community colleges—and what they're doing right? "There has been a stigma about community colleges, in part because they do let in a wider variety of students," says Hill. "You'll tend to spot people who are very prepared at community colleges and also those who are struggling to get through remedial courses and catch up. But you see more women than men using community colleges as a platform to get to a four-year college."
One of the most vocal advocates of community college is Dr. Jill Biden—wife of Vice President Joe Biden—who's been an English professor at Northern Virginia Community College since 2009. Earlier this month, Biden, alongside President Obama, traveled to Macomb Community College in Warren, Michigan to deliver remarks on the importance of America's community colleges and promote (opens in new tab) the administration's American College Promise (opens in new tab), a $60 billion plan to make two years of community college free for students who met requirements like a minimum 2.5 GPA that's currently stalled in Congress.
"Women who are interested in pursuing bachelors and master's degrees—especially in STEM fields—benefit from starting at a community college," Dr. Biden told us. "Women who earn a certificate or degree from a community college will be ready to move into a good-paying job in the growing global economy."
In fact, community colleges boast rockstar female alums, in some cases going back decades. "The courses I took at Corning Community College were exactly what I wanted," says Eileen Collins, NASA's first female shuttle commander, whom Corning's observatory is named for. "I never felt self-conscious being a woman in the classroom. I never felt that way at all."
That's not to say earning an associate's degree in STEM is smooth sailing—because community college students tend to juggle other responsibilities with their studies, the graduation rates are lower than four-year colleges. Nearly 40% of community college students graduate from a two- or a four-year school in six years versus the 74% of students at four-year private colleges.
Another big problem: College and university marketing materials tend to spotlight men in engineering settings (you know, the guys in the white lab coats and in the computer lab). "I can't tell you how often I go to a school's website before I train them, and they have all males on the program page," says Donna Milgram, the Executive Director of the National Institute for Women in Trades, Technology, and Science (opens in new tab) (IWITTS).
But that's a problem easy enough to fix, Milgram says. She heads up the CalWomenTech Scale Up project, a collaboration among several California community colleges to recruit and retain women into STEM fields, where role models are a key focus. "Even if they have just one or two graduates of the program as available resources, it's a key part of outreach," she says. At the City College of San Francisco, enrollment in the networking and information technology program went from 19 percent women in 2006 to 33 percent two years later after brochures and posters were updated to feature women and college counselors stepped up active recruitment efforts.
Community colleges have also seen success by enrolling more women in so-called "bridge classes"—entry-level courses in subjects like auto-repair, which traditionally draw men and are a good launchpad into more sophisticated engineering courses. The CalWomenTech project developed an "Auto Repair for the Layperson" class at Evergreen Valley College and promoted it heavily to women. The result? Nine female students who took the course enrolled in the school's introductory automative technology course the next semester, the largest number of women (opens in new tab) ever to do so.
Of course, no matter where they get their degrees, women in STEM careers face daunting challenges. But there's no question that improving their numbers at the undergraduate level can go a long way in getting more women into these workplaces. Says Hill, "Community colleges might be the back door right now, but they'll be the front door soon."
Follow Marie Claire on Instagram (opens in new tab) for the latest celeb news, pretty pics, funny stuff, and an insider POV.
I'm the features editorial assistant at Marie Claire. Before working at MC, I spent time in the production department at The New Republic and writing about politics for Bustle. When I'm not writing, you can find me museum-hopping, practicing mediocre yoga, and stalking pugs on Instagram.