How TaskRabbit's New CEO Is Changing the Game
Stacy Brown-Philpot's historic appointment as the new CEO of the errand app makes her one of Silicon Valley's lone women of color in the top spot. And that's just one way she's mixing things up.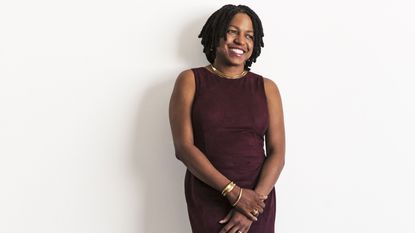 (Image credit: Matthew Scott)
Marie Claire Newsletter
Celebrity news, beauty, fashion advice, and fascinating features, delivered straight to your inbox!
Thank you for signing up to Marie Claire. You will receive a verification email shortly.
There was a problem. Please refresh the page and try again.
Marie Claire: You grew up in inner-city Detroit and were raised by a single mother. What did you want to do when you grew up?
Stacy Brown-Philpot: I went to a special public school that was much more focused on academics and learning. My two best teachers were in accounting and calculus, so I fell in love with that, which made me want to go into business. I applied to Wharton [at the University of Pennsylvania] because it was the number-one business school in the country. I didn't know Penn was an Ivy League school—I didn't know what the Ivy League was. When I got in, they sent me the package, and the tuition was my mother's salary for a year. My mom said, "We can't afford it." So I went to the library and found several scholarships and grants, and was able to cover 90 percent of my education that way. I got a job to cover the other 10 percent.
MC: What was the transition to the Ivy League like for you?
SB-P: I had culture shock, absolutely. Ninety-eight percent of the people in my high school were black; 6 percent of Penn was black. I lived in a dorm with a Jewish woman—I'd never interacted with a Jewish person in my whole life, and we had to share a very, very small space together. So I learned about Jewish holidays and how to be roommates with somebody who wasn't like me. And then I started to meet all these people from wealthy backgrounds who had gone to boarding schools; I had to learn how to study and compete with people who had far more academic training than me. I had to study harder and longer and sleep less. It was never an option to not succeed.
MC: After college, you went to wall street and eventually made the jump to Silicon Valley. What drove you to the tech industry?
SB-P: I got my CPA but always thought about getting my MBA. When I was on Wall Street, I did a tech deal in 1999. There were a lot of tech IPOs, and I just became fascinated with the industry. So I applied to Stanford for business school and was accepted. I got the Bonini fellowship, which paid my tuition.
I was excited to see what this Silicon Valley thing was all about—discovering where innovation and creativity was really happening. Engineers, product managers, marketers, and leaders were building these companies that were shaping the way we interact with the world every day. That's so different from being a banker on Wall Street.
MC: You were at Stanford during the first dot-com crash. How did that affect you?
SB-P: We all arrived at Stanford thinking we could start companies and work anywhere we wanted. And then when it was time for us to graduate, nobody was funding these companies anymore. It was harder to get a job. But Stanford is such a special place in that you actually are taught that failure is acceptable— that it's expected—and that we're here to change lives and change the world. To do that, you have to fail in order to succeed. We never thought we weren't going to make it.
MC: What was it like to get your first big paycheck?
SB-P: When I was 14, I remember wanting a Coach bag, and my mother couldn't afford it. I decided at that age that I was going to grow up and get a job so that I could buy as many handbags as I wanted. And no one was ever going to stop me. So when I got the job, I always thought, How do I make sure that I can afford to pay off my bills and then buy my handbags? The Coach bag evolved into other things that I wanted to spend my money on—I love to travel. But thinking about earning a salary is very different from equity. You come to Silicon Valley and learn about wealth creation. It is a fundamentally different way of thinking about building your life, including your financial life. Growing up in Detroit, wealth creation wasn't part of what we talked about at the dinner table. And so that was so different. Now I have an opportunity to give back, to contribute to other causes, to create a legacy for my family that no one else had. And that was a powerful change for me.
MC: Tell us about a failure that was instrumental to your career.
SB-P: I remember working on a deal at Goldman Sachs, and there was a partner who had these expectations about what I would be able to deliver. And I just didn't know how to do it, and I didn't get it done; I didn't do it right. Bankers weren't very kind in their language. I thought I was going to get fired. There was another analyst who was more experienced than me. I was like, "I need to turn this thing around in three hours"—it was 2 a.m. And he said, "Well, all right, why didn't you ask me for help? Here's what you need to do." Within an hour and a half, we had it done. It was a pivotal moment, where I was like, There are people who are better than me at things, and I don't have to be the best. In order for me to be the best, I have to rely on other people and learn to ask for help.
MC: You worked at Google for nine years before joining TaskRabbit, an app for outsourcing chores. What's the difference between working for a big Silicon Valley firm versus a startup?
SB-P: Google is an extremely profitable business, and it has a lot of resources. There's also a lot of internal management and cross-team collaboration. TaskRabbit is small and nimble. We have 60 employees. We don't have all the resources that Google has, but we can be much faster and focus on the big things. We're also creating a category: TaskRabbit pioneered the sharing economy in 2008, and it certainly spawned lots of other sharing-economy types of companies [like Uber and Airbnb].
MC: Silicon Valley is plagued with diversity challenges. What has been your experience as a black woman?
SB-P: There have been plenty of times in my life before I came to Silicon Valley when I was the only African-American, particularly on Wall Street. There are absolutely challenges. I've had moments when I was the only woman and the conversation was not appropriate; we had recruiting challenges at Google where minorities would join, but then they didn't find a community there, so they just left and went back home. And then there's the expectation, when you're a senior African-American female in Silicon Valley, to come to an event and talk to people and "tell us how you did it" and be this good example. I love doing that part of it. I work with Black Girls Code, an organization that is helping young black girls think about [careers in] STEM [science, technology, engineering, and math]. I started the Black Googler Network, and now at TaskRabbit, diversity is an intentional focus of mine. I feel more comfortable in a diverse environment, and most other people do, too.
MC: With that in mind, what are you doing at TaskRabbit to improve diversity?
SB-P: Right now, we're 11 percent African- American—we want to be 13 percent. We're 58 percent female, 5 percent Latino, 11 percent Asian, and 11 percent LGBTQ. So we're happy with the diversity that we have at TaskRabbit, but there are areas in which we can improve. Recently, we launched an initiative with the Congressional Black Caucus to improve diversity in our company by 2020. I'm excited to do it now—if you start later, it's really hard to correct.
This article appears in the August issue of Marie Claire, on newsstands now.
Celebrity news, beauty, fashion advice, and fascinating features, delivered straight to your inbox!