How to Get a Job at Nascar
Get your career on the fast track (pun intended).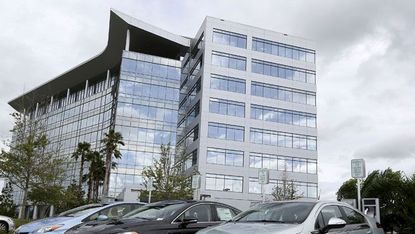 (Image credit: Courtesy of Company)
Watch out, Danica Patrick! Talented women (opens in new tab) are stealing the scene at NASCAR, off of the racetrack this time. Not only is the company's vice chairperson and executive vice president a woman, women also lead the accounting, human resources, legal, and marketing business units. And we can't forget about Jill Gregory (opens in new tab), NASCAR's vice president of industry services, who was featured in our August issue. She's reinventing the sport for the fans — we want her job, for sure.
Besides the chance to work alongside stellar women and a growing number of female fans (opens in new tab), NASCAR offers its employees a fast-paced, team-oriented environment to grow. And the perks are pretty great too —discounts on vitamins, massage therapy, acupuncture sessions, gym memberships, and workout equipment.
Technology is at the forefront of NASCAR's business model and the company is developing several new technologies that will launch in the 2015-racing season. Want to be a part of it? We spoke to NASCAR Vice President and Chief Human Resources Officer Paula Miller, on how to be her next big hire.
Have a Need for Speed

Do you like fast cars? We have a fast-paced environment — naturally (it's auto racing!), so applicants can expect interview questions that address whether they would fit within our fast-paced environment, team-oriented culture, and innovative approach.
Be a Weekend Warrior

NASCAR has a non-traditional work environment with our core business occurring on weekends, across 38 weeks of the year (one of the longest seasons in professional sports) with more than 1,200 races in more than 30 U.S. states, Canada, Mexico and Europe.
Read SportsBusiness Journal Before Your Interview

NASCAR.com is a great resource to learn the most about the brand and the industry before the interview. NASCAR can be found on the sports pages of most major newspapers on any day of the week as well as in industry trade publications such as SportsBusiness Journal and SportsBusiness Daily, on FOX, NBC, SiriusXM Radio, ESPN and many more.
Care About the Environment

NASCAR Green was introduced in 2008 as an industry-wide initiative to enhance the conversation of the environment and adopt green technologies. The program encourages our employees and fans to incorporate environmentally responsible practices into their everyday lives. The leader of NASCAR's green innovation program is a former professor during which time his lab was funded by the National Institutes of Health; he's been the driving force behind the largest sustainability program in all of sports, NASCAR Green.
Be an Expert in Your Field

First and foremost, you need to have the skills to perform the job but also have the attitude and the aptitude to work cross functionally across each business unit within NASCAR and the ecosystem.
How to apply: http://employment.nascar.com/ (opens in new tab)
Related:
How to Get a Job at Gansevoort Hotel Group (opens in new tab)

Score a Job in Fashion: GILT.com Is Hiring (opens in new tab)

Land a Job at AHALife.com (opens in new tab)

How to Get a Job at Facebook (opens in new tab)
Photo Credit: Courtesy of Company