Surviving a Layoff
You worked late and did everything right. But your company pink-slipped you anyway. Now what? Three women prove there is life after losing your job.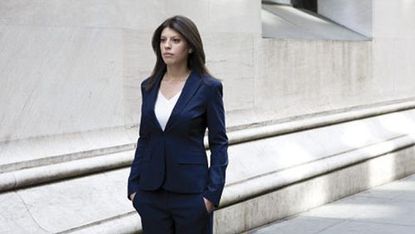 (Image credit: Lisa Wiseman)
Here's a stark news flash: The pink slip is back, big time. Call it the latest grim reminder of these hard times, alongside $4-a-gallon gas prices and higher prices on everything from Cheerios to chicken wings. In March, the ranks of the nation's unemployed swelled 434,000 to 7.8 million, largely due to layoffs. Wall Street has already shed 34,000 jobs since last summer; Dell will axe 8800 by year's end. What those numbers don't reveal are the many women who've discovered an upside to being downsized. Their take? Don't panic. It is quite possible to thrive post–pink slip.
Melissa Afromowitz, 27, former Wall Street investment banker
Melissa Afromowitz tensed up when her boss popped her an e-mail shortly after she arrived at work at 6:30 one crisp morning in early March. "Are you around?" he wrote. "Do you have time to chat?" He summoned her to another floor, where she found him alone, in a vacant office, no computer on the desk, no pictures tacked to the walls. He told her she was a solid employee, a hard worker, but that the market had soured and the firm had to cut costs. She tried to hold in the tears, clenching her teeth so she wouldn't cry. "I didn't want to seem weak in front of him," she admits. Afromowitz could tell he was uncomfortable, looking away as she struggled to retain her composure. He dispatched her next door, where a human-resources representative waited in a similarly vacant room, save for a box of tissues and a folder on the desk. Afromowitz couldn't maintain her steely reserve any longer and broke down in sobs.
But the visceral reaction — equal parts fear, shame, and shock — had nothing to do with her work. "The truth is, I hated my job," admits Afromowitz, a former salesperson on the high-grade credit desk at Lehman Brothers, the storied Wall Street investment bank. The pace was grueling. Every morning she'd wake up at 5:30 for the predawn hustle to the office. By 7:30 a.m., the trading floor was already in the throes of its testosterone-fueled frenzy, which didn't wind down till late evening. Blunt and surprisingly forceful for her 5-foot-2 frame, "Afro" — as her colleagues dubbed her — held her own amidst the cursing, tirades, and occasional thrown phone. She was well-compensated — $85,000 base pay plus a bonus that could match that. But she rarely saw her boyfriend and took only one real vacation — a week in Barcelona — during most of her tenure. The high-octane environment proved so stressful that she developed stomach problems that sent her racing to the bathroom throughout the day.
The HR rep explained her severance package — a healthy six months of pay and benefits. Afromowitz was also invited to attend résumé workshops, courtesy of Lehman. "I didn't want to do it, but I said to myself, 'Just go, you've got nothing in place. You're not in mourning,'" she recalls. When it was over, she hurried to the elevator, embarrassed and afraid that she'd run into a colleague en route to a similar fate. Within an hour, Afromowitz was at her desk debating what to leave behind. She grabbed the six pairs of heels under her desk — "I'm one of those women who wears sneakers to work" — and left everything else. It was barely noon, and for the first time in as long as she could remember, she didn't have anywhere to be.
When Afromowitz got home, she struggled to compose an e-mail to family and friends. She knew she was a victim of mass layoffs, but it was still humiliating. After she hit send, her in-box fluttered with supportive e-mails. Then it dawned on her: "My goal isn't to find a job — it's finding out what's going to make me happy," she says. Relinquishing the frenetic pace of her old job hasn't been easy. She still scans the Wall Street Journal over breakfast. During a recent vacation to Florida, she frittered away the first two days worrying. But given the generous terms of her severance, Afromowitz is taking her time figuring out her next step. That's a luxury she'd never allowed herself before. She expects that she'll make far less money in her new profession, whatever it may be. But it's a welcome trade-off now that she's indulging her pipe dreams. In March she enrolled in a voice-over acting class. "I always wanted to be in a cartoon," she giggles.

PINK-SLIP red flags

Certain employees may be more at risk than others, says Emily Westerman, a New York City career expert. And there are usually glaring signs that a downsizing is imminent.
Your job is dependent on travel. Travel budgets are often the first line items squeezed during lean times.
You're only capable of performing one function. Cash-strapped employers need versatility from their hires. One-trick ponies may find it difficult to compete against those with more diverse skill sets.
Your boss or direct report has been laid off. This is a sign that your division may be perceived as expendable.
You aren't assigned any new projects. A possible indicator of an employer trying to ease you off your workload.
Your pay has been frozen. To be sure, this could be a company-wide, cash-saving policy. Or it's a sign that your employer is no longer invested in your growth.
You're asked to cc your boss on everything. Ouch. This is either an HR-mandated measure or an attempt to clue in your boss to your workload. Both are signs that management may be preparing for your departure.
You're part of the old regime. New management typically replaces veterans with its own people. Don't take it personally.
Jennifer Straw, 33, former assistant news director
Jennifer Straw, an assistant news director for WWSB-TV in Sarasota, FL, knew the station was struggling. Ad dollars were scarce, and every expense was scrutinized. Following a glowing review in January, she didn't even get a cost-of-living increase. This after her coverage of a recent kidnapping scored the station an Emmy nod. Though she'd been laid off from another job two years earlier, her circumstances were profoundly different now: Straw had signed on for a high-risk, no-money-down mortgage. Her one-bedroom condo in Tampa cost her more than $2000 a month in payments. Losing her job could mean losing her home.
In March, after 15 months on the job, Straw was faced with that grim reality. The station manager, who delivered the news to her one morning, insisted that it had nothing to do with her job performance or work ethic. But Straw admits she came unstrung in their meeting. "I felt betrayed. I had worked so hard. And I looked around and saw five other ways to cut the budget that could have saved them as much money as my job," she recalls. She was given two weeks' pay and benefits through April.
Straw headed back home that morning to strategize. Several months earlier she'd tried to sell her condo, but the market was already glutted with homeowners frantic to unload. (Florida is second only to California in foreclosure rates.) She called her bank to defer her mortgage payments, but they wouldn't budge. So she took a small loan from her parents and has begun dipping into her IRA to get through the summer. Though she lives frugally, Straw refuses to forgo cable and the occasional night out with friends. "You work so hard to get to a certain income level. Then you're forced to limit yourself. I don't think I should have to make myself live that way," she says.
But the unexpected upside to her predicament is that she now has the space to rethink her first love, journalism. "I could walk into any newsroom in this country and put great newscasts on air," she says. "But after all these years, I'm now asking whether my career is fulfilling me. Is it giving back all that I put in? I need more loyalty, more security." She has blitzed her résumé to nonprofits and PR firms. But she's most intrigued by the Internet. While at the station, she toyed with their Website and increased traffic by 400 percent. Now she spends a couple of hours each day beefing up her MySpace page and blogging about her experiences (missattitude.us). "I just feel better putting it out there," she says. "It is a scary time for me, but I'm good at picking myself up and moving on."
Jessica Bowman, 31, former Yahoo marketing manager
While interviewing at Yahoo last September, Jessica Bowman quickly fell in love with the company's college vibe. Lunchtime found employees lounging on big blow-up couches dotting the lawns of the 34-acre campus, just outside San Francisco. Buildings and signs were painted loud purple and yellow, Yahoo's corporate colors. The place oozed creativity, and Bowman got giddy thinking about how far she could go there. She was offered a high-profile position doing search-engine optimization, a new field that would increase the site's online visibility. "It was my dream job, the kind of company I thought I could work at for a very long time," she says.
By the new year, Bowman had settled into a pricey one-bedroom in the city's cozy Russian Hill section, replete with its own washer and dryer, a luxury in the city. Her view overlooked San Francisco Bay, and from a certain angle she could even see Alcatraz. She rode the cable car everywhere. "I was like a permanent tourist," she gushes. Adjusting to Yahoo's sprawling complex took a bit longer. Bowman often got lost on the way to the restroom. Her department was so large she couldn't remember coworkers' names.
When Bowman's boss called her into a conference room in February, she assumed that it was for a brainstorming session. She even asked a colleague if he had been invited so she could be prepared. (He hadn't been.) But Yahoo was in the midst of massive layoffs that would ultimately claim 1000 jobs. "We've gotta let you go," her boss told her, only 106 days after she started.
Bowman was so devastated she couldn't even open the folder containing details of her severance package. She was given the day to clean her cubicle, which was littered with photos of trips abroad, Post-its, and even boxes from her arrival that hadn't yet been unpacked. She spent the afternoon in a haze of shame and fear. "At one point you think, I'm a failure," she says. "It's very hard on your ego." Not to mention the practical realities — she was now unemployed in one of the country's most expensive cities.
The next day, a shell-shocked Bowman slept and ate little, but quickly grew tired of the self-pity. By day two, she was plotting her comeback. She e-mailed several notable industry bloggers, positioning her pink slip as a point of pride. She'd solved so many problems that Yahoo no longer needed her services, she quipped. Bowman also plugged her availability. "I basically shouted from the rooftops that I was good at what I did, despite being laid off," she says. That led to several posts on well-read blogs about her dismissal, publicity that inspired e-mails from colleagues, friends, and potential employers. She scored two less-than-perfect job offers that she had the confidence to turn down. "I have an in-demand skill set, so I don't have to settle for any job," she declares. The contacts she made led to consulting gigs, which freed up her schedule to write a book. (She plans to self-publish it online.) It's a how-to for women who have been laid off, of course. Sample: "Don't dwell on it. That stuff comes out in your voice and in your body language." The working title: Laid-Off Renegade.
Celebrity news, beauty, fashion advice, and fascinating features, delivered straight to your inbox!