A Page-Turning Career
As president and publisher of Random House, Gina Centrello turned the once well-regarded but sluggish publisher into a best-seller powerhouse. She reveals how she did it — while still making it home in time for dinner.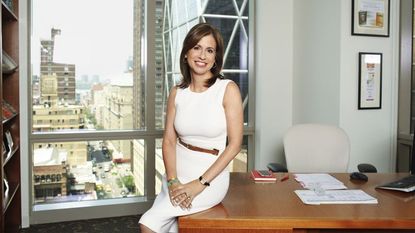 (Image credit: Michael Edwards)
You went for nearly a decade before giving formal interviews. Why are you talking to the press now?

When people write about traditional publishing, it's very gloom and doom, but that's just not true. Our business is always changing, and every new format has brought a different level of anxiety. But these are interesting times in our business — it's a little more complicated; you have to work a little harder. But we're publishing great authors, and our business is thriving.
You started out in your early 20s as a copy editor for Pocket Books, an imprint of Simon & Schuster. A decade later, you were running the division. How'd you pull that off?

I was young, hungry, and hardworking. And I was incredibly interested in publishing and asked a lot of questions. Starting out as a copy editor let me see the world from the production standpoint. From there I moved into the managing editor's office, which is a kind of control center for publishing — you see everything that happens in order to make a book. Little by little, I took on more responsibility and became the publisher at age 34. It was a fun time in the industry. You could publish a ton of books, and there were lots of distributors.
How important have mentors been to your career?

Publishing is much more of an apprenticeship business. If you're fortunate to work for smart people, which I was, you can learn from watching how they publish books. Sometimes you learn what you wouldn't do if you were in charge. For example, when I started in the business, if you had children, you didn't just walk out because you had to take the baby for a doctor's visit. You made up an excuse because you wanted to be taken seriously. I knew someday I wanted to set up a company where that wasn't necessary.
Your appointment as head of Random House Publishing Group in 2003 was rather controversial. [Centrello succeeded ousted literary icon Ann Godoff. Critics sniped that Centrello didn't have the pedigree for the job.]

I think it was controversial just because I wasn't as well-known in the literary world. My reputation was made with more commercial books. Anything different or unfamiliar makes people uncomfortable. Was it a tough period? Sure. But what was happening on the outside did not mimic what was happening on the inside. I had a job to do, and that job was to publish authors successfully and also make profits for [Random House parent company] Bertelsmann. They're not mutually exclusive things.
You also don't do the book-party circuit. Has that hurt you?

I think in the beginning, it was one of the reasons why I wasn't as well-known as I could have been. But authors don't come to me because I go to parties — they come to Random House because we publish books very well. My writers have my number; they have me whenever they want me. And I think that's more helpful than meeting for a drink. Besides, there's also breakfast and lunch.
Did you read what the papers were saying about you?

Nobody had written about me before, so yeah. What doesn't kill you makes you stronger. I think how you deal with the bumps in the road makes you either a successful person or not.
You're renowned for your sales savvy. What's an example of a book that benefited from innovative marketing?

Lee Child is a good example. His Jack Reacher novels are very male reads — One Shot is being made into a movie with Tom Cruise. My job was to make him even bigger. Well, there's a whole market of women that I thought would love One Shot. So we published a Reacher thriller called The Affair. It's the same Jack Reacher, the body count is still high, but now there's a love angle. It worked and went on to become the top-selling novel in the series to date.
Do you take it personally when a book you've invested in doesn't sell?

No. More books don't work than do work. Sometimes you do everything right, and it still doesn't work. It's not an exact science.
You've said that you always made it home in time for dinner with your two kids, now 20 and 17. How'd you get all your work done?

My family has always been my priority — it grounded us to have dinner together every night. Look, the hours that you spend at your job will always grow to whatever you allow it to. I could have stayed until midnight or I could leave, have dinner with my family, and work after they were sleeping.
Do you think that flexibility is why so many women are drawn to publishing careers?

From an editorial standpoint, I think it's a bit easier to have work-life balance in publishing. You still work 24 hours a day, or at least think about work 24/7 — probably that's true in any business now. But thanks to technology, you can be freer about where you are when you do your job. I mean, why shouldn't you go to your daughter's dance recital? If you need to work after that to catch up, you do it.
Do you ever read for pleasure, or is it always work-related?

We publish about 600 books a year, so I'm always reading — proposals, second drafts. And I have to stay current with what other publishers are doing, too. I'm always thinking of how ideas can be turned into books.
What are you reading right now?

The Unlikely Pilgrimage of Harold Fry by Rachel Joyce is a great summer read. The new Thomas Jefferson by [former Newsweek editor] Jon Meacham is out this fall. It's so good. We went after him, I would say, politely aggressively. He's got the best connections known to man. I didn't quite stalk him, but I came pretty close.