Before Showbiz, Shonda Rhimes Got a Job to Fund Her Fashion
What's it like being TV's maestro of melodrama? Shonda Rhimes, the executive producer of ABC's 'Scandal', 'Grey's Anatomy', and this month's 'How to Get Away with Murder', reveals what's not on her résumé.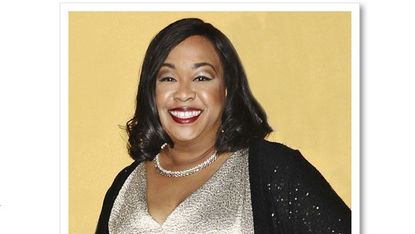 (Image credit: Getty Images)
Marie Claire Newsletter
Celebrity news, beauty, fashion advice, and fascinating features, delivered straight to your inbox!
Thank you for signing up to Marie Claire. You will receive a verification email shortly.
There was a problem. Please refresh the page and try again.
THE FIRST DOLLAR I EARNED:
I was 16 and had been volunteering at the local hospital. One day, I wanted a miniskirt and a hot-pink, off-the-shoulder top (it was the '80s, and I wanted to look like Madonna). My mother told me that I could wear trashy clothes when I had my own money. So I got a job scooping ice cream at Baskin-Robbins.
BEST CAREER ADVICE:
My father told me that the only limits to your success are in your own imagination.
BEST FINANCIAL ADVICE:
Never enter a negotiation that you are not willing to walk away from.
EARLY IN MY CAREER, I WISH SOMEONE HAD TOLD ME:
That relaxing my hair was a bad idea.
I STILL GET NERVOUS WHEN:
I pitch a new TV show.
MY WORK SPACE:
I have three offices—one at Grey's, one at Scandal, and one at [my production company] Shondaland. Crazy, I know, but very necessary. All three are decorated by my set designers.
AFTERNOON PICK-ME-UP:
I'm very beverage-oriented. I drink a constant supply of Starbucks iced green tea until about 5 p.m. Then I switch to a lovely glass of wine.
UNDER MY DESK, I STORE:
What? Who does that? I am way too much of a neat freak to store things under my desk.
CAREER HIGHLIGHT:
Having three shows from Shondaland air on one night on one network. Owning Thursday night on ABC this fall is incredibly exciting!
SHONDA'S TWITTER POSSE
She's as prolific online as she is on TV. Follow her at @shondarhimes, then follow her favorite muses.
JAMIE BROADNAX (@BlackGirlNerds)
"She's smart and hilarious, and sounds very much like friends I have."
LAUREN BANS (@LaurenBans)
"Her snarky humor makes me laugh out loud."
RETTA (@unfoRETTAble)
"When she 'live' tweets an episode of anything (which she'll do days after a show has aired), it's worth following."
THE WHITE HOUSE (@WhiteHouse)
"Because America, obviously."
Related:
20 Questions with Michelle Dockery
20 Questions with Mindy Kaling
20 Questions with Sarah Jessica Parker
Photo via Getty Images
Celebrity news, beauty, fashion advice, and fascinating features, delivered straight to your inbox!