20 Questions with Sarah Jessica Parker
The actress—and designer of the new Nordstrom SJP shoe and bag collection—reveals her secret talent.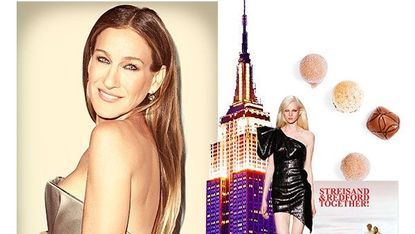 (Image credit: Marie Claire)
1. What brings you the greatest joy? My children.
2. What are your vices? Chocolate, candy, and brownies.
3. What is on your nightstand? A book for book club called I Shall Be Near to You by Erin Lindsay McCabe.
4. Do you have a secret talent? I can do a good working-class English accent.
5. What is your greatest indulgence? A nice meal.
6. What should every woman try at least once in her life? Wearing a black dress and black suede pumps.
7. What makes you laugh? Walking down the streets of New York. You can't always believe what you're seeing or hearing.
8. What is one thing people would be surprised to know about you? I can tie a beautiful bow and a proper necktie, and I'm an excellent ironer.
9. What is on your bucket list? I'd love to go to Vietnam, St. Petersburg [Russia], and India.
10. What is on your feet right now? They're bare.
11. How did you make your first dollar? When I was 8, I was paid $500 to play [the lead in] The Little Match Girl for a week, but I was more excited about the $5 lunch stipend.
12. What superstition do you believe in? On the first of every month, I say, "Rabbit, rabbit."
13. What items in your closet do you wear the most? Jeans and Hanes long underwear.
14. What is the best gift you've ever received? A ring from my husband.
15. What is on your liquor shelf? The makings of a whiskey sour.
16. What is on your kitchen counter? A grocery list and a toaster.
17. What would you never leave home without? My BlackBerry.
18. What movie has the greatest ending? Although bittersweet, The Way We Were has some satisfaction.
19. Who is on the guest list for your ideal dinner party? Author Donna Tartt, some close friends, parents from [my son] James Wilkie's school, Hillary Clinton, my siblings, definitely my husband, and dancers from the New York City Ballet.
20. What is one thing you wish you had known when you were younger? I should have thrown myself at the unknown even more.
Celebrity news, beauty, fashion advice, and fascinating features, delivered straight to your inbox!