12 Ridiculous, Dramatic Moments From the New 'Khloé & Kourtney Take the Hamptons' Trailer
Let's just say the scene where Kris Jenner gets a cupcake smeared in her face is a long way away from the messiest moment. Fun fun fun.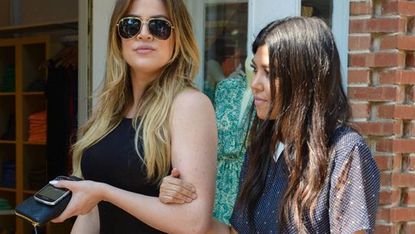 (Image credit: Courtesy of E!)
Now you might be thinking, Wait, didn't the latest season of Keeping Up With the Kardashians only finish airing a few days back? Isn't this a little soon for another Kardashian series?'I'm here to tell you that the answers to your questions are yes, and then no — yes, KUWTK's ninth season aired its finale last Sunday; no, it's most certainly not too soon for more from the family. In fact, we're actually overdue for a new spin-off, lest their collective stranglehold on our consciousness abate. Do we want to live in a world where we could go through an hour — no, a whole day — without wondering what Kris Jenner is doing right now? No, no, we do not.
So, with its mix of gritty realness and gaudy excess, the first teaser trailer for E!'s new show, Khloé & Kourtney Take the Hamptons is here, recounting the sisters' summer opening a DASH pop-up store in East Hampton, and getting a lot of shit from local residents in the process. (OK, that part probably won't make the show.) Presented, without exaggeration, are highlights from the video in chronological order, because when a trailer brings this much
1. When Khloé introduces the trailer as "Next season on Khloé & Kourtney Take the Hamptons," even though there hasn't been a previous Hamptons-specific season. This sort of voiceover sloppiness is a good indication of what's to come, by the way.
2. When Scott Disick insults basically the whole of North America in one foul Disick swoop. He takes down the Canadian flag to raise his own "Lord Disick" one, and when Khloé shouts that it's bigger than the United States flag, he replies, "it should be."
3. And then when Scott falls off a boat.
4. When Kim smashes a pink frosted cupcake in mama Kris's face, for no apparent reason other than a lack of respect for her elders. What a waste of good cupcake, not to mention good makeup.
5. When Kris interrogates the requisite hot hired help on his relationship status, then gets into bed with him. #GetItGirl. This blurry screencap encompasses most of what I aspire to in life, really:
6. When there is croquet. You know Kourtney plays croquet just like Heather Duke would too. Viciously.
7. And then when Khloé leaves the Hamptons for a vacation within her vacation, to take over South Africa — even though that's a whole other place and should probably warrant, say, its own spin-off from the spin-off. Anyway, there are lots of animals like giraffes, and a wild French Montana too (whom Khloé makes out with in a golf cart).
8. Speaking of Frenchie,when Scott Disick, of all people, is suspicious of his character and possible motives. (Kourtney seems unimpressed also, but that's to be expected.) That's going to be a corker of a subplot, for sure.
9. And more unimpressed Kourtney, when she suggests Kim's BFF Jonathan Cheban could be "our leak," as (1) if this is a problem, and (2) if the entire family isn't already selling stories on each other.
10. Except wait, when shit gets real, and Kim and Jonathan have a fight over the alleged leakage to the tabloids and he tells her to go fuck herself.
11. And then when there's suddenly dramatic editing and background music which makes it look like Scott tries to overdose after Kourtney throws him out of their Hamptons summer house for drinking/partying too much. Seriously, you know things get serious when an ominous caption gets added:
12. So Scott might need rehab. Fin.
And now that this crazed listicle has, hopefully, whet your appetite, you can watch the trailer in full below.
Related:
10 Reasons Why Khloé is the Most Kick-Ass Kardashian
Khloe Kardashian May Have Split From French Montana
I'm the news director here at Cosmopolitan.com, and I could really use a cup of tea right now. When I say I'm a lady on the street but a freak in the sheets, I mean that I'm eating mint chocolate cheesecake in bed. (Also, I'm a guy.)