'It's Badass': Katie Cassidy on The Scribbler
The Arrow series siren chatted with Marie Claire about her latest film role.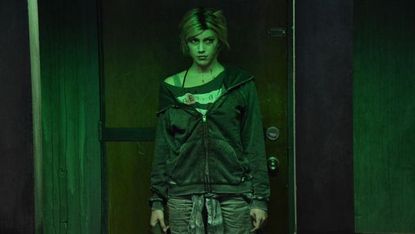 (Image credit: Courtesy of XLrator Media)
Sex, drugs, bunny ears, and snakes — and those are just the first 10 minutes of the just-released film version of graphic novel and cult favorite The Scribbler.
Katie Cassidy, known for her roles as the gorgeous, sometimes-scheming Gossip Girl girl, plays Suki, the dissociative identity disorder patient who's placed in Juniper Towers, a mental halfway house nicknamed "Jumper Towers" because people keep killing themselves—or so we're led to believe. Cassidy takes us inside the head of Suki and her many personalities with a mesmerizing 'can't look away from the car wreck if you paid me' brilliance that shows off the actress's many dimensions.
Marie Claire: So we heard that as soon as you read the script you immediately wanted the part. Why? What drew you to the role?
Katie Cassidy: I could hear her voice. And it was the challenge I had been looking for. I was like, 'I can do this. I want this.' And I was not who they [the producers] wanted. They were like, 'No. She's not right.' I knew they had glamour visions of me on a red carpet but I wanted them to see me in person. So I went in and I was like, 'I know you're nervous I don't look the part, but it's my job as an actor to become her. And I'm ready and willing to go there.'
MC: That's so rocker. And clearly you got the part!
KC: I built a backstory for the character with seven different personalities. I probably overly prepared. But after the table read, I think they were pretty confident. 'She's got this.' And then they kind of let me do whatever I wanted. So I went to the wig store and picked one out and cut it myself. Really got to own it.
MC: That's awesome. So let's talk about the fight scene between you and Michelle Trachtenberg. Did it take a lot of practice, or were you two just naturally able to kick the shit out of each other?
KC: My job requires me to be quite physical, so there was a little bit of training and rehearsing. But I think it's pretty badass.
MC: Especially in the rain with that crazy skeleton costume you donned the last half of the movie. Are you normally a big costume person? What's the most outrageous one you've ever worn to a party?
KC: I dress for comfort. I don't do the whole dress-trashy-just-because-it's-Halloween thing. I'm the fireman.
MC: Love that. So what's up for you next?
KC: Arrow premieres Oct. 8—excited about that! I'm working on the show now. And I have a fashion blog I've been working on for two years with a girlfriend of mine. I can't tell you anything about it, though …
MC: C'mon! All right, I guess we'll just have to wait and see. What about your fitness routine? You're in insane shape.
KC: I have a boxing trainer. I do that 2 to 3 hours a day. It's exhausting, but it's my job. And I feel like I'm young and [at] this point in my life is the time to work hard.
MC: Damn. So when you're not working or working out, where would we find you?
KC: Sleeping. Or shopping.
Related Links:

Movies for Women Who Like to Kick Ass in the Office


Zoe Saldana Will Hand You Your Ass on a Silver Platter

Image courtesy of XLrator Media
Celebrity news, beauty, fashion advice, and fascinating features, delivered straight to your inbox!