Editors handpick every product that we feature. We may earn commission from the links on this page.
39 Fast and Easy Halloween Makeup Ideas for Procrastinators
Step away from the cat ears.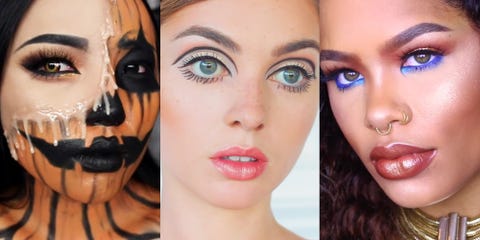 I'm just going to say it: Halloween stresses me the hell out. Sure, I could just throw on a dinosaur onesie and say "screw it" (which is exactly what I did last year), but as a makeup lover, I feel pressured to do at least something glittery, painted, lined, or bedazzled to my face, all in the name of gorgeous Halloween makeup.
It's the one time of year where wacky, wild, never-before-dreamed-of makeup looks can be achieved without anyone batting an eye. After all, Lindsay Lohan in Mean Girls said it best: "In the real world, Halloween is when kids dress up and beg for candy. But in girl world, Halloween is the one time of year a girl can dress like a total slut, and no other girl can say anything about it." In this case, "dressing like a total slut" means going wild with glitter and fake blood because you can.
But a quick search on YouTube reveals millions of tutorials (seriously), most of which require the skilled, steady hands of either a legit surgeon or, professional makeup artist, or, you know, Picasso. So instead of watching a dozen videos, getting completely disheartened, and going as a "sexy cat" for the fourth year in a row, I invite you to try one of these 39 crazy-easy, truly pretty Halloween makeup ideas that won't take you five hours to do.
This content is created and maintained by a third party, and imported onto this page to help users provide their email addresses. You may be able to find more information about this and similar content at piano.io