20 Questions with Taylor Schilling
From her favorite L.A. haunts to her ideal dinner party list (and what really makes her mad), we asked Taylor Schilling twenty all-important questions in the latest issue of Branché. Check out her answers here.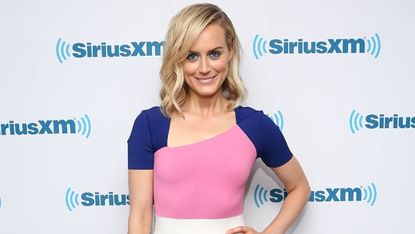 (Image credit: Getty Images)
Marie Claire Newsletter
Celebrity news, beauty, fashion advice, and fascinating features, delivered straight to your inbox!
Thank you for signing up to Marie Claire. You will receive a verification email shortly.
There was a problem. Please refresh the page and try again.
1. What differentiates an L.A. girl from an NYC girl?
L.A. is more laid-back. New York keeps you on your toes.
2. A friend is in L.A. for 24 hours. Game plan?
A hike in Runyon Canyon Park is definitely in order.
3. What's the NYC game plan?
See a play or musical, wander around the Met, and get lost in the Village.
4. What does L.A. do better than NYC?
It's obvious, but the weather just can't compare. I run off to the L.A. sunshine every chance I get.
5. What does NYC do better?
NYC's energy is inspiring on so many levels.
6. Your NYC–L.A./L.A.–NYC flight rituals?
Drinking a ton of water and catching up on The New York Times.
7. The one thing you wish you knew when you were younger?
That time is precious. Each day is a gift.
8. What keeps you up at night?
The Internet!
9. What brings you the greatest joy?
A good night's sleep.
10. What charities do you support?
I've been doing a lot with the Women's Prison Association. And I really like the Representation Project [a nonprofit that challenges gender stereotypes in the media].
11. Three things on your last credit card statement?
An Uber ride, groceries, and an amazing Rachel Comey top.
12. The guest list for your ideal dinner party?
Henri Matisse. I just saw his exhibit at Tate Modern. It was magical.
13. What makes you laugh?
I am constantly cracking up on set with my fellow actors on Orange Is the New Black. They're such an amazing and hilarious group.
14. What makes you mad?
I dislike when people act helpless about the world's problems. We can all help make a difference.
15. The item you wear the most?
My Acne Studios boots make everything look cool.
16. What splurge is well worth it?
I'm totally hooked on the sweat treatments at L.A.'s Shape House day spa.
17. Favorite hotel?
I just stayed at the Rosewood London, and it was dreamy.
18. What did you want to be when you were growing up?
I've known I wanted to be an actress since I was 11 years old. I was bit by the bug pretty young.
19. Favorite building?
The Chrysler Building is an architectural gem in New York's skyline.
20. The best advice you've ever been given?
Trust your instincts.
Celebrity news, beauty, fashion advice, and fascinating features, delivered straight to your inbox!