Plus Belle La Vie: A Model's Guide to Paris
Including Rodin, macarons, Kate Moss, and the best view in town.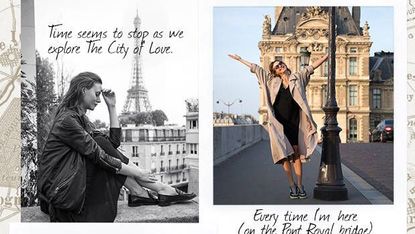 (Image credit: Kathryn Wirsing)
Since knocking on the door of model agency Next four years ago, Laura Gavrilenko has been jetting across Europe working with the likes of Valentino, Céline, Vionnet, and Chanel.
During a stopover in France—right in time for the Spring 2015 shows!—she took photographer Kathryn Wirsing on a personal tour of Paris, her home of 1.5 years. See below for Gavrilenko's favorite haunts and hotspots, from her local café to where you can find the most beautiful view in the city.
"Our day starts at Gagosian Gallery, where I was invited to see Peter Lindbergh's exhibition. Lindbergh is one of the greatest photographers, someone who gives infinite inspiration to fashion photography and photography in its entirety. How simple and yet how deep his photos are. To me they are very special, and every single time I look at his pictures I forget to breathe. I'm a profound admirer.
Pont Royal—my favorite bridge. Just by looking at it you don't really see anything special, but it is so for me. I walk on it very often—I used to cross it several times a day when I lived close by. And believe it or not, every time I'm here, I feel absolutely happy. It carries a lot of dear memories, and, for me, it has the most beautiful view in all of Paris.
Just a block down we have a lovely cafe called Les Antiquaries, which is a classic Parisian bistro. I love this place. It has a very cozy atmosphere and friendly staff who say 'hello' to you even if you're walking on the other side of the street."
"Walking down Rue du Bac, turning on quiet Rue de Varenne, we reach a magic place: Musée Rodin! I'm very excited every time I come here. It has a beautiful garden with the artist's sculptures. You can find The Thinker, The Gates of Hell, Eternal Spring, The Three Shades, and many others. The garden is well-tended and has a small oasis. During warm seasons, it's full of flowers. This is my meditation place, really. I come here very often, and, even if don't go to the museum, I just stay in the garden with my book—or without it. This is my second home in Paris.
"And now, we move on to a very busy area: Rue Montorgueil, where Parisians socialize in bars and bistros while doing their daily shopping. This is a pedestrian street (well, most of the time) lined with fresh markets, bakeries, flower shops, wineries, cheese shops, and much more. It's always active, but at the same time, it's a nice place where you you can relax in one of the many cafes.
Some of my favorite spots are around here. The first one is a flower shop on the corner. Whenever I feel like having flowers or it's a special occasion, I come here. It's a lovely spot with a great selection. The florists can personalize your bouquet, and they do it with great taste! On top of that, you can enjoy some nice reproductions of Modigliani paintings hanging inside. The owner has a special feeling about art, which brings me here even more often!
And then there is Parisian shopping! There's a very nice brand called Cos. They have simple clothes with super nice cuts, great color choice, and fine materials. And the price-quality proportion is more than fair. It's always a pleasure to shop here! Cos: Remember that name. The other one is where I get my favorite jackets: Eleven Paris. The clothes can be rock-inspired, sporty, or funny, but they're always on-trend and solid quality. Eleven Paris also has nice accessories.
So voil—I hope you enjoyed reading this. A bientôt!"
Images by Kathryn Wirsing
I'm Kathryn, a photographer and photo editor for MarieClaire.com. After falling in love with photography over 15 years ago I feel so lucky to have a job in which I can be creative and take pictures. It ain't work if you enjoy it right? I'm slightly obsessed with my cat Chloe, a good book, ballet, and all things chocolate. I do have to admit my guilt for making my fiancé stop all the time so I can snap a pic at every beautiful opportunity. And if we do meet I can pretty much guarantee all I'll be paying attention to is how to photograph you. Look at how pretty the light is falling…sorry what were you saying?