The Blacklist's Sexiest Badass, Ryan Eggold, Returns Next Season
Maybe.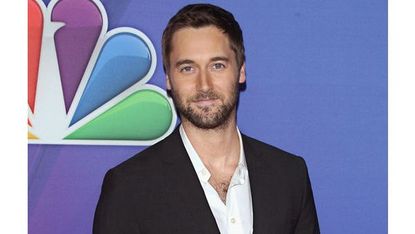 (Image credit: Archives)
Marie Claire Newsletter
Celebrity news, beauty, fashion advice, and fascinating features, delivered straight to your inbox!
Thank you for signing up to Marie Claire. You will receive a verification email shortly.
There was a problem. Please refresh the page and try again.
Dark, mysterious, attractive, alluring. All describe NBC's hit show The Blacklist. As well as one of its stars, Ryan Eggold. On Monday's season finale we found out, at the bitter end of the episode, that Tom Keen (Eggold) has yet another darkly woven backstory. This one tied to the show's phenom, Red (James Spader). Obviously not waiting until January for the answer Marie Claire caught up with the actor to dig for the dirty details of his highly speculated, yet fiercely guarded, unconfirmed return next season. We also chatted with Eggold about his latest projects and why he is a non-hyphenate, hyphenate: actor-writer-musician.
Marie Claire: So what's the deal? You and Red knew each other before? You're definitely coming back then. Right?
Ryan Eggold: Hm, can I say that? I never know what I can and can't say. But…yes. We're not done telling Tom's story. He's not dead.MC: Sweet. Knew it. And good. We need more of you on screen, with this cast. You guys are awesome together. What's it been like on set?
RE: It's great. Most of my stuff is with Megan [Boone]. We're good buddies at this point. We always have a good time. And Diego [Klattenhoff] too. I love Diego. He's a super sweet guy. And working with James [Spader] is great. He's had an amazing career and he's a terrific actor—pushes you to meet the challenge.
MC: So, of Tom Keen's dual personalities–sweet teacher type vs. badass assassin –which do you prefer playing?
RE: [laughing] Between the sweet teacher and the badass? I would ask you to guess which one I prefer to play…
MC: Okay, touché.
RE: The great part about this role is that that transformation happens in front of us. We meet him as this sweet teacher, a very familiar role that we've seen before, and then you get to [see him] kind of break that stock character and become this other thing. And that's a really fun transformation to play. I think we know a great deal about him, I think the mask is off in many ways, but I don't think the true details of who he is and why he is here are fully revealed. We don't even know the guy's real name yet.
MC: That's true. And that's just surface level stuff, names and careers, can't imagine what we'll discover when we actually get past the truth on those fronts. And that's what's so genius about the The Blacklist—the layers that get peeled back, for each character.
RE: Right, for every character. That's the joy of the show and what I always say, it's like—you know whatever metaphor you want to use, the onion or whatever—there are just so many layers. And I like to think of it as you keep going deeper and deeper into their story and think, what the hell is going on?, and as you go down another level everything sort of changes. And that's what's fun about it.
MC: True of people off-screen as well.
RE: Ya exactly. Or in relationships. As you get to know someone and as you trust someone, you go deeper and you learn more. And things change.
MC: For sure. OK so you're returning for The Blacklist next season (yes, we're taking that as a definite), you have a film out today Beside Still Waters—which we LOVE. And a few more films coming up. So when you're not working on your next project where would we find you and what would you be doing?
RE: What would you find me doing…
Maybe going to a play.
Maybe doing a little bit of writing.
Maybe drinking whiskey in a bar with a friend.
Or playing music occasionally. But man these days I have not been playing at all.
MC: Music? Keep talking. Tell us more.
RE: I play guitar. And piano. And I did this film called Lucky Them that I put some of my original music in. Just kind of for fun. I don't think I'm ever…a music career takes a whole other life.
MC: Seriously. A whole other life—where with acting, you really have to live, sleep and breath nothing but it.
RE: Exactly. I think you have to do that with acting or with writing or with music. Or whatever it is. People do the crossover and stuff and I think that kind of dilutes each for me. Some people do it really well, I'm not judging anybody, but I'm an all your eggs in one basket kind of guy. So it's fun for me to sort of put my toe in the water and record songs here and there, but I think if you really wanted to do it you have to wake up every morning and do it [music]. Which would be amazing but I just feel like I need a different life for that. We all need so many lives to do so many things.
MC: Fact.
Related:
NBC's The Blacklist Premieres with a Boone
Image via Getty
Celebrity news, beauty, fashion advice, and fascinating features, delivered straight to your inbox!