Lady Gaga Reveals What Completely Changed Her Mind About Taylor Swift
"I said to myself, 'I like this girl."'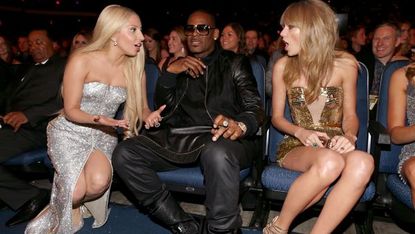 (Image credit: Archives)
Taylor Swift may allegedly be on the outs with Katy Perry, but things are just peachy between her and Lady Gaga. In a an interview with Howard Stern on SiriusXM channel's Howard 100, Mother Monster revealed she has nothing but love for Swift.
"You know, I've met her a few times, and I can't say anything bad about her," Gaga explained. "It was at the AMAs or something – her and I were sitting next to each other, and she goes, 'Oh my god! I love ARTPOP! And I love 'Applause!' 'Applause is my favorite song!'"
What's funny is that Gaga didn't believe her at first: "I was thinking, 'Yeah, yeah, yeah, this chick is full of s–––,' right?"
However, after receiving a call from a stylist friend who was working at a shoot with Swift, she had a change of heart.
He goes, "'Taylor Swift is here "blasting ARTPOP so loud, and she is dancing, and she's posing' "Gaga said. "I said to myself, 'I like this girl.' You know why? Because she said the same thing to my face as she said behind my back. Yeah, I like her."
Phew is all we have say, because that would've been far too much superstardom for one pop star feud.