Madelaine Petsch Is Redefining the TV Bad Girl
The Riverdale actress on balancing love and fame, and what's coming for Cheryl in season 2.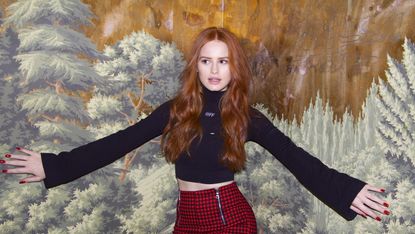 (Image credit: Tina Turnbow)
Marie Claire Newsletter
Celebrity news, beauty, fashion advice, and fascinating features, delivered straight to your inbox!
Thank you for signing up to Marie Claire. You will receive a verification email shortly.
There was a problem. Please refresh the page and try again.
Does the name Cheryl Blossom mean anything to you? Because after tonight's season 2 premiere of Riverdale, it certainly should. The CW series has elevated and redefined every teen show character trope: the girl next door, the football player, the nerd, and—most epically—the bad girl. Or, in Cheryl Blossom's case, the semi-deranged head cheerleader who comes from a maple syrup fortune and delivers cutting one-liners that would make Blair Waldorf envious. But Cheryl isn't just here to fill the Mean Girl quota. She's been through incredible trauma that's left her deeply troubled, which adds a thick layer of nuance to her character. And sure, Cheryl's complexities are partly a product of good writing, but more so, they're a testament to the indomitable presence of Madelaine Petsch.
Petsch has skyrocketed to fame thanks to Riverdale's quick ascent to cult status—which means she's balancing the pressures of celebrity (getting recognized on the street by eager fans) with being a normal 23-year-old who wants to hang out with her friends and enjoy her new relationship in peace. But unlike some of her costars, Petsch isn't shying away from the public eye. She's embracing it fully. Here, the actress talks to MarieClaire.com about struggling to be "on" for fans, why she's being open about her bond with boyfriend Travis Mills, and what we can expect from Cheryl's emotional second season. (Also, get ready for the sweetest story about KJ Apa you'll ever hear.)
Cheryl's still struggling with mental health issues this season—and yes, they will be addressed.
"After her suicide attempt last season, Cheryl goes back to her house and makes the conscious decision that she wants to live. Last season we saw her burn her house down—not in a way of saying she has nothing to live for, but to tell her mom to watch out because Hell hath no fury like a Cheryl scored. That's her taking the reins back. You don't really see it, but she seeks help in the way of pharmaceuticals—she gets on some medication for her depression. This season she's still very much living in purgatory. She's still not happy with her life. She's struggling with mental health issues, and that will be addressed throughout the second season. She just doesn't know who she is. And she's struggling a little more than usual because she's grieving two losses in her family, as well as abuse from her mother, and depression."
Madelaine drew from her own experiences with depression to inform Cheryl's character.
"I went through a time of depression in my life when I was a teenager—I think a lot of teenagers do. I grew up in a town that was heavily affected by drugs so I lost a couple of friends at a really young age. I have places to draw from. For sure."
Cheryl reaches another breaking point in Season 2, and it's going to be major.
"In Season 2, Cheryl's built up even more of a strong exterior and has even more walls up—but there are some moments where you see cracks in the facade. There's a really big thing that happens to Cheryl that really affects her mental health, and her mom does not support her through that. She finds out that her mom is doing something behind her back, so Cheryl confronts her in a way that she normally wouldn't. That's kind of her breaking point."
Cheryl gets a *very* mysterious sounding new love interest in Season 2....
"Last season, I was an advocate for Cheryl not having a love interest because she was so lost, she needed to find her own way. The other undertone, though, is that she does need love and she desperately wants to be loved. She actually gets a love interest this season—she gets a little bit of a crush. Cheryl will be looking for love in all the right places and all the wrong places—and holding onto it as hard as she can."
Madelaine and Lili Reinhart (AKA Betty) have the most relatable hangouts ever.
"We lived together last year, but then I got a boyfriend so we have our own places now. But a typical Friday night for Lili and I was staying at home watching The Nightmare Before Christmas or Shrek, and eating food. We generally just watch weird movies, eat food, and that's about it. We generally don't go out much." [Edit note: Same.]
She feels pressure to stay "on" with fans.
"They're always really sweet and I love meeting people, I really do. I want them to say 'hi' to me. What's hard is that they all expect something from me, and expect me to be a particular way. There are things going on in people's lives that you can't really understand, so there have been moments when I'm dealing with something when somebody comes up to talk to me, and I haven't been bright and cheery. I think fans sometimes forget we also have lives outside of the show. Something can happen that affects the way that we act. It's kind of hard to stay on all the time.
But you never know how much an interaction is going to mean to fans and impact them, so I'm always trying to remember that—and still stay grounded with who I am, while also remembering that meeting me could make a huge impact on them, or no impact at all. I'm trying to remember all these things in my head when I'm out. Somebody told me a story where they met a celebrity when they were six year's old, and the celebrity was really mean. They still remember that to this day. I never want some 22-year-old in ten years time to say, 'I met Madelaine Petcsh and it ruined my idea of celebrities,' so I'm always aware."
That whole 'twincest' thing between Cheryl and her brother necessitated some hilarious damage control.
"I have a brother myself so it makes me want to vomit, it's so gross. We made jokes about it on set during the pilot, like, 'Oh, I wonder if people are going to think this is incest,' but we never actually thought people would. And then when they did we were like, 'Ohhhh, we need to back pedal.' So I had to go and do interviews just to tell people it wasn't incest—Jason is just the only person who had shown Cheryl love. So, it was a whole thing where we had to back pedal—it was really funny. You have to remember how young our fans are, too; sometimes I forget."
She had to film the scene where Cheryl spits water on Archie in only *one* take because KJ Apa had broken his hand.
"That was such a big day for all of us—KJ broke his hand during filming, so we only had one take of everything that night. He hurt himself and then they were like, 'Okay, we got one take and then we gotta go.' We had one take for me to hold the water and spit it on him—it became very serious very quickly."
Even though KJ's hand was broken, he still put her needs first.
"It shows you what kind of person KJ is—we were waiting between one part of the scene and another, and his hand was already broken but he didn't know yet. We were freezing cold [Edit note: Reminder, they were on an icy lake]. I remember KJ picked me up and held me and a location guy put a heated blanket on me, and everyone crowded around me breathing on me to keep me warm. That just shows you what kind of people I work with. We genuinely care about each other."
The Riverdale writers are more than happy to make occasional script tweaks.
"That's the beautiful thing about being on our show. I think I'm spoiled in this way, but if I ever read a line and think, 'I don't think Cheryl would say it like that, I think she'd say it like this,' I can absolutely call Roberto [Aguirre-Sacasa] and have a discussion. Generally, if I don't get swayed by his explanation, he'll change it to whatever I say. It doesn't happen often, but sometimes I have little one liners, and I'll say, 'Hmmm, I think this is a little too friendly.' It's definitely an open conversation."
She's completely in love and not afraid to go public with it.
"I'm dating an actor named Travis Mills. I generally don't go public with relationships, but it was one of those things where, when you know you know. And I know with him. I feel like it's better to come out and be honest about what I'm doing than try to hide it; I don't feel any kind of protectiveness towards it when it comes to fans. We've got a very solid relationship. We're so open and honest with each other, and we communicate very well, and I want fans to see that I'm happy with somebody. He's so sweet—my fans love him and his fans love me. It's a really wonderful relationship. People enjoy photos of me by myself, and people also love to see how in love I am—it's a really beautiful thing to share with my fans, actually. I feel like people in this generation are afraid love doesn't exist and that totally breaks my heart."
No one in the cast has any idea what's coming on Riverdale.
"Girl, we've only shot episode nine, we have 22, and I have no idea what's happening in 11. Before the season starts we have a meeting with Roberto and he tells us what he has planned for our characters. But then even once the season gets written, every episode something can change—so I don't think they want to lock themselves into too many things by giving us a piece of paper with what's planned on it. That's the beauty of our show. Last season, when we found out Cheryl's dad killed her brother, I didn't know before we saw that week's script. The guy who played her dad didn't know. Roberto likes to watch the looks on our faces when we're at a table read!"
Photography by Tina Turnbow · Styling by Adena Rohatiner · Hair by Marc Mena for Exclusive Artists Management · Makeup by Tina Turnbow for Pacifica Beauty
Celebrity news, beauty, fashion advice, and fascinating features, delivered straight to your inbox!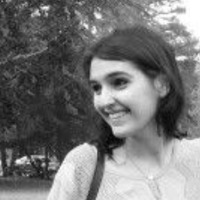 Mehera Bonner is a celebrity and entertainment news writer who enjoys Bravo and Antiques Roadshow with equal enthusiasm. She was previously entertainment editor at Marie Claire and has covered pop culture for over a decade.