Why So Many Celebrities Are Tweeting About This Sex Trafficking Victim
The story of Cyntoia Brown is storming the Internet.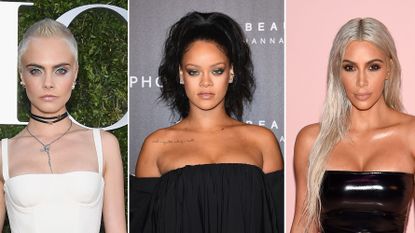 (Image credit: Getty Images)
Marie Claire Newsletter
Celebrity news, beauty, fashion advice, and fascinating features, delivered straight to your inbox!
Thank you for signing up to Marie Claire. You will receive a verification email shortly.
There was a problem. Please refresh the page and try again.
Over the last day or so, the story of Cyntoia Brown has swept across the internet, with celebrity support from Rihanna's Instagram or Kim Kardashian's Twitter, alongside the hashtag #FreeCyntoiaBrown.
Rihanna has posted multiple times on Instagram, interrupting her feed of seemingly endless magazine covers, whilst KKW said she has called her lawyer to see what could be done.
The system has failed. It's heart breaking to see a young girl sex trafficked then when she has the courage to fight back is jailed for life! We have to do better & do what's right. I've called my attorneys yesterday to see what can be done to fix this. #FreeCyntoiaBrown pic.twitter.com/73y26mLp7uNovember 21, 2017
See more
But who is Cyntoia Brown, and why is everyone rallying behind her at the moment?
Now 29 years old, Brown was sent to jail over 10 years ago in 2004 for killing a 43-year-old estate agent named Johnny Allen, who paid her for sex when she was 16.
In her 2004 trial, Brown told the jury that she was afraid of Allen—he had taken her back to his house full of guns when she was a sex worker—and that's why she shot him. But prosecutors claimed that she in fact killed him to steal from him, since she left the scene with some of his guns, as well as his trousers that included his wallet. The jury sided with the prosecution, and sentenced Brown to life in prison.
The young offender was the subject of a 2011 documentary by Dan Birman called Me Facing Life: Cyntoia's Story, which renewed the public's interest in the case. The hour-long film, which is available on YouTube, charts the nuances of the case.
The film features heartbreaking interviews with a young Brown, as she alleges that at the time of the murder she was a sex-trafficking victim at the mercy of a 24-year-old pimp named "Cut-throat."
He was sexually, physically, and mentally abusive to the then-16-year-old runaway. Brown says of her time with him, "He would explain to me that some people were born whores, and that I was one, and I was a slut, and nobody'd want me but him, and the best thing I could do was just learn to be a good whore."
She also details a life of abuse, with her mother and grandmother being survivors of rape and her adopted father being physically abusive.
A clinical and forensic psychiatrist also said that her alcohol-related neurodevelopment disorder (a type of fetal alcohol syndrome disorder that is a "severe mental disease and defect") could explain her erratic behavior.
Due to laws in Nashville from 2006, Brown, who has already served 13 years behind bars, is not eligible for parole until she has served 51 years, when she would be 67.
Laws have since changed, partly due to the 2011 documentary, which now state that people 18 or younger cannot be charged with prostitution.
During her time in prison, Brown has graduated from Lipscomb University and has been working as an unpaid consultant for the Juvenile Justice System.
Related Stories
Celebrity news, beauty, fashion advice, and fascinating features, delivered straight to your inbox!
Daisy Murray is the Digital Writer at ELLE UK, writing articles on vintage shopping to Melania Trump and everything in between. After four years of studying English Literature she has a good knowledge of everything Virginia Woolf as well as a much-needed keen eye for Ebay bargains. After a day at ELLE HQ you can find her drinking wine, watching SATC and talking to anyone who will listen about Chris Kraus.