Reese Witherspoon: What You Don't Know About Her
Reese Witherspoon doesn't want to follow in anyone's footsteps. Not Meg (Ryan), not even Julia (Roberts). And she certainly doesn't want to be just another Box Office Blonde. Here, she talks about why it's not cute to act stupid, what her body will never be and the one fight she wants to take public.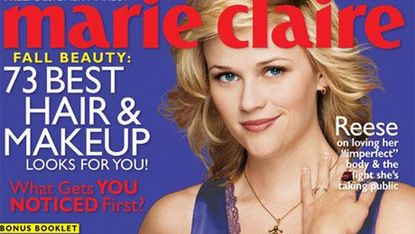 (Image credit: Matthew Rolson)
Oh, she's decorous all right, sitting there in her black ballet flats, her ankles crossed neatly, her blonde hair folded into a knot at the nape of her neck. She's even reading a novel, by Kazuo Ishiguro, while she waits patiently for a table at her neighborhood café in Brentwood. She didn't even pull rank; she just took a seat outside and calmly pulled out her book. But looks can be deceiving, especially in Hollywood. The day Reese Witherspoon is busy playing "Just Another Soccer Mom" is the same day that the 29- year-old star issued a broadside ‑- in a front-page story in the New York Times, no less ‑- condemning the paparazzi for their increasingly "chaotic and lawless" behavior. After years as a favorite target of photographers, Witherspoon, along with a handful of other A-list celebrities, was drawing the line. "Oh, did that run today?" she asks when finally seated comfortably at a corner table. "I'll have to pick up a copy. What did it say I said?"
So much for the soccer-mom act. In fact, so much for pretty much whatever else you thought you knew about Witherspoon, who is often depicted as leading the perfect, have-it-all-life: her perfect southern upbringing (in Nashville, the daughter of a doctor), her perfect career ($15 million per film), her perfect marriage (to actor Ryan Phillippe), her two perfect children (a daughter, Ava, and a son, Deacon) and her perfectly adorable little nose. But spend 90 minutes breaking bread with her (yes, she actually eats bread, along with real butter), and you walk away with a completely different impression of the cool blonde A-lister, your head reeling with her many, many opinions. Call them "Witherspoonisms" if you will:
Okay, time out. let's catch our breath and remind ourselves that Witherspoon was once dubbed "Little Miss Type A" by her mother for, among other things, announcing when she was in third grade that she intended to become the first female president of the United States. That is, if her first career as a country singer and OB/GYN didn't pan out. "I didn't lack for confidence," Witherspoon says, rolling her eyes at the memory of that opinion.
No, she didn't. Nor does she now. A southern debutante who started modeling back home in Tennessee when she was barely 7, Witherspoon had made her first film (The Man in the Moon) by age 14. Four years ago, after starring in 17 films over 10 years, including critical darlings Election and Pleasantville, Witherspoon became an overnight sensation with Legally Blonde, transforming what should have been a low-budget, blink-and-you'll-miss-it comedy about a fashion-addled law student into a $100 million megahit.
When she brought home her two follow-up comedies, Sweet Home Alabama and Legally Blonde 2, Witherspoon found herself lofted into Tinseltown's stratosphere. Add to that box-office muscle her ability to avoid the meltdown antics, rumors and gossip that have bedeviled so many other actresses, and it's no wonder she has hyperventilating studio execs insisting that she's Julia Roberts's heir apparent.
"I'm not 'the next Julia' or 'the next Meg,'" she says, launching into one of her many "and you can quote me" opinions. "I'm just me, and they are who they are. I think there is room for everybody," she adds, dismissing the idea that "actresses have to go away at a certain age."
Witherspoon's defiance is unwavering. It's clear that despite a stumble in last year's film Vanity Fair, she is now back and stronger than ever. There's the upcoming Just Like Heaven, her first romantic comedy since Legally Blonde 2. Then, in November, she lays down an astonishing performance in Walk the Line, a gritty biopic about Johnny Cash and June Carter Cash, in which Witherspoon jettisons her sweetly comedic persona (and natural blonde locks) to play the legendary singer. The film is al ready generating serious Oscar buzz. What is certain is that, several months shy of hitting 30, when she might normally be expected to reassess her place as Hollywood's reigning ingenue, Witherspoon has chosen to defy the industry's playbook ‑- and the pigeonholing it does so well ‑- to chart her career just as she has her entire life: as she sees fit.
Witherspoon made Just Like Heaven, in which she plays a hardworking medical resident who falls for a grieving widower, because it reminded her of the movies she loved as a teen, such as Say Anything...and Singles. She made Walk the Line because she has always loved country-western singers like June Carter Cash and Dolly Parton (her childhood hero, whom she still adores), and she wanted to help tell the story of where country music comes from. "It's not like there's any grand plan," she insists. "I just look at whether the material appeals to me or not. I like to do my job, go home and play with my kids."
Come on, cross her heart and hope to die, she has no secret hopes of hearing, "and the Oscar goes to..."? "Oh, honestly, it just doesn't occur to me that much," she says, her honeyed southern drawl on full display. "Obviously it would be a great honor, but really, I never expect to be in that position."
What Witherspoon does expect is to keep a firm handle on her sense of self-worth in an industry that she sees as too often inhospitable to smart, talented, self-respecting women. "What gets me is how many women ‑- young women ‑- give up their power and their sense of self," she says heatedly. "Thinking they're going to get more out of life if they take off their clothes and objectify themselves, instead of functioning on the principle that they're smart and capable, that you can be an actress and not be on the covers of T&A magazines. I'm flabbergasted by how many legitimate actresses do that. It blows my mind."
Does she believe that perhaps the whole feminist movement never materialized in Hollywood?
"I feel there are certain people who are systematically ripping [feminism] down because of their lack of regard and their ignorance about what the women before us had to go through." Is she referring to Hollywood power brokers, or to starlets like Jessica Simpson and Paris Hilton, whose fame plays on certain stereotypes? She doesn't even pause. "I don't think these women are stupid. I think they're selling a personality that's very marketable: 'Wouldn't it be fun if we were all gorgeous and didn't have a care?' But creating a cultural icon out of someone who goes, 'I'm stupid, isn't it cute?' makes me want to throw daggers at them! I want to say to them, 'My grandma did not fight for what she fought for, and my mother did not fight for what she fought for, so you can start telling women it's fun to be stupid.' Saying that to young women, little girls, my daughter? It's not okay."
That's the sort of thinking that fuels Witherspoon. It's why she has refused to take roles that don't jibe with her values, preferring to do movies like Legally Blonde, in which she can demonstrate that a woman "can be successful and accomplished and still be feminine." It's partly why she opened her own production company, Type A Films, joining a handful of actresses (like Julia Roberts and Sandra Bullock) who have taken a more direct role in controlling their careers.
It's also why she decided to speak out against the paparazzi so publicly. Along with stars like Cameron Diaz and Halle Berry, Witherspoon is cooperating with Los Angeles police in their criminal investigation into the aggressive tactics of photographers. All of this comes in the wake of the well-publicized car accident involving Lindsay Lohan and a freelance photographer in May ‑- and the investigation of that incident, which has already led at least one magazine, US Weekly, to alter its policy on the use of freelance photographers.
"There's a new type of magazine out there, which has insatiable needs for photographs of about 20 people, most of whom happen to be women," says Witherspoon. "There's illegal behavior going on ‑- the way they procure the photographs, the way they drive, the verbal harassment, preventing you from getting away ‑- and I feel good about going on the record about it."
Witherspoon is all passion, but she isn't fighting this alone. For the past six years, she's been married to actor Ryan Phillippe, a former soap star who has become a regular on the indie-film circuit, starring in such films as Crash, Gosford Park and Igby Goes Down. Witherspoon met Phillippe at her 21st birthday party, and by all accounts, she was positively smitten at first sight. "We both come from families in which our mothers worked, and we approach [our marriage] like a job: We work at it," she says, adding that it also helps that they have both made raising their two children, 6-year-old Ava and 2-year-old Deacon, their top priority.
Witherspoon and Phillippe take turns with their filming schedules so they can remain together as a family, whether on location or at home in L.A., where she takes her daughter to school and doctor's appointments and cooks dinner for the family. "I like to cook," she says, adding with a laugh, "I also have a few regular places I call for takeout a couple nights a week, and Ryan cooks, too. He's really amazing with the kids." She also hasn't ruled out the idea of having a third child, although at just 29, "I have the luxury of having some time to think about it."
Her devotion to family has led Witherspoon to the Children's Defense Fund. The organization, which fights child poverty by helping families access social services and benefits, is run by Marian Wright Edelman. Edelman's inspirational book, The Measure of Our Success, won Witherspoon over when she first read it during her year at Stanford University (she left college at the end of her freshman year to pursue her acting career). Then, as a new mother five years ago, she went through what she calls "a little bit of a rough patch." "It was before Legally Blonde, and I was having a hard time getting a job. There were all these questions about my weight, and I was asking myself, Why am I an actress? What is life about?" she recalls. "So I started reading the book again, and I called the Children's Defense Fund to see if I could help."
In addition to contributing financially, Witherspoon also meets with each year's college-scholarship winners. This year's scholarship party took place at a Los Angeles bowling alley, where Witherspoon spent hours eating pizza and chatting with the slightly starstruck high schoolers.
Her experiences with the charity, as well as her struggles to raise her own children amid privilege, have caused Witherspoon to start questioning the values she's encountered in Hollywood. "My kids are not just getting my values and morals but are getting outside influences," she says. "I feel like there's a race being run in Los Angeles for some unattainable goal ‑- to be the best, the skinniest, the most beautiful. I just admit that that's what I'll never be."
Celebrity news, beauty, fashion advice, and fascinating features, delivered straight to your inbox!