Meet the Five Fresh Faces of Our May 2015 Covers
Iggy Azalea, Felicity Jones, Zoë Kravitz, Hailee Steinfeld, and Kate Upton—what more could you ask for?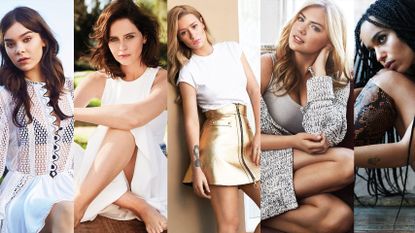 (Image credit: Dan Martensen)
What we love about this year's crop of fresh faces—besides their mega talent—is their fearless attitudes toward career (with physically demanding film roles, say) and life (like picking up and leaving home at 16) and their willingness to say, "What's next?" Whatever that is, count us in.
Kate Upton
On motivation: "Anytime there's doubt or someone says I can't do something. I always accomplish it. Haters and doubters are very, very good motivation."
On People naming her Sexiest Woman Alive: "My parents were pretty funny about it. They told me, 'We went out to dinner and dressed a little nicer because our daughter is the Sexiest Woman Alive.'"
On dating Detroit Tigers pitcher Justin Verlander: "I was so competitive with him, and he constantly kicked my ass. He'll beat me at Spades. He's better at trapeze…Oh! I beat him in foosball!"
Zoë Kravitz
On her role in The Road Within: "I went through eating disorders in high school, so it triggered some old stuff. I was so thin that I wasn't getting my period. And part of me didn't want to gain the weight back, which was really scary. People were like, 'You look so good!' I was like, Oh, my God, that is disturbing."
On sweatpants: "I've been trying the art of dressing up sweatpants. I feel like an NYU student. Not in a good way. But if you wear them with, like, a chunky boot, it's kind of cool."
Hailee Steinfeld
On her role in this month's Pitch Perfect 2: "I couldn't believe I was making this movie. I was like, 'Oh, my God! There's Rebel! I literally gained 10 older sisters. We have a group chat that hasn't stopped since we made the movie."
On the advantages of being 18: "My stylist and I were joking the other day that now we can have more fun. But what is there? I'm not going topless anytime soon!"
Felicity Jones
On going peroxide blonde for her fall action thriller Autobahn: "I feel like people are a lot nicer to you when you've got blonde hair."
On living in New York City: "I have always had this secret desire to live in New York from watching Sex and the City growing up."
Iggy Azalea
On the Internet feeding frenzy over paparazzi photos of her: "I hope women think, Iggy Azalea actually has a body that is relatable to my body… and you should feel fucking good about that."
On collaborating with Charli XCX for "Fancy": "I think it's particularly badass that we wrote 'Fancy.' It was one of the most culturally impactful songs of last year, and two fucking chicks in their early 20s wrote it."
On not being afraid to seem ridiculous: "I'm a little scrappy for sure, but I like that about myself. Even with paparazzi pictures of me looking like complete shit, and people are like, 'She should try harder,' I'm like, no. There's something to say about not being so contrived all the time. You should hold on to that as long as you can."
Read all five interviews in our May issue of Marie Claire, on newsstands April 21.
Need more to hold you over? Go behind the scenes of our cover shoot right here:
Because we can't resist having a little fun, watch our fresh faces get fresh:
And check out our super-dreamy May cover film:
Celebrity news, beauty, fashion advice, and fascinating features, delivered straight to your inbox!