All the Actresses Who Wore Black to the Golden Globes in Protest of Sexual Harassment
"What we are wearing is not a statement of fashion. It is a statement of action."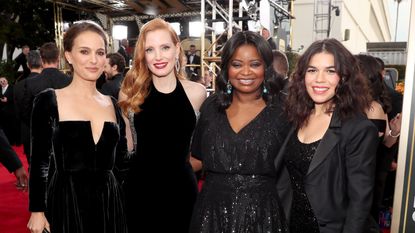 (Image credit: Getty Images)
On the heels of the devastating sexual assault and harassment allegations sweeping Hollywood (stemming from those against Hollywood producer Harvey Weinstein), actresses spoke out in protest by wearing black to the 2018 Golden Globe Awards.
The sartorial statement was somewhat controversial in the weeks leading up to the awards thanks to Rose McGowan—a vital voice in the #MeToo movement—speaking out against what she feels is a passive form of protest in a since-deleted tweet that said,"Actresses, like Meryl Streep, who happily worked for The Pig Monster, are wearing black @GoldenGlobes in a silent protest. YOUR SILENCE is THE problem. You'll accept a fake award breathlessly & affect no real change. I despise your hypocrisy. Maybe you should all wear Marchesa."
Despite this comment, multiple actresses involved in the #TimesUp Legal Defense Fund wore black to the Globes, including Jessica Chastain, Meryl Streep, Emma Stone, Helen Mirren, Nicole Kidman, and Reese Witherspoon. "What we are wearing is not a statement of fashion," Amber Tamblyn said of the movement. "It is a statement of action. It is a direct message of resistance. Black because we are powerful when we stand together with all women across industry lines. Black because we're starting over, resetting the standard. Black because we're done being silenced and we're done with the silencers. Tonight is not a mourning. Tonight is an awakening."
Reese Witherspoon
Sally Hawkins
Mary J. Blige
Sarah Jessica Parker
Penelope Cruz
Emilia Clarke
Salma Hayek and Ashley Judd
Angelina Jolie and Pax Thien Jolie-Pitt
Viola Davis and Julius Tennon
Marai Larasi and Emma Watson
Alison Brie
Diane Kruger
Kerry Washington
Kate Hudson
Millie Bobby Brown
Elisabeth Moss
Maggie Gyllenhaal
Mariah Carey
Halle Berry
Nicole Kidman
Eva Longoria
Gal Gadot
Chrissy Metz
Issa Rae
America Ferrera and Natalie Portman
Emma Stone and Billie Jean King
Jessica Biel
Dakota Johnson
Gwendoline Christie
Octavia Spencer and Jessica Chastain
Christina Hendricks
Alicia Vikander
Mandy Moore
Rachel Brosnahan
Laura Dern
Tracee Ellis Ross
Claire Foy
Alexis Bledel