6 British Wedding Traditions That Meghan Markle Needs to Get on Board With
The Brits do it bigger, and possibly better.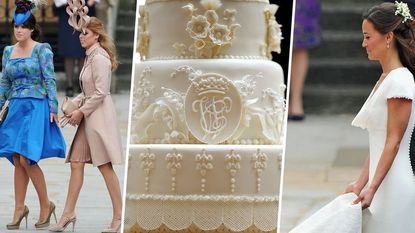 (Image credit: Getty Images)
Assuming you didn't figure this out the first time you watched Four Weddings and a Funeral (note: if you haven't seen this '90s classic, watch it immediately), the British wedding experience isn't quite what Americans are used to. Some traditions are more boisterous and boozy; others are bound by centuries-old rules. And pretty much all of them involve insanely extra hats. See?
With California-born Meghan Markle set to wed Prince Harry on May 19, it will be interesting to see how the couple put their own personal spin on these British customs—particularly under the watchful eye of Queen Elizabeth II and the millions of folks watching everything unfold on TV. For instance, royal purists may be pissy about the cake, but we're almost certainly guaranteed to see Prince George as a teeny-tiny pageboy.
And who knows? Meghan's influence may bolster a growing interest in American wedding trends like rehearsal dinners, bridal showers, and bridesmaids who are old enough to drink. Until then, here's what a typical British wedding involves. BYO hat and monarch, love.
The Bachelorette Party
The Brits aren't messing around when it comes to throwing riotous bachelor and bachelorette parties—known across the pond as "stags" and "hens." Low-cost flights to Europe make it easy to fly the squad to Prague, Paris, or Porto for a dirty weekend, and costumes (custom T-shirts, onesies, sexy sailor/beer frau/nurse get-ups, etc.) are almost always involved. Unless her friends are exceedingly kind, the bride-to-be will also have to wear an "L plate" (a sign learner drivers post in their vehicle), which is a nod to her virginal (or not) attempts to learn the relationship ropes.
Kate Middleton reportedly had a low-key hen ahead of her own royal wedding, staying in with friends. Last year she joined sister Pippa for a hen weekend spent skiing in France.
Though a lot of effort goes into hens, it's less common in the U.K. to throw a more formal bridal shower with gifts and lingerie for the bride like they do in the U.S.
The Bridesmaids
American influence (and, no doubt, a certain hit comedy film starring Melissa McCarthy) have switched things up in modern times, but it's traditional at a British wedding for the bridesmaids to walk behind the bride, not lead the procession.
And, as you may have noticed at Kate and William's 2011 nuptials, members of the royal wedding party are often children. Unlike Princess Diana, whose oldest bridesmaid was Princess Margaret's 17-year-old daughter Sarah, Kate did enlist sister Pippa as maid of honor, while Queen Elizabeth herself had adult attendants when she married Prince Philip 70 years ago. Expect Meghan Markle to opt for an older crowd, with Princess Charlotte and Prince George somewhere in the mix.
RELATED STORY
The Cake
Red velvet? Perish the thought. The traditional British wedding cake is a tiered fruit creation typically topped with marzipan and icing. Baker Fiona Cairns' eight-tiered cake for Kate and William included currants, cherries, raisins, orange marmalade, and brandy. Meghan and Harry, meanwhile, seem to have found the perfect compromise between the fruit requirement and American palates: They're going with a banana cake.
The Rehearsal Dinner
Whereas in the U.S. it's customary for the groom's family to host a nice meal for the wedding party and other close friends the night before the wedding, Brits don't really buy into that. Do a face mask, practice your dance moves, get a burger—as long as you make it to the church on time, you're free to do as you please.
The Hats
Princesses Beatrice and Eugenie got a lot of ribbing for their elaborate Philip Treacy toppers from the 2011 royal wedding, but they were just following protocol (and, y'know, living their best Lady Gaga life).
Formal daytime weddings call for hats and fascinators worn by female guests, and the bigger the better. The downside is that, because the hats stay put during the ceremony, guests can't guarantee that their view of the happy couple won't be blocked by a jaunty pillbox number edged in fake flowers.
The Location
Mom and Dad's backyard, a Vegas drive-thru, underwater…the U.S. is pretty open-minded about what constitutes an acceptable wedding venue. Not so in England and Wales, where civil ceremonies—non-religious services performed outside of a place of worship—are restricted to licensed permanent structures.
A fixed gazebo, pagoda, or woodshed is fine; a temporary tent or out in the open air is not. Scotland and Northern Ireland are more lenient, however, should a bride have her heart set on saying "I do" with grass under her bare feet.
There are lots of rules to adhere to, and until 2012 it was even forbidden to tie the knot outside the hours of 8 a.m. and 6 p.m. in England and Wales.
RELATED STORY
Marie Claire email subscribers get intel on fashion and beauty trends, hot-off-the-press celebrity news, and more. Sign up here.