Cara Delevingne and Robb Stark Are in a Twitter Fight Over Her Awkward 'Paper Towns' Interview
So weird.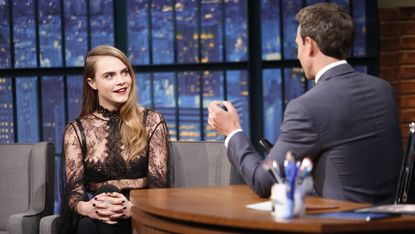 (Image credit: Getty Images)
Marie Claire newsletter
Celebrity news, beauty, fashion advice, and fascinating features, delivered straight to your inbox!
Thank you for signing up to . You will receive a verification email shortly.
There was a problem. Please refresh the page and try again.
Update, 9/16: The interview in question happened ages ago, but recently, the Sunday Times (opens in new tab) was compelled to ask former Game of Thrones star Richard Madden about Cara Delevingne's uncomfortable run-in with the American press, and he was compelled to give his negative opinion of the event.
"It made her seem ungrateful," he said. "She showed her age. For Cinderella, I did six weeks of those interviews, where you get asked the same eight questions."
Delevingne, who apparently paid the £12 to read the story online/had the paper version ironed and delivered alongside her toast rack, shot off a retaliatory tweet Tuesday, which was followed by another from her sister Chloe.
@_richardmadden if you really want attention that badly, try focusing on your own work and not other people'sSeptember 15, 2015
See more
What's happened to comradery among British actors!? https://t.co/cdO12AkB99September 16, 2015
See more
Madden took the Calvin Harris Expressway, though, and responded like a gentleman.
Hi @Caradelevingne, nothing but respect for you. Misquoted and blown out of proportion. #SlowNewsWeekSeptember 16, 2015
See more
Told you it was strange. Also, the North remembers.
Update, 8/1: In case you hadn't heard, Cara Delevingne has a dry sense of humor that *some* people just don't get. During her cringe-worthy interview on Good Day Sacramento, the model-turned-actress said sarcastically, "No, I never read the book or the script, actually. I kind of winged it." Needless to say, the intentional irony went over the hosts' heads.
The best way to respond to the buzz and backlash over her British brand of comedy: more sarcasm.
The model-turned-actress posted a photo to Instagram of her eyes wide and peeking out from above a copy of Paper Towns, with the caption, "I JUST FOUND THIS BOOK! ITS AWESOME!"
Well played, Cara. Well played.
Update 2, 7/30: Defender of young people John Green wrote a blog post (opens in new tab) in which he calls the hubbub surrounding Cara Delevingne's Good Day Sacramento interview a first-world problem so many times you kind of wonder why he even wrote it. However, he does bring up a good point about the subtle differences between the questions Delevingne and Nat Wolff were asked—if she'd read the book vs. when he'd read it—and another concerning her individuality.
Whoever said this! Thank you so much! pic.twitter.com/PyshC8DqNGJuly 30, 2015
See more
Then Cara underscored her lack of hauteur.
I work really really hard and love what I do, I don't feel like I need to apologize for being human #sorrynotsorryJuly 30, 2015
See more
I am soooooo lucky and anyone who thinks I am unappreciative or ungrateful clearly doesn't know meJuly 30, 2015
See more
Update, 7/30: After Good Day Sacramento's anchors ganged up on Cara Delevingne, it was like #TheDress all over again in that 1) no one could stop arguing about it and 2) everybody thinks their reading of the events is the one and only correct reading.
The women of The View took a stab at it Wednesday, and it was...problematic, to put it politely. Nicole Wallace, in response to Raven-Symoné's praise of Delevingne, said "I'm sorry, I'm sorry. When you're a famous movie star and you get to go on a local news show to promote a movie that people are paying $18 to go watch, you don't get to act like a bitch."
Then Raven—YOU WERE DOING SO WELL, RAVEN—countered by saying maybe Delevingne was on her period, which created an opening for Wallace to make a comment that both belittles another woman's career *and* reinforces the argument that women can't do fill-in-the-blank because their menstrual cycles turn them into raging psychos every month and god help us if she happens to have nuclear codes in her possession. "Then cancel the interview," Wallace said. "I mean, Condoleezza Rice ran the world and she's a woman, but yes, if you're an actress and you're cranky, cancel the interview."
At least Boy George gets it.
Original story, 7/29: There are awkward celebrity interviews, and then there are just plain painful celebrity interviews. Last week, the anchors at Good Morning Sacramento caused the latter (opens in new tab).
Cara appeared live from New York to promote Paper Towns and was asked right off the bat whether she had even read the book, which is a pretty aggressive way to start an interview. The show's anchors proceed to get more rude to her from there, and the whole thing is just uncomfortable to watch.